Happy 2018 to all of you aspiring overseas property owners! It's a new year, a fresh start and the perfect time to begin searching for your new home abroad - whether you're looking to retire, start a new life or simply use as a holiday home.
Despite ongoing uncertainties over Brexit, 2017 proved to be a promising year for the overseas property market, and perhaps more than originally anticipated. Recent statistics indicate that British nationals are not only expressing their interest in owning a second home abroad but are also proceeding with their property purchases, with Spain continuing to be the front-running destination.
A report published by Spain's office of national statistics, Registradores De Espana, highlights just how influential British nationals were on the Spanish property market in 2017. In Q3 last year, not only did buyers from the United Kingdom account for more property purchases than other any other foreign nationals, but the number was almost double that of the country in second place, neighbouring France.
Data gathered via aplaceinthesun.com also reinforces this desire amongst Brits to own a home abroad. In the last six months of 2017, there was a 36% increase in web traffic of users seeking the latest properties for sale and essential buying advice, compared to the same period in 2016.
Adding to this, there were also YoY increases of 39% for property searches and 26% for enquiries made on properties all across the globe, which you can view in greater detail below.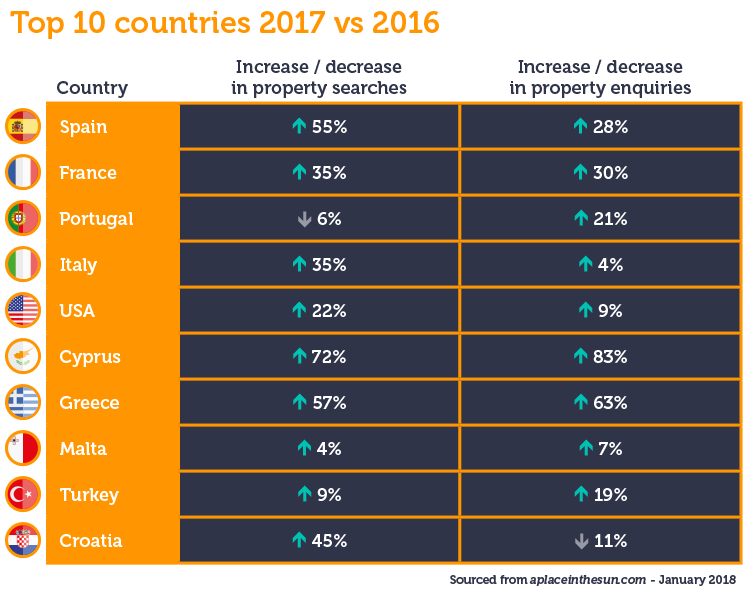 "We British are an adventurous, acquisitive bunch who love property and 2018 will see a sizable number of people move forward with plans to buy their place in the sun", says Andy Bridge, Managing Director of A Place in the Sun. "Each year throws up issues that impact the number of buyers – the value of the pound, Brexit worries, the wider economy – but inevitably we don't want to be put off".
With Brexit negotiations continuing, promising signs are now showing for British nationals looking to buy abroad. In October 2017, Spain's Foreign Minister Alfonso Dastis declared that British expats living in Spain will face "no disruption" post-Brexit, whilst there has also been satisfactory progress on the transfer of pensions overseas.
Adding to this, a deal has been made in principle which will allow pensioners to retain the usage of their European Health Insurance benefits (EHIC) once the UK formally leaves the European Union. This said, it's important that individuals pay close attention to further Brexit agreements in 2018 and beyond.
What's in store for 2018?
With this demand and desire for overseas properties set to continue in 2018, A Place in the Sun will ensure that British nationals have even more information and guidance to help facilitate their dream move overseas – including:
More exhibitions
Our ever-popular A Place in the Sun Live exhibition at Olympia London, NEC Birmingham and SEC Glasgow drew in a crowd of over 18,500 attendees in 2017, and we'll be back at the same venues in 2018! If you're looking to meet overseas estate agents face-to-face, receive invaluable advice from industry experts and meet the stars of the TV show, then this is for you! You can also take a screen test to potentially appear on a future episode of the TV show too.
But that's not all. We'll also be returning to Manchester Central this spring 16th -18th March after a year's absence, and we can't wait to be back! For more information on A Place in the Sun Live and to book your tickets for Manchester and London, click the link below.
find out more about A Place in the Sun Live
More country and region buying guides
As you may know, A Place in the Sun produces a range of buying guides for 12 popular countries to help accommodate all types of buyers with varying queries. These are all frequently updated with the latest essential and reliable information you need to kickstart the buying process, including:
Location hotspots and the different types of properties available
A full breakdown of the buying process from start to finish
Key lifestyle factors to consider
Buyer case studies
Living costs
Healthcare and retirement considerations, plus more
More country and regional guides will be released throughout 2018, which can be accessed by clicking the link below.
view our essential buying guides
More magazine issues
As always, our award-winning editor and property journalist Liz Rowlinson will be carefully constructing four annual magazine issues to focus purely on the ever-developing overseas property market.
We've just released our annual Top 10 issue, and it's not too late to grab your copy, which can be purchased online or by visiting your nearest WHSmith high street, rail station or airport store, large Tesco or Asda supermarket, or local newsagent.
You can also pick up your own copy by attending one of our upcoming exhibitions in 2018, and have it signed personally by Jasmine Harman, Jonnie Irwin, Amanda Lamb or Laura Hamilton, or all four! For more information on our magazine, click the link below.
view our latest magazine issue
More TV shows
Our TV stars will continue to be present on your television screens throughout 2018, helping individuals like yourselves find their dream home abroad. If you've missed an episode and/or are looking for more information on the properties shown on a previous or upcoming show, be sure to check out our dedicated TV page on aplaceinthesun.com below.
To conclude
No doubt 2018 will present challenges but positive sentiment towards the overseas property market remains strong.
"More and more British people like the idea of two properties – home and away – and it's not just for the millionaires out there. As parents see their children leave the family home and think towards semi-retirement and retirement, there's a good case for downsizing in the UK and buying somewhere to spend the winter", Andy Bridge concludes.
"It's the best of both worlds, retaining contact with friends and family in the UK while having your very own bolt hole. We see this trend growing throughout 2018."
To begin your overseas property search, click the link below.