Our latest Five Minute Focus takes you on a journey to the extreme south of Italy, to the picturesque region of Calabria. Below we look at what it can offer to aspiring overseas property owners and inspect the current state of the property market.
Where is it?
Is the question most people give on hearing about this relatively undiscovered part of Italy. Neglected by its northern counterparts, Calabria has idled along being, for the most part, enjoyed only by other Italians, however, it is now slowly coming into its own as people realise what this spectacular region has to offer.
Calabria is at the toe of the boot, the extreme south of Italy and here we focus on the west coast - the provinces of Cosenza and Catanzaro from Lamezia to Scalea. Within this stretch of coastline lies Amantea, Belmonte Calabro, San Lucido, Paola, and Belvedere Marittimo to name but a few of the enchanting towns and villages that boast both sandy and pebbly beaches, coves and crystal-clear sea set against a backdrop of green, fertile mountains giving way to blue lakes and waterfalls.
How to get there?
The region's main airport is Lamezia Terme and is serviced by direct flights from London Stansted via Ryanair all year round. There are also many internal flights from Milan, Rome, Pisa, Bologna etc, that can be easily accessed from all regions of Great Britain and Ireland. The rail network offers an alternative from all the major cities in Italy with Lamezia and Paola being main stations for the west coast area with the high speed/high-frequency trains (Le Frecce) although there are many smaller stations serviced by local and intercity trains. The Autostrada A3 runs through the whole of Italy, therefore, driving offers some spectacular scenery and interesting places to rest.
Why go - and what is there to do?
The warm climate, which extends for about 10 months of the year, offers many possibilities to include basking in the warm rays of sunshine or partaking in activities such as kitesurfing, scuba diving and sailing.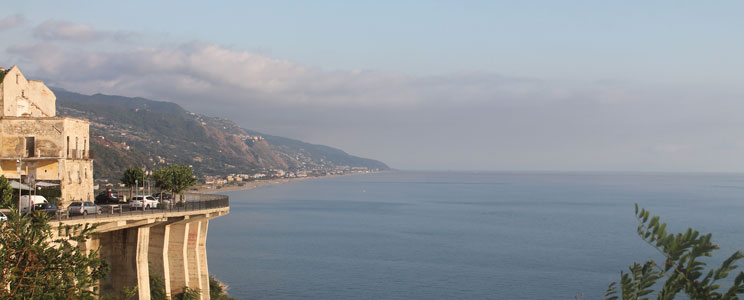 Nature lovers can explore the unpolluted scenery of the national parks and enjoy activities such as orienteering, trekking, quad bikes, rafting and skiing in the winter. Instead for those who prefer to learn about the region's past, Calabria, the cradle of Magna Grecia and land of ancient settlements, is full of splendid churches, monasteries, castles, palaces and towns where age-old traditions still survive. 
Food: porcini and peperoncino
For the foodies among you the Calabresi are incredibly proud of their local cuisine with fish being a speciality together with a variety of salami, cheeses, porcini mushrooms, often spiced up with the local peperoncino (chilli peppers). Many food festivals and markets are hosted throughout the year to tempt the taste buds and local fresh produce is plentiful – accompanied by local, quality wines. 
Who buys there?
Historically, this part of Calabria from Lamezia Terme north to Scalea has been the holiday place for northern Italians or Italians returning from abroad to visit their ancestral roots but in recent years there has been an influx of foreign investors including many British, Irish, Scandinavian and Russian buyers. 
Property towards Scalea ranges from as little as €35,000 for furnished apartments for those who require a turnkey option. The average two-bedroom apartment located near the coast between Paola and Lamezia starts from €55,000. Or, a historical centre renovation property costs from €20,000 upwards, and farmhouses with land to renovate from €60,000.
There are also many independent properties already renovated or newly built, for example, a three-bedroom 280m2 home with garage and garden for €265,000.
Generally, the appeal of this part of Calabria is that it retains its Italian charm and has not been spoilt by the trappings of commercialism. There is a large selection of property for sale which gives rise to affordable prices making it an excellent time to purchase in this spectacular area.
search for a property for sale in Calabria
Download our free guide to buying a property in Italy