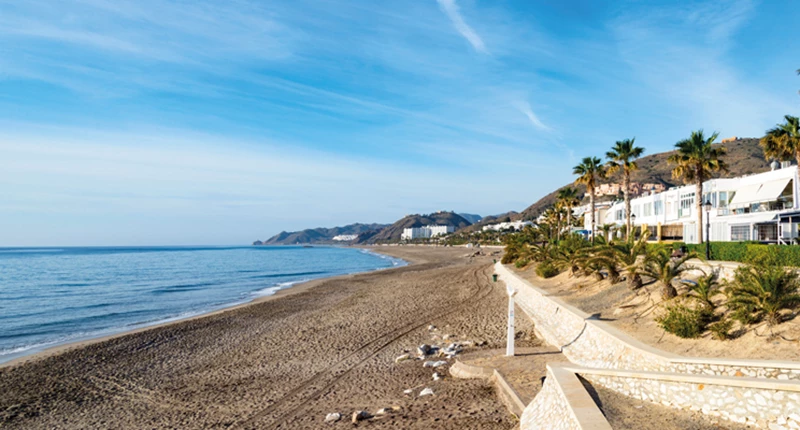 Our latest Five Minute Focus takes you to Mojacar, in the province of Almeria in southern Spain. Read below to find out why it continues to be a hit amongst overseas property buyers, and what it can offer you.
Where is it?
Mojacar is located in the province of Almeria in southern Spain. The Costa de Almeria has a vast desert-like landscape and is one of the driest areas in Europe. This attractive, low-key town is made up of two parts – the old whitewashed hilltop village and the beach area that stretches some 17 kilometres. Almeria international airport is just an hour away and San Javier (Murcia), another option, is slightly further north, and both are easily accessed by motorway.
Why choose Mojacar?
Despite its popularity with holidaymakers from across Europe, Mojacar retains plenty of Spanish charm, with rustic-style beaches and traditional beach bars that serve delicious seafood at the edge of the sea. Visitors will notice the absence of high-rise buildings, as a local by-law prohibits the construction of towering apartment blocks and hotels.
Mojacar enjoys more than 300 sunny days per year with high temperatures in the summer and wonderful sunny winter days making it ideal for year-round living or as a destination to buy a holiday home.
What to do there?
Mojacar is all about the good life and enjoying the laid-back lifestyle, far from the madding crowd. The old hilltop village is a labyrinth of cobbled streets, edged with whitewashed houses draped in bougainvillaea, giving you the feeling you stepped back in time.
Shopaholics can enjoy browsing in the numerous gift and pottery shops, cafés and restaurants which can be found around every corner, serving coffee and pastries or delicious dishes with influences from  Spain and North Africa. Take the handy lift from the parking area to the Plaza Nueva and enjoy the fabulous views to the coast and far inland to the Sierra Nevada mountains.
Down on the beach, further retail therapy can be enjoyed in the small commercial centre before to relaxing in the sun or taking part in some fun water sports.The beachfront road is lined with eateries, offering great value menus-of-the day along with funky bars playing music late into the night. Golf enthusiasts can enjoy playing on the province's six challenging courses.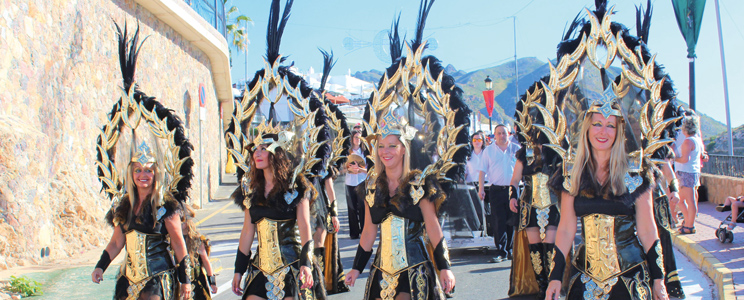 History and culture
Mojacar is steeped in history and has a significant Moorish influence. In more modern times, in the 1960s, the old village was crumbling and close to being deserted.  The forward-thinking mayor at the time came up with the idea of giving away abandoned houses to foreigners on the understanding they would renovate them within a period of time.
He placed adverts in newspapers in the UK and the US and the town were soon filled with artists, hippies and musicians who came to take advantage of the incredible offer. The rest, as they say, is history and many of the old faces remain, giving Mojacar its well-earned reputation as a place of art and culture.
Fun and fiestas
The Spanish love to celebrate and 'Mojaqueros' are no different. Almost every month you will find a fiesta scheduled, where parties go on into the early hours and the town is filled with colour and music. One of the most popular fiestas is the annual 'Moors and Christians' fiesta, during which, more than a thousand participants 'loosely' re-enact battles between the two groups over a three-day period which ends in a spectacular costume parade on the final night (pictured above).
This breathtaking event attracts visitors from far and wide who are dazzled by the elaborate costumes, magnificent horses and expert musicians marching through the streets on a balmy weekend in June.
What property to buy?
A wide range of properties is available in Mojacar, from bijou bolt-holes to luxury detached villas. Prices are traditionally lower than the neighbouring Costas although housing stock is less abundant. Hillside neighbourhoods such as La Parata and Indalo Mountain boast villas with private pools and spectacular sea views with prices from €250,000.
Beachfront apartments start at €60,000 for a one-bedroom unit with prices for a two-bedroom apartment ranging between €100,000 and €180,000, depending on the location. For golf-lovers, similar prices can be found on the popular Marina de la Torre beachfront 18-hole golf resort. Villas closer to the beach vary in price but around €350,000 can buy a well-presented detached property with a private pool within walking distance to the beach.
search for a property for sale in Mojacar
Download our free guide to buying a property in Spain