British expats seeking their dream Portuguese property have been drawn to the island of Madeira for many years now. Below we look at why it continues to grow in popularity, and provide insights into the current state of the Madeira property market.
Where is Madeira?
The subtropical Madeira Islands are located in the Atlantic 500 miles south west of the Algarve and 280 miles from the African coast. Madeira - the largest  of the four islands - is known as the Pearl of the Atlantic for its year-round flowers and is Europe's most revisited island resort destination. This Portuguese island measures 35 by 14 miles and boasts several mountains higher than Ben Nevis.
Not the Canaries or the Algarve then?
Madeira is an especially charming all-year island, and an attraction option for those looking for year round good weather and a safe place to make home.  Average temperatures range from 18 degrees in February to 27 degrees in August. Madeira is served by 35 direct UK flights a week, all year round, proving its popularity as a winter sun destination. Part of the inescapable charm of Madeira is the cosmopolitan capital of Funchal that is graced with a vast number of diverse restaurants, coffee bars, and modern shopping centres.
Over 60% of Madeira is a nature reserve with UNESCO World Heritage status, with a lush sub-tropical feel and many dramatic mountain and levada  (mini canal) walks, with nature all around. The island has a unique flora and abundant flowers earning a deserved reputation as a gardeners' paradise.
Forget if you want lots of sandy beaches or parties
There are hardly any sandy beaches in Madeira, but natural formed rocky lidos are popular. Madeira does not cater for the 18-30 holiday scene and as such there are but a handful of loud bars and clubs. The average tourist couple is over 40 years of age, and fits in with the Madeiran relaxed way of life enjoying the cafes and street entertainment by local artists. The Brits who buy property in Madeira often do so to enjoy a healthy lifestyle and relax within the natural environment and beautiful scenery.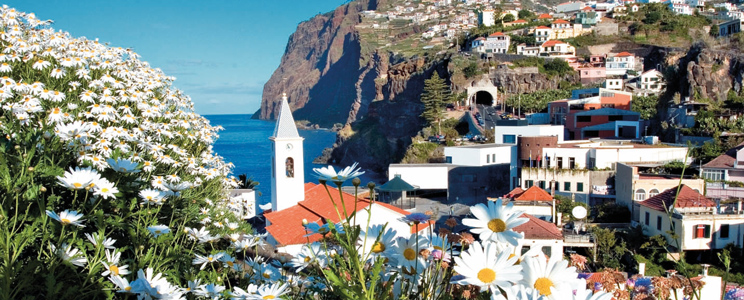 Where to buy?
In Madeira well-located property is expensive, and Funchal the capital city is popular and prices are second only to Lisbon, so many choose to look outside of Funchal and countryside living is more popular. The upcoming village of Ponta do Sol is spot on for those looking for  their place in the sun, located just  20 minutes from Funchal in the southwest. Residents enjoy the island's longest sunshine hours, fabulous sunsets and dramatic coastal views.
What property to buy?
There are many older properties for sale all over Madeira that require renovations and there are also many large old farms that were sold for this purpose. Another popular route taken is a Funchal based apartment - a modern well located two- bedroom apartment will start from €300,000. A common and desirable option adopted by many is a detached bespoke villa project, designed exactly  as wanted, with a pool, in the countryside on a premium plot where prices are more realistic. This new-build route is popular in Madeira as buyers get exactly what they are looking for right from the start.
The Madeiran building market is competitive, however choosing a builder should only be done after speaking with proven references. Building quality in Madeira is done to a very high standard and a luxury level bespoke villa of around 250 sqm costs from around €400,000 including plot in the popular Ponta do Sol area. The Madeiran market is highly developed for bespoke detached villas and some privileged projects can run into several millions of euros.
Any income prospects?
Madeira is the world's second most revisited island resort destination and is considered extremely safe, and tourism  is booming with over 10% growth being recorded this year alone. The main holiday market is European travellers and there are good opportunities for those who want to work in nature related tourist activities or work in the hotel industry.  By far the single biggest area of growth income in the countryside is for short-term luxury holiday lets - this is lucrative and reliable for year-round income.
search for a property for sale in madeira
Download our free guide to buying and living in Portugal