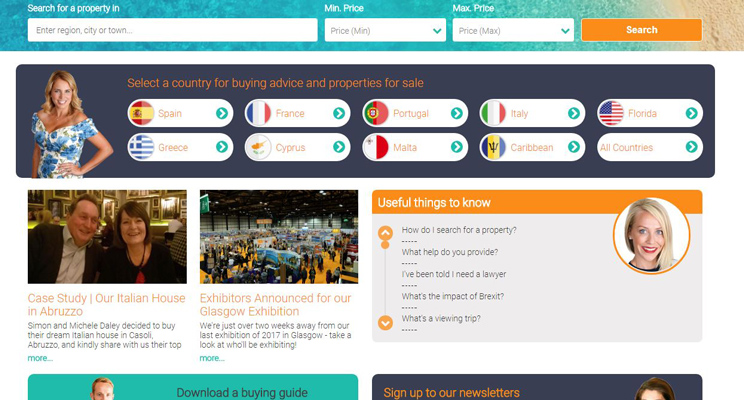 At aplaceinthesun.com we're constantly looking for new ways to make searching for your overseas property simple and stress-free, whether you're planning on retiring abroad, searching for a holiday home or wanting to raise a family overseas. This why we've redesigned our homepage to help connect you with your next potential property and provide you with the information and guidance you need to make your new home abroad a reality.
So, what exactly has changed on our homepage?
Country navigation with Jasmine Harman
Do you choose to siesta in Spain, fine-dine in France or play golf in Portugal? With so many fantastic countries across the world to buy a property, sometimes it might be a daunting prospect choosing where to buy. Not anymore.
Navigate through our most popular countries at the top of the homepage, view the latest properties for sale, download essential buying guides and read success stories from those who've bought there themselves. For less popular countries, you can access these at the bottom of the page, in addition to our top 20 most searched locations across the world which are updated frequently.
Downloadable buying guides with Jonnie Irwin
So you've chosen where you'd like to buy, next it's on to finding out where the popular regions, what to expect during the buying process and what professionals to liaise with throughout.
You can find all of this information in our downloadable buying guides for countries including Spain, Portugal, France, Italy and Greece, plus more. Simply click on the drop down by Jonnie Irwin, choose your guide and enter your email address to receive your free copy which can be read anywhere, anytime on your mobile and desktop devices.
Essential information with Laura Hamilton
View our latest articles on the new homepage which are uploaded daily to aplaceinthesun.com, including success stories, market updates and features on up and coming regions. If you're unsure on how to conduct a property search, the impact of Brexit on the overseas property market or what to look for whilst buying, then take a look at our useful things to know section on the right-hand side.
Email alerts with Amanda Lamb
We understand that you have other commitments outside of your property search. That's why you can have all of the above information and advice delivered straight to your inbox by subscribing to our weekly newsletters. 
Simply provide your name and email address, and we'll take care of the rest.
Flexible searching
Aplaceinthesun.com is designed around you and your property needs, and that's why you can continue to search for properties based on your minimum and maximum budget via our search toolbar at the top of the page. If you've got a region, town or even village in mind, pop that in too and see what properties you get in return.
Happy property searching!
Click below to take a look at our brand new homepage