Journalist Andrea Watson has spent most of this year travelling around Greece. Here she picks a few of her favourite places and looks at what you can buy there.
Authentic, laid-back and traditional are just some of the words that sum up the enduring appeal of Greece. Whether tramping over herb-scented hills to explore an ancient ruin, swimming in a turquoise sea, or relaxing in a taverna watching the slow pace of life of a small harbour, a Greek holiday offers a magical escape. 
Boosted by the fallout in other areas of the eastern Mediterranean including Turkey and Tunisia, more tourists than ever are heading to Greece and this year at least 30 million are expected.  They are also arriving earlier, thanks to more airlift, while improved services can be expected after a deal in late 2015 granting control of more than a dozen Greek airports to the German handling company Fraport. All this is good news for property owners, especially if they are renting.
"Greece is a magical country with countless unspoilt islands and a relatively small population. It is still a favourite holiday destination and rentals, particularly for beach-fronting houses on the Ionian islands, have never been better," says Andrew Langton, chairman of the agent Aylesford International. Of course, Greece is not only about islands. The Peloponnese, vividly described in the writer Harry Mount's book Odyssey about ancient Greece, is an area rich in classical sites and legendary places such as Arcadia and Olympia.   
Many Britons have settled down and it is easily reached all year round via Athens airport and a car on the superb new (and largely empty) motorway. There's an immense range of property.  In ultra-lux places such as the wealthy enclave of Porto Heli, villas rent for  €13,000 per week; but in the Messinia area, a charming stone tower house built to order costs from €250,000. The key to both – for a tourist at least – is proximity to the sea, so in many ways, it makes sense to look for an island property.
So, where to look? Here are a few ideas
Crete
The largest Greek island is perhaps naturally the biggest overseas property market with the highest volume of sales. The agent Crete Property Consultants has a wealth of projects all over the island, both new and second-hand, while another agent Leptos Estates concentrate on the Chania region.
At the top end, Leptos have plots for bespoke stone villas opposite Viglia beach, costing from €650,000. Leptos's marketing manager Ioannis Iliakis says: "As Turkey, one of our main competitors in the touristic industry, suffers a near-complete destruction of its tourism market, Greece stands to benefit the most."
He says that Ryanair, airberlin and easyJet are all intensifying their presence in the Greek market and that Air China has just announced direct flights to Athens, while Emirates now fly directly from New York to Athens.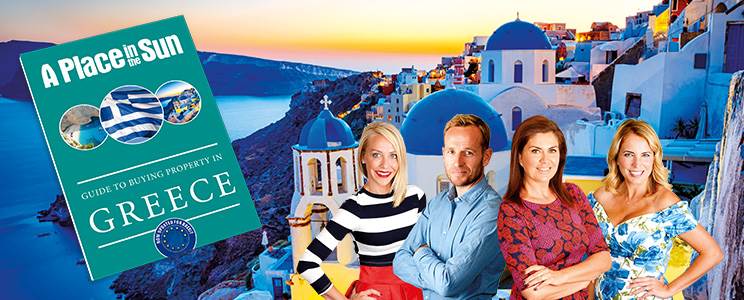 DOWNLOAD OUR FREE GUIDE TO BUYING A PROPERTY IN GREECE
"The season is gearing towards a new all-time high. Hotels are reporting higher average occupancies as well as higher daily rates and longer seasons. Of course, the property industry, which is closely related to tourism, benefits from this."
Crete Property Consultants suggests looking at the country and the town of Rethymno is in the centre of the island between the two main airports. It has  a 12km-long beach on the north coast, a lovely old town with cobbled alleyways and a shop with handmade crafts, and a Venetian harbour alongside a new marina. It also has easy access to the south coast and some outstanding areas of natural beauty and unspoilt beaches and villages. It has everything within easy reach for visitors and residents alike.
Search for a property for sale in Crete >>>
Kefalonia
My personal love affair with the Ionian islands goes back to Gerald Durrell and his book My Family and Other Animals, but I'd have to stump up a lot more today for the "strawberry-pink villa" where the Durrell family stayed in Corfu in the 1930s which inspired the classic book. With its Venetian and Greek heritage, Unesco World Heritage site main town, crystal clear coves and hills covered with olive trees, Corfu remain a top choice for English buyers.
Another Ionian island that has become increasingly popular with British buyers also owes its fame in part to a book. Kefalonia, the island setting of the book Captain Corelli's Mandolin, is renowned for its rolling hills covered with olive trees and vines, sandy beaches, white cliffs and turquoise waters.
The most fashionable area is Fiskardo, where the harbour is packed with superyachts, but there are plenty of other less pricey places to search on this, the largest of the Ionian islands.
Ivan Koumoudos, manager of Unique Villas has a landbank of plots on which he builds villas to order. Prices depend heavily on location and proximity to a beach, ranging up to around €500,000.
Kefalonia and Corfu are set to benefit from the investment programme planned for their airports by Fraport, he says. "Many airlines have redirected their flights from troubled countries to Greece. I have heard British Airways will move several of their Turkey flights to Kefalonia for 2018. Flights now run from the beginning of April to the end of October," he adds.
He says that rental rates on the island are increasing by 3 per cent to 5 per cent per year and can yield between 5 per cent and 8 per cent on the investment value.
Search for a property for sale in Kefalonia >>>
Kea
It's hard to find a holiday home without a sea view on this hilly, tear-shaped island that is the first of the Cyclades chain but does not suffer from mass tourism as it has no airport. A little-known gem, Kea is a ferry hop from the transport hub of Lavrio (also known as Lavrion) and you can be here within two hours of arriving in Athens.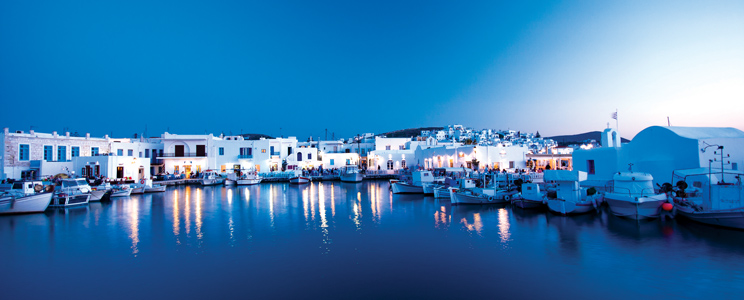 New properties are often built of stone and look quite unlike our traditional concept of Cycladic architecture as a white cube with blue doors and window frames. "Originally island homes were never white, as pirates could see them,  so they were made of stone and left unpainted," says Christos Vlachos, of the agent Kea estate, who builds luxury natural stone villas. "Whitewashing only began in the 19th century when it was enforced as a hygienic measure."
Ioulida, the capital, is one of the four ancient cities of Kea alongside Pisses, Korissia and Karthea. Many houses are abandoned and its winding streets are so narrow that anyone contemplating a restoration project will be obliged to bring materials on mules.
The best place to be is the top of the town and here Christos Liodakis of Kea Villas has developed a compound of homes with a communal pool and panoramic views over the blue Aegean where hotel suites cost from €85,000 including taxes and are licensed to rent.
Paros
Give me Paros any day in preference to Santorini or Mykonos. The international crowd flock to the latter in July and August and these days you can't move for Chinese and Japanese coach parties taking selfies in high summer. Paros, on the other hand, remains somewhat off the radar screen. When I last visited I was struck by the extraordinary natural beauty and varied topography of the island whose greatest claim to fame is its pure white marble: the Venus de Milo and hundreds of other classical sculptures were fashioned from Parian marble.
Search for a property for sale in Paros >>>