Barcelona is one of the hottest markets in Spain right now. It still looks like good value compared with London, Paris, Rome and Madrid, and the rehabilitation of the oldest parts of the city has played a key role in attracting interest from investors. While the market peaked there in 2007 – when average values reached €4,732 per sq metre, according to the agent Cluttons – prices declined until early 2013, when they had dropped by 37.5 percent.
Official figures show single-digit rises year on year, but, as ever with Spanish property statistics, averages do not tell the whole story. "I get the sense that prices are rising much faster than the official figures suggest," says Mark Stücklin, the Spanish property commentator, who lives in the city. "I'm seeing examples of prime Barcelona property prices up around by 100 percent in the last three years, though you wouldn't know it from the figures. Foreign demand is driving the market in Barcelona, especially Chinese and European demand." He says that the Chinese were the biggest foreign buyers in Barcelona last year, up around 60 percent year on year and overtaking the French for the first time. "If that trend continues, and Barcelona becomes a popular destination for Chinese demand [for the golden visa scheme that offers residency permits with property purchases of €500,000 or over], that will put more upward pressure on prices.
The number of Egyptian and Israeli buyers is also growing." With new low-cost flights from Norwegian Airlines to Barcelona from four US cities starting in June, plus the strength of the US dollar against the euro, we could see more Americans in Catalonia too. The number of British buyers in Barcelona grew strongly last year, although this is unlikely to be quite the same in 2017 with Brexit's effect on the exchange rate, although this might be countered by the strong domestic market (and one that is getting stronger). The local market is driven by increasing finance options in Spain, and the healthy Spanish economy: it showed GDP growth of 3.3 percent last year. What does the city have to offer? For lifestyle, it's pretty hard to beat.
Whether you are seeking beautiful architecture, a great food scene, or a Miami-style city beach with a Catalan twist, it has something to suit most tastes. For a change of scene, you can hop on a fast ferry to the Hand in hand with flourishing as a popular city-break destination and Airbnb hot spot (of which more later), the Catalan city associated with the artist Antoni  Gaudí has also been growing as a second-home hub. Once known as a slightly rundown, edgy city, it has changed much in the past 20 years. The 1992 Olympics began Barcelona's transformation into the fashionable beach city that it now is, and the redevelopment of its waterfront area included the beachside Diagonal Mar district, where towers of luxury apartments enjoy sweeping views of the Catalan coast. Running alongside this has been the evolution of FC Barcelona into a brand in its own right, with its superstar players such as Lionel Messi, the five-times winner of the Fifa world player of the year award.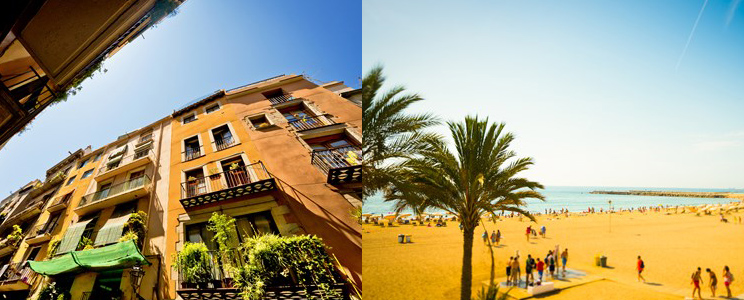 "Barcelona is a global city, offering a combination of great value right now combined with the fashionable lifestyle aspects, so it's a great time to buy a home there," says Joanna Leverett, Cluttons head of international residential markets. "In what another major European city can you get a one-bed property in the central old town for €250,000?" There's a much more diverse range of property offerings now as the new-build sector has recovered since 2013.
They are especially drawn to beautiful historic apartment blocks in the harbour front old town, Ciutat Vella, that are being redeveloped by local and international companies, or the Eixample if they have slightly bigger budgets. In these two districts, 75 percent of sales are to foreign buyers.
The old town or Ciutat Vella
The appeal of the old town – which includes the medieval parishes of La Barceloneta, El Raval, Sant Pere, Santa Caterina and El Born, as well as the Gòtic – is that it is within walking distance of the sea and the commercial centre of Eixample. Most of the residents are locals so there's an authentic feel, with lines of washing strung between the wrought-iron balconies of the tall medieval stone townhouses.
Last year the average sales value of a two-bed apartment in the old town was €225,920, according to Cluttons, with the average rent per month for such an apartment at €1,059. Renovated apartments will cost more than this, and a two-bed example stylishly finished to suit the overseas rentals market, will be around €400,000. A one-bed will be around €250,000. This equates to about €3,650 per m2.
At Correu Vell, a building of 13 apartments with original beams and brickwork released for sale last year, prices started at €360,000 for a 50m2 one-bed apartment, and there is a top-floor 66m2 one-bed apartment with a roof terrace still available for €420,000 (cluttons.com). They also have a one-bed apartment in a newly refurbished block one street from the famous La Rambla for €270,000. Also popular is the bohemian El Born district, for its proximity to the harbour, authentic listed buildings, bookstores and artistic ambience. Expect to pay nearer to €4,000 per m2 for an older property, suggests Isidre  Valldosera, head of Cluttons Barcelona.
In and around the elegant L'Eixample
The grid-like L'Eixample – which means "extension" (from the medieval city walls in the 1850s) – with its wide avenues, Gaudi-designed and other Modernist buildings and large public squares such as Plaça de Catalunya, is the major tourist and commercial area. Its six barrios (districts) include the Sagrada Familia and Sant Antoni – the new hipster district – while the Passeig de Gràcia is one of the city's most famed upmarket shopping streets and sought after locations for grand apartments. Some of these will cost about €1 million and command long-term rental rates of €5,000 a month, although the average rent for a two-bed apartment in this district is a more modest €1,281 per month.
The average sales price is about €4,050 per m2, or €324,009 for a two-bedroom apartment, according to Cluttons. North of Eixample is the district of Gràcia, one to keep an eye on as it's generally a bit more affordable yet is still central, with many of the same advantages: great architecture, new boutiques, lively restaurants and pretty squares. New development projects are not permitted there – as they are not in Ciutat Vella or Eixample – but there are plenty of rehabilitation projects where the façades of buildings are restored and the interiors reformed, keeping original features.
For example, the agent Lucas Fox has a one-bed 49m2 apartment within a refurbished Baroque building of eight units in Gràcia. It has three terraces, totalling an impressive 59m2, and the price reflects the high-spec finishing (including smart technology) with lots of exposed brickwork and steel beams: €555,000. Just south of Sant Antoni is El Poble-Sec, a formerly seedy area that is now fashionable and extends towards the harbour. There is a two-bed apartment there for €315,000 through Cluttons.
Seafront new-builds?
Sant Martí is the main seafront district that includes the Olympic port and new beachside district of Diagonal Mar, where prices of apartments in super-luxe high-rise condos go up to €7,000 per m2. It also includes the more affordable area of El Poblenou, which is one to watch, according to Stücklin. This industrial waterfront area – once dubbed the Manchester of Barcelona for its former factories that became venues for raves – offers both sea views and regenerated Modernist apartment blocks. It's become Barcelona's live-work start-up hub – especially the [email protected] area – and you can get a huge three-bed loft-style apartment for €575,000 (Lucasfox.com).
Short-term rentals: beware
Buyers hoping to rent out their property should be aware of the city council's moratorium on holiday rental licences (required to legally rent out your property on Airbnb or as any other type of short-term let – anything less than 30 days). "Some properties continue to be rented out illegally [without a licence], or you can buy a licence on the secondary market (not the issuing authority/town hall) and apply it to a resale property," says Stücklin. Or you can, of course, target the lucrative long-term rentals market.