Welcome to the latest instalment of our 13-part series, Tips From Our Overseas Property Buyers, where we catch up with homeowners from all over the world who share their experiences exclusively with A Place in the Sun. Next up we have Tim Robinson and his partner Katie, who decided to purchase an apartment on Turkey's Mediterranean coast, in Kalkan.
Wowed by his holidays on Turkey's Mediterranean coast, last year Cheshire businessman Tim Robinson bought an apartment in Kalkan (above), where he goes for some downtime from Salesbrook with his partner Katie. As he explains, he couldn't have bought without the hard work and trustworthiness of his estate agent.
"A hard-working, trustworthy agent will save you an awful lot of air fares!"
"I first enquired about my Kalkan apartment by email in January 2016, after discovering the estate agency, Alternatif Property Kalkan, from a previous enquiry I had made via aplaceinthesun.com. Run by a British lady and her Turkish husband, they were very receptive, sending me photos and so on. We must have corresponded more than 30 times before I decided to buy without doing an actual viewing.
For anyone buying in Turkey, the first thing I'd advise is finding a good agent. They need to be someone you can communicate with easily, and who is straight forward and honest about an area and each property. A hard-working, trustworthy agent will save you an awful lot in air fares! 
During the purchase process, a small discrepancy with the deeds of the communal area came to light. But true to form, our agent took it into their hands and resolved things using a local lawyer.
Download our free guide to buying in Turkey >>>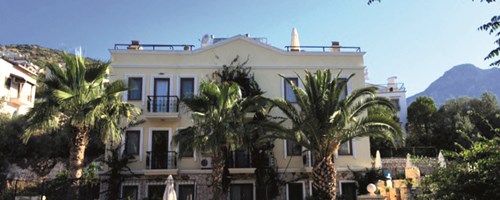 We couldn't be happier with our two-bedroom apartment.  It is one of six, all owned by British people, in a small boutique development, a short walk from the centre of Kalkan. On the third floor, and with access to a communal roof terrace, pool and garden, it was priced just £50,000. 
We discovered Kalkan a few years back when some friends recommended we visit for a holiday. We immediately fell in love with the spectacular natural scenery, and a mix of culture, interesting things to do and relaxing restaurants. Before then, we had tended not to go back to the same place for holidays, but that time we did and have now bought there.
Recent security concerns in the press mean Turkey might not be favoured by a lot of people, but we feel Kalkan is safe and far enough from any troubled areas not to be on the radar. The Turkish people there are very friendly and are precious about protecting their tourism. We plan to spend five weeks, split between three visits, at the apartment this year. We also look forward to our four adult children and extended family visiting.
If you're looking to purchase a property in Turkey, click the link below.