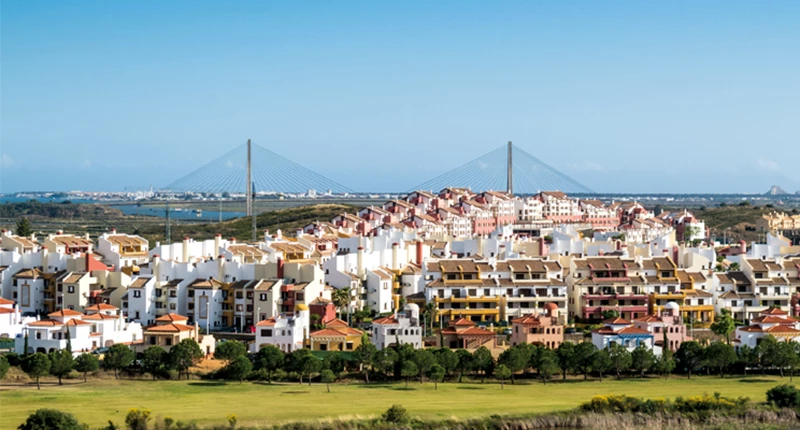 Our expert writer Richard Way takes you on a journey to Isla Canela, Spain, an area frequently referred to as the country's 'secret' beach island.
Invasion of personal beach space is never an issue at Isla Canela, a purpose-built resort in Spain's furthest south-west corner. Situated on a 1,700-hectare island made up predominantly of saltmarshes, the southerly side of Isla Canela is a seven-kilometre-long string of Blue Flag beaches, which ends where the Guadiana river estuary marks the Portuguese border.
Owners of apartments in the low-rise complexes that overlook the beach front needn't worry that things could one day get crowded. Not only is the beach very broad, but most of the land around them can't be built on. The resort has always been especially popular with Spanish people, but it also attracts foreign buyers, including Brits, who prefer its less touristy feel compared to the other more developed Costas.
"Off the radar of the average British holiday homeowner"
Isla Canela's unusual location in the Huelva province has kept it off the radar of the average British holiday homeowner. Connected by a bridge to the pretty riverfront town of Ayamonte, a combination of the Guadiana river to the west and the smaller Carreras river, which meanders through salt marshes, to the east separates the island from the mainland.
The easiest way to reach Isla Canela from the UK is to fly into Faro, from where the transfer over the border into Spain is an easy 45 minutes. Highlights of the resort include its own championship golf course, distinctive for its palm and eucalyptus tree-lined fairways, many of which run alongside marshland. Completing the package is the marina, with its small selection of bars and commercial outlets, located opposite the island's original fishing community, Isla del Moral, home to some of the area's best – and most authentic – fish restaurants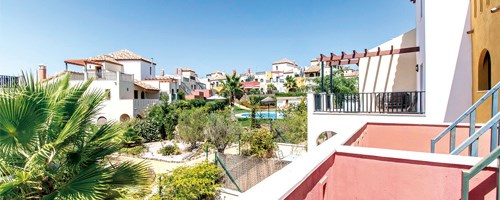 Facilities
Typical facilities at Isla Canela developments include communal pools, one for children, tennis, landscaped garden areas, gated security, underground and outside parking, lifts and extra storage. Typical prices start at €93,000 for a one-bedroom apartment in block one, or in block two €107,000 for a one-bedroom or €130,000 for a two-bedroom apartment. Prices include kitchens but not furniture or VAT
Recent British buyers at Isla Canela include Merryn Myatt and partner John Wickham, who completed on their two-bedroom apartment at Las Arenas (block one) in March 2016, agreeing on a purchase price of €138,000. The Cheshire couple viewed the property in December 2015, when they popped over to Isla Canela from the Algarve, where they were spending Christmas.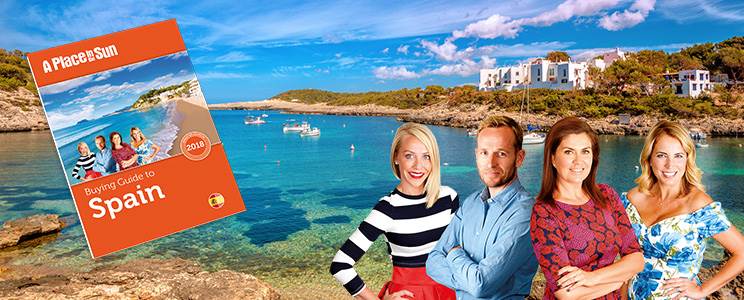 DOWNLOAD YOUR FREE SPAIN buying GUIDE HERE
"The first time we walked in and saw the views, we knew it was the one for us," said Ms Myatt, a media consultant and former BBC presenter. "Being the south-facing corner unit means we look straight out to sea, so have fantastic views from our large balcony. The architectural style of the block has an Andalusian feel and it's built in a way that means everyone can see the sea."
"Isla Canela appealed because it has escaped mass development and is low rise, the beaches are vast and virtually untouched, plus it's popular with the Spanish. It's got the balance between offering everything you need for a holiday without being over-developed just right. Our plan is to visit every couple of months, except during the summer high season, when we'll rent out the apartment for income towards the running costs. Getting there is easy, with lots of flights from Manchester to Faro."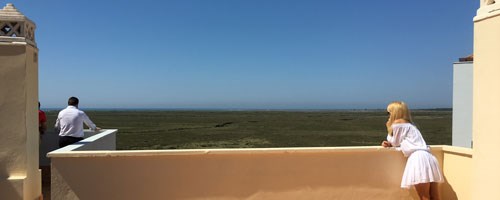 Mr & Mrs Bullock
Similarly, another recent buyer at Isla Canela is Iain Bullock from Hertfordshire. Mr Bullock discovered the resort during a visit to the A Place in the Sun Live exhibition last year, flying out to view properties three weeks later. "I wanted a holiday home somewhere sunny to enjoy with my partner Joanne (above)," said Mr Bullock.
"I had initially been considering the south of France but Isla Canela caught my eye and appeared different to typical Spanish resorts. When I flew out I'd done my homework so had two properties in mind. I liked the Las Marismas complex as it's quiet and has nice views across the salt marshes".
"It went smoothly and I agreed on the price over lunch on the beach!" said Iain. "The deal included one year's free membership at the Isla Canela golf club and 50 percent off the following year.  The apartment came unfurnished but Isla Canela gave us €6,000 to spend on furniture at the MadriDecor store in Madrid. We won't rent it out, keeping for our own use and my adult children may visit too. Getting there is easy for us, as there are lots of Faro flights from both Luton and Stansted." 
Property-hunters in search of somewhere different to the well-trodden Costas of eastern and southern Spain might do well to visit Isla Canela. Similarly, if you're having a fruitless house-hunt in Portugal's Algarve, you'd have nothing to lose popping over the border for a look. At the very least, you'd have a good lunch in Ayamonte!
Click below to find properties in Isla Canela.