Welcome to the latest instalment of our Five-Minute Focus series, where this time we take you on a journey down to the fascinating region of Alentejo in Southern Portugal. With its world heritage sites, stunning coastlines and mesmerising hilltop landscapes, could this be where you find your ideal home abroad? Let's get right to it...
Where is it?
This beautiful, quiet, dignified and understated region of Portugal primarily occupies the central area of the country, spreading down the coastline south of Lisbon to the Algarve and east to the Spanish border. The whole of the area is accessible by car from Lisbon in well under two hours.
Not the Algarve then?
For the sunshine, yes, but conceivably the only true comparison. Investors in the Alentejo seek simple sophistication, culture and a seductive pace of life. It features a sleepy landscape of empty roads, whitewashed villages, fields of vines, citrus and olive groves and half-naked cork trees that some have called Portugal's Tuscany.
Nestled among this unspoilt environment is the Unesco world heritage site of Évora, the majestic lake at Alqueva and historic locations such as Monsaraz and Mourão. More famed for its wine nowadays than the Algarve, Alentejo makes half of Portugal's wine output and is the breadbasket of the country.
Far from the madding crowd?
Yes, but not too far. Each of these stunning cities and towns have wonderful sightseeing opportunities, lively squares and places to hang out with authentic restaurants, bars and cafés. The place exudes the charm and character of its environment and its people. Its golden sandy beaches are largely deserted and wilder than those down south and are havens of tranquillity. The sky above Alqueva in the heart of Alentejo is a protected area and internationally certified as a "dark sky reserve" by the Starlight Foundation, supported by Unesco, the UN World Tourism Organisation and the IAC.
Download our free handy guide to buying in Portugal here >>>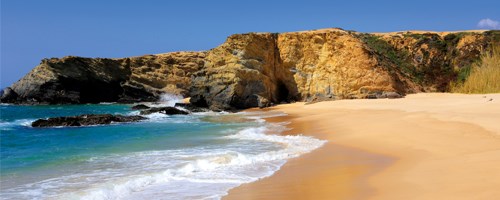 Affordable and accessible
It's fun because of the choice and accessibility to Lisbon, a thriving and enterprising metropolis of regional and branded shops, bars, arts and entertainment. With flights virtually on the hour every hour from the UK, it is arguably the best value for money in Portugal and costs considerably less than other competing European destinations.
What property to buy?
There is a splendid diversity from city townhouses to rural retreats, shoreline villas or clusters of marbled whitewashed stone houses in hilltop locations, with properties in central Alentejo starting at around €250,000. Investing in Portugal offers some attractive taxation benefits, coupled with comparatively low values which increases your buying power. You can find out more about this by contacting our friends at Ideal Homes Portugal.
As Lisbon continues to grow in stature among the European economies and is rated as one of the cities most likely to become a micro version of London, the attraction is all-encompassing, with personal and professional benefits. Above all, you are buying a lifestyle.
Are there Income prospects?
As Alentejo becomes more recognised as a tourist destination it attracts a growing number of international visitors. The UK remains the main source of overseas homeowners, typically providing 70 percent of international buyers in Portugal, resulting in a secondary market for long, short-term and holiday occupancy. It is not an area that is heavily subscribed either, so a good proposition is likely to attract decent year-round occupancy levels, with 300 days a year of sunshine.
Looking to buy a property in Portugal? Click below to begin your journey.