The latest instalment of our Five-Minute Focus series focuses on the beautiful central Algarve, ranging from its large selection of golf courses, eateries and stunning beaches. So what does our magazine editor Liz Rowlinson have to say about this popular area?
Where is the central Algarve?
The Algarve is the southernmost region of Portugal, with the central coastal area stretching around 45 miles from Faro International Airport in the east through to the famous pottery town of Porches in the west.  Inland, the traditional, mountainous 'orange-grove' towns and villages of the area overlook the coast, many with spectacular rolling countryside views toward the Atlantic.  Road connections to the airport and further afield are excellent and high-speed rail links connect the area to Lisbon in around 2h30m.
Why settle there?
Portugal is one of the safest countries of the world, and the central Algarve is no exception. Combine this with a near perfect Californian climate - with around 300 days of the sunshine per year - it's a particularly comfortable place to live. If you're looking to relocate, many buyers are taking advantage of the Non-Habitual Tax Residency regime, which off ers potential tax-free or low-tax on incomes for retirees and selected professionals. For freelancers or home-workers, fast internet connections are ubiquitous and travelling to and from the UK is easy; with regular, daily flights to all UK airports.
Download our free guide to buying in Portugal
Albufeira: the heart of it all 
The vibrant and diverse city of Albufeira is at the heart of the area. Whilst it's well known as a tourist mecca, it's actually one of the most diverse cities in Portugal, with its almost secret suburbs providing every amenity for long-term living or relocation. The city offers a famous 'warm welcome' for visitors of all nationalities, and with most services being provided in Portuguese and English, it's a place that quickly feels like home; but with a traditional Portuguese lifestyle! It's a area that's full or surprises too, with a the Salgados Bird Reserve being one of the most important wetlands in Europe, just a few steps away from delightful beach bars serving freshly caught sardines, local Portuguese wines and home baked cakes.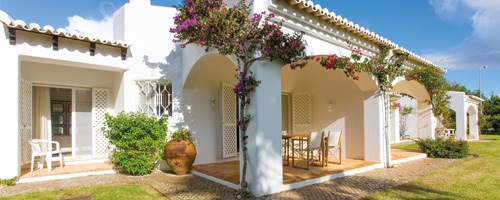 Something for everyone? 
Whether it's the towering sandstone cliffs overlooking sandy Blue Flag beaches (reputed to be some of the fi nest in the world), rolling countryside, traditional architecture or staggering natural beauty that attracts you, the region has it all. Away from the bustling tourist centres, the rural hamlets and towns of Guia, Pêra, Porches, Algoz and Boliqueime offer a real community feel, with regular fresh fish and vegetable markets as well as essential amenities such as pharmacies, banks and post offices. The area also is also a growing centre of gastronomy, with the multiple Michelin-starred restaurants of Vila Joya complementing fine Portuguese cuisine at numerous restaurants across the area.
A golfing gem
The landscape and climate lends itself to some of the best golf in Europe, with world class championship courses and family oriented golf and leisure resorts providing wonderful facilities 365 days a year. Many of the courses provide coaching, access to other sports facilities and luxury spas, often available on a day-visit basis.
What can you buy there?
Buying property in the central Algarve is a relatively straightforward process, providing the services of a licensed, experienced agent and lawyer are retained. With one-bedroom apartments in well-managed developments starting at around €150,000 and two-bedroom, superbly located apartments from around €190,000, a second home or 'home and income' can be well within reach. Villas in the towns and villages to the west of Albufeira start at around €400,000, however, there are many opportunities to buy property at either end of the price scale.