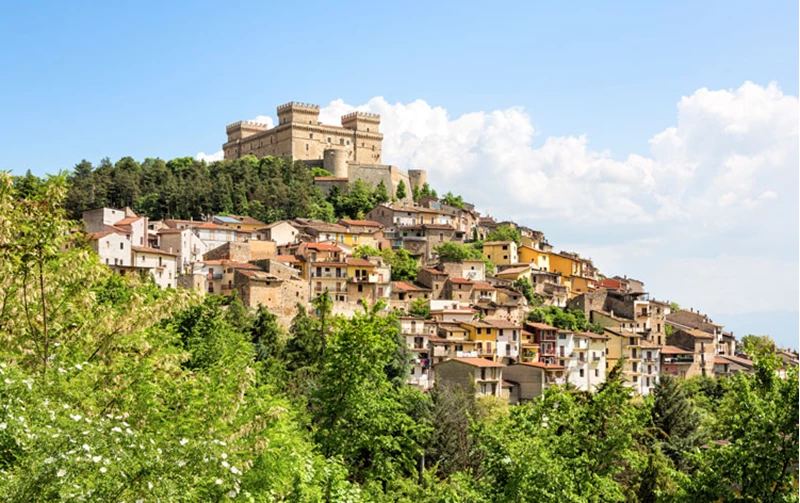 Tuscany
A sun-drenched land of rolling hills, honey coloured farmyards, vineyards and fantastic food and wine, Tuscany if for many people the favourite dream location in Italy. Unlike the Abruzzo, it hardly needs an introduction - it's been immortalised in classic novels, Hollywood films and the subject of many tourism campaigns.
There are romantic medieval hill-top towns, all the art history, from Florence, the seat of the Italian Renaissance, to beautiful Siena, San Gimignano, Lucca and elegant Arezzo, where Sting owns a wine estate.
Many of the finest estates and beautifully renovated farmhouses will be in the central "Chiantishire" area between Florence, Siena and Arezzo.  In this area you'll find the luxury spa resorts and borgos that have sprung up in recent years, with their sophisticated restaurants and wedding venues.
In the north-central leg of Italy, Tuscany is positioned well for access to Liguria or the lakes, but also Rome and the islands:  Corsica, Sardinia, or closer to home Elba and Giglio.
Well served by airports, Tuscany is none the less a large and diverse region, and the northern section - around Lucca and above, especially Lunigiana that is more like Abruzzo in its rugged landscapes - is more accessible than the gentler rolling hills of the central section because it is very handy for Pisa, Florence but also Bologna and Genoa airports.
"The central part, around Volterra, is beautiful but there isn't a train service so buyers should beware that you do need a car there," says Linda Travella of agent Casa Travella. "British buyers don't ask for the Tuscan coast, which tends to be very expensive, for them it is all about the rural heartland. For a coastal property in this part of Italy I would look at Abruzzo or Le Marche instead."
What does Tuscany offer property buyers?
Tuscany is the most popular Italian region for many property portals. You can get properties to suit all budgets, but as ever, it depends where you go.
Tuscany is much more cosmopolitan than the Abruzzo, with notable numbers of expats having settled there since the 1950s, and it's now especially popular with American as well as British and German buyers. Interestingly the average price enquiry for gate-away.com is €530,000 - four times that of the Abruzzo.
Yes, international buyers have pushed up prices so you will still pay a premium for areas close to Florence and also around Siena but don't discount the central area if you don't have the €1.5m required for a trophy farmhouse - in the popular hilltop town of Radicondole [south of Volterra] you can get a five-bed, three-bath property on 1.5 acres with a pool for €470,000.
Or for a lock-and-go Tuscan bolthole, you can get a one-bed house in the medieval and Renaissance hill town of Montepulciano (not to be confused with the Abruzzo wine), for around €115,000 - or a two-bed apartment in the historic centre of San Gimignano for €270,000, to give a flavour.
Looking north, your money goes further and access is great, as mentioned already. "Bagni di Luca is a popular small spa town just north of Lucca where you can get a renovated three-bed village house for €140,000, or one to do up for less than €70,000," says Travella. Just north of it is the Garfagnana valley that also includes the popular hilltop town of Barga, where many Scots have historically settled and added the fish and chip festival there.
Or in Lunigiana, a little further north, it's different yet again, with dramatic Apennine scenery and pretty fishing villages where the coast meets Liguria's Cinque Terre. "Up in the hills you can get a three-bed converted farmhouse for around €200,000 - prices are around 50 per cent less than the Chianti area," says Lois Allan of agent L'Architrave.
click to search property in tuscany
Abruzzo
Like Tuscany, the Abruzzo is located in the green heart of Italy, but is a smaller region with a shorter coastline, bordering Lazio to the west, Le Marche to the North and Molise to the south.
Abruzzo offers fantastic transport links to explore other parts of Italy and an international airport in the city of Pescara. However, Rome is only one hour by car from the border Abruzzo - main train lines run along the coast and from Rome to Pescara, stopping in Avezzano and Sulmona - whilst Ancona airport is two hours away.
But why Abruzzo? It is one of Italy's most unspoilt regions, two-thirds mountainous a third of it designated national park. So, it's very naturally beautiful too, yet some might find it a little too remote. The term "undiscovered" is used all too frequently to describe areas of Italy but in the case of Abruzzo (and its similar little neighbour Molise, from which it split in 1963) it is genuinely true.
The British love the Abruzzo over Tuscany because the price is up to 70 per cent cheaper and it is real Italy - not tourist 'fridge magnet' Italy," says Dave Benton of agent Vignaverde.  "It has not been ruined by tourists, and you can eat very well from €10 per head and vineyards are mostly open to the public for free."
It's a region characterised by wild national parks with gorges, lakes, mountains and indeed ski resorts. In fact, sometimes it can get more snow than the Alps, and the locals flock to resorts such as Roccaraso. But the lack of tourists in this region has helped preserve its historic towns too, that still uphold ancient traditions, for example Sulmona, famous for sugared almonds, and the medieval capital of L'Aquila that was damaged in the earthquake of 2009. There are also the legions of vineyards that produce world-famous wines such as Montepulciano d'Abruzzo (for around €4 for a litre or direct from cantinas you can pay anything from 80 cents a litre).
Finally, there's the wonderful Adriatic coastline - Abruzzo has 13 Blue Flag beaches, nine of which in the Chieti region - a rugged coastline with beautiful modern sandy bays, stone beaches, private coves for snorkeling and beautiful hill top towns.
What does Abruzzo offer property buyers?
Quality of life, a mild climate and beautiful stunning scenery are reasons that attract buyers, along with the good transport links between mountains and sea.
"Most enquiries for Abruzzo properties comes from the UK and the region is third in the British preference list, after Puglia and Tuscany," says Simone Rossi of Italian property portal, gate-away.com. "The region offers great opportunities for the peace and privacy so beloved by Brits who prefer buying fabulous properties a short distance away from busy tourist centres."
According to the portal, in 2016 Abruzzo enquiries grew by 43 per cent, with Chieti the most popular province, and the average enquiry €125,000. The most requested cities are Roccaspinalveti and Castel de leri.
Some of the most popular areas (if not the most popular) for British buyers are around the towns Casoli and nearby Palombaro (especially Palombaro) both in the towns and outside in the countryside. "Both towns are very picturesque and at the foothills of the Maiella mountain range, 45 mins to ski and 30 mins to the coast," reports Vignaverde.
In Casoli you can get a two-bed townhouse to do up for as low as €15,000, but even a renovated one will be less than €100,000. A four-bed detached house five minutes outside town might be €70,000 if you want space and privacy. Prices are similar in smaller Palombaro.
Your money also goes further by the coast than it does in Tuscany, says Linda Travella of agent Casa Travella.  "You'll pay around €100,000 for a two-bed property within 10km of the sea, and I'd recommend Coronelle, because it is easily reached from both Ancona or Pescara airports, or Citta Sant'Angelo, near Pescara, Alba Adriatica or Martinsicuro."