Portugal is no stranger to second home buyers looking for good value sunshine holiday homes. Most head south to the wide beaches, golf courses and red cliffs of the Algarve but that means they miss out on the glories of Portugal's magnificent capital city. For cultural delights mixed in with standout value, Lisbon might just be Europe's most underrated city.
Lisbon is certainly buzzing. The city is investing €33.7 million in a serious facelift over the next three years, upgrading the historic waterfront and on the way gaining a thrilling reputation for good food, style and value. The new Museum of Art, Architecture and Technology (MAAT) threw open its doors in October and the city has a rush of new hotels.
Lisbon is the most westerly capital city in mainland Europe and also the warmest in winter with a special clarity of light helped by numerous facades of highly polished white and blue tiles. This is a city of water: as well as the Tagus River the Atlantic Sea is close enough for residents to go surfing in their lunch break. Lisbon is stuffed with year-round character and excellent value and this explains why for some buyers, it beats the more seasonal charms of the Algarve.
The value of Lisbon's historic property stock is undeniable. "For a capital city of a Western European nation Lisbon's prime real estate offers value on a global stage," confirms Paul Tostevin of Savills. "Mainstream residential prices are two-thirds of those in Madrid, one-third of Berlin's and one tenth of London yet Lisbon also offers a higher quality of life than all three based on its low cost of living, low crime, pollution levels and pleasant climate."
Property prices are currently outperforming the national average too, standing 11.9 per cent higher than in 2013. The real star of the show, however, is the newly emerging market for prime city centre property where Savills figures show values have risen by an astonishing 30 per cent from 2013 to 2016.
One explanation for this growth is that from 1974 until 2012 rents in Lisbon were frozen. The city centre was largely left alone with no one keen to invest in property that provided no significant yields. When that protectionist law was changed in 2012 developers finally saw the value in restoring Lisbon's beautiful buildings with many proving adept at preserving the historical charm of beautiful facades while thoroughly modernising interiors.
The combination of good investment potential and a winning lifestyle has encouraged a truly international mix of buyers to consider Lisbon. Chinese buyers, in particular, are buying through Portugal's successful Golden Visa scheme, introduced in 2012 and giving non-EU residents spending €500,000 or more on a property a route to an EU passport.
South Africans, South Americans and Russians are also buying homes while many Europeans, especially French buyers, are attracted by Portugal's Non-Habitual Resident scheme. This offers tax incentives including personal income tax at a flat rate of 20 per cent and no income tax on non-Portuguese pensions, rental income and capital gains for ten years to anyone who has not been a Portuguese tax resident in the past five years.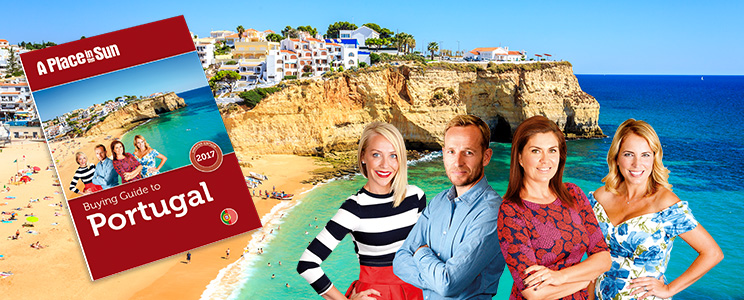 download our brand new free guide to buying a property in Portugal
City centre appeal
Lisbon is a compact city built on seven scenic hills. The smartest and priciest area of the city centre is the grand boulevard of Avenida Liberdade. This is where renovation of historic buildings began and early buyers included Portuguese football superstar Cristiano Ronaldo.
For lower prices head to classy Lapa, hip Chiado by the river with appealing late nineteenth-century architecture, bohemian Barrio Alto or newly emerging Santos where a seafront location and an energising mix of design shops and entrepreneurial start-ups are attracting youthful buyers. All these areas are an easy walk from each other and linked by public transport.
Athena Advisors (athenaadvisers.com) is selling a number of interesting projects in Lisbon. Conde 35 in the cobbled streets of Lapa has 11 renovated apartments priced from €335,000. The building was totally refurbished with only the façade retained and offers one to three bedroom homes, some with private gardens and all with underground parking (pictured right).
In Santos, a rare new build apartment building has 24 one to four-bedroom apartments from €340,000 due for completion in 2019. Santos Design is an eight-floor building close to the river between prestigious Lapa and Chiado but with a lower price point than either area. On-site facilities include a communal pool, spa and gym (see right).
Most centrally of all in the prime tourist area of Baixa, eight two-bedroom apartments over a shop could be an interesting buy to let. The apartments are on a pedestrian street and priced from €645,000 to €895,000 also with Athena Advisors.
Outside Lisbon: Cascais
Thirty minutes from Lisbon airport the former fishing village of Cascais has always appealed as a classy escape from the city. "Cascais is not only a perfect summer destination but also a great place to spend time in winter with an active year round community," says Nicola Duarte of Nduni Property (nduni-property. com).
"The wonderful weather of hot summers and mild winters allows residents to play so many sports. Also, Cascais is ten minutes from enchanting Sintra - a UNESCO World Heritage Site - and a short walk from several beaches, museums and palaces and fine restaurants."
The centre of Cascais has apartments priced from €3,000 per square metre. Nduni Property is selling a two-bedroom apartment an easy walk from the beach in a good development with pools, tennis court and communal gardens for €360,000 (pictured right). A three-bedroom apartment built in 1998 a little further from the centre is €185,000 while a delightful one-bedroom apartment two minutes walk from the town centre with large sun-trap balcony is €315,000 (right).
"Before Cascais was well-known the rental season lasted from May to September but recently invested in the area has significantly increased tourism, extending the season," says Silva. "The properties that rent best are those within a one-mile radius of Cascais centre and also close to the beaches with air conditioning, views, balconies and pools. Owners can generally achieve a 5 to 7 per cent return on investment."