The Wadsworths had never heard of Cascais before Pat started working for a swimwear designer and was tasked with setting up a subsidiary in the affluent suburb of Lisbon in the 1990s.
Over a series of regular work trips, when Tony would pop over for the weekend to make a bit of a holiday of it, their love of the area grew, says Pat, now 61.
"We'd always dreamt for buying a home abroad, probably in France, but one of these weekend trips to Portugal we suddenly had a Eureka moment and both agreed that we should buy in Cascais instead. It would make sense that we had a base there so I wouldn't have to keep staying in hotels."
Getting a city bolt hole
They bought a two-bed ground-floor apartment in a small block of seven properties in the centre of Cascais with a little balcony for £160k in 2002. Cascais is a former fishing village that has evolved into a popular residential area for retirees and commuters from Lisbon.
Offering traditional architecture, beaches, good restaurants and nine championship golf courses nearby (in neighbouring Estoril in whose Hotel Palacio writer Ian Fleming drank martinis and found inspiration for his James Bond novels) it appeals to lifestyle buyers rather than investors.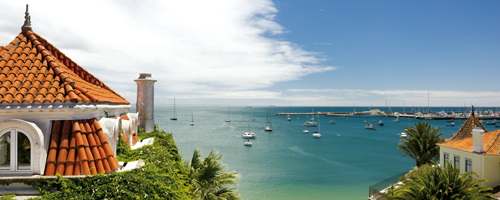 "It was perfect for weekends and school holidays when we'd bring our grandson over with us - after Tony retired in 2002 he took on full-time childcare - and we loved our cosmopolitan mix of neighbours.
In fact, we love the fact that Cascais is very international and not a British enclave," says Pat, who adds that it is an easy half-hour drive from Lisbon airport.
Not wanting to enter the Portuguese fiscal system - it's quite bureaucratic, says Pat - they didn't rent out their home, but it was great for remote working for five years when they began to think of upsizing.
"When Tony's commitments back at home finished, and the family was growing up, we decided to sell our apartment and move out of town to get more house for our money," says Pat.
"It was the recession but we got the money back on the apartment and we bought a four-bedroom, three-bath house in Murches, a village six or seven minutes outside Cascais and only five minutes to Guincho beach well-known for surfing. It's a development of 12 properties, with whom we share a pool."
Upgrading to a 4-bed villa
The couple bought the property - which has a lovely 100m2 terrace - for £250,000 through their agent - through whom they also sold their apartment. They pay £80 a month condo fees for the upkeep of the gardens and pool, as well as council tax of €1,100 a year (and utilities).
Since Pat retired last year they have been able to spend longer periods at the villa and essentially split their time roughly 50/50 between their four-bed detached home in Essex and Portugal.
"We love both homes, and can now choose to spend time at either. But when we are in Portugal we do the same sort of things we do at home - we shop, cook, clean, go for walks - and have the same set of books, CDs, DVDs," says Pat, who is very keen to emphasize the fact their life is "not one long holiday".
"But they do have the opportunity to go for walks along the beach, meet friends for coffee, have Portuguese lessons and also have a few lunches at local restaurants, including their favourites, O Faroleiro on Guincho Beach and Restaurante Nortada at Praia Grande, 30 minutes drive north."
"We can live cheaper here than in the UK if we eat seasonally and don't frequent the tourist restaurants, and our outgoings are around €300-400 a month," adds Pat. "But then, of course, we have to pay the bills on our Essex home too, so running two properties is not cheap. But 25 years ago we never dreamed we'd be able to afford to live as we do now."
It's also warmer in winter of course, and the restaurants don't close down as they do in seasonal holiday areas, which was why they prefer the Lisbon area to the Algarve.
"We think the Algarve is one long stretch of holiday makers, it's not real life. There are lots of expats playing golf and tennis and it's a bit like Chiswick-on-Sea!" suggests Pat.
"Here we have a lot of people working who commute into Lisbon so it's a very different feel. We have Italians and South Africans as neighbours, there are also quite a few Scandinavians and Russians who have bought to take advantage of Portugal's Golden Visa scheme [residency permits with property purchases of €500k or more for non-EU investors] or tax benefits [zero income tax for pensioners]."