The lure of the Algarve, particularly when it is cold and grey in the UK, is evident with people flocking to this southern coast of Portugal to play golf and relax, and to enjoy delicious Portuguese fare, fabulous beaches and its gorgeous Mediterranean climate.
The property market continues to improve especially with the 'Golden Visa' - a scheme for non-EU citizens to gain a five-year residency if they buy property over €500,000 spurring on purchases of the more expensive homes.
"This scheme is good for the economy and for business", says Michael Clarke of MCI Property, who is being kept busy with buyers from countries such as China.
But there is more to the Algarve than just the better-known central area, with its mega luxury resorts of Vilamoura, Quinta do Lago and Vale do Lobo.
Should you prefer to experience more of the 'real' Portugal, then you should travel either to the west or the east. Both these regions have seen development over the last 15 - 20 years, but they have a quieter, more authentic feel and there are still delightful unspoilt areas to discover. The infrastructure may not be so well developed - it just depends what you want.
The Western Algarve stretches from Silves to the Atlantic seaboard. Its rugged coastline has sweeping beaches, tiny coves and inlets with hardly a beach bar in sight, charming fishing villages and the fashionable resorts of Praia da Luz and Parque da Floresta.
The Eastern Algarve runs from Olhão to Vila Real de Santo António and the Spanish border. It's characterized by rolling countryside and a plethora of lagoons and islands of the Ria Formosa Natural Park. Vineyards and olive, lemon and orange groves abound and the majority of the lively Saturday markets and festivities are geared up for locals rather than tourists.
The Western Algarve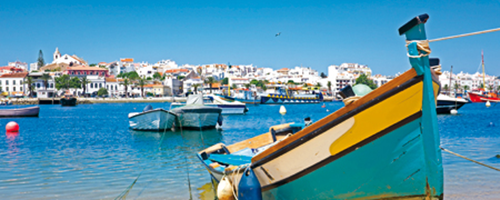 Lagos is the hotspot here. It's a thriving, cosmopolitan town with cobbled streets lined with orange trees in the old part, excellent shopping and restaurants and a buzzing nightlife. To the west, the villages of Budens, Burgau, Salema and Alvor are all popular. The rugged west coast attracts the surfers, who love the huge Atlantic waves, the wilderness and rocky coastline.
This year has certainly seen a return of clients, who have made a decision to buy before arriving in Portugal and villas less than €500,000 are in high demand, says David Rowat of Portugal Property.
"Although the market is improving, it is still a buyer's market with most vendors unaware of the real demand building up. So we are still able to negotiate good prices for our clients. For how long that will continue will remain to be seen".
In Lagos, he is selling a triplex four-bedroom apartment, 10 minutes from the marina, for €295,000 (£244,138) and a four-bedroom, three-bathroom villa, five minutes from the beach, for €425,000 (£351,689).
Mark and Rachael Elliott chose Lagos above other areas because they felt it was more than purely a tourist resort.
"There are things to do for the whole family all the year round and we've found it easy to make new acquaintances and feel at home", says Mark.
They bought a luxurious two-bed apartment holiday home for their family and friends in the central part of Lagos, close to the town, marina and beaches. It cost €180,000 (£148,951).
At Praia de Luz, you can buy a two-bed apartment for a round €150,000 or a family sized villa from around €450,000; at Burgau, it's possible to find a three-bed townhouse for €275,000; and at Parque da Floresta prices are around €195,000 for a two-bed townhouse and €520,000 for a four-bed villa with pool.
"I believe we'll soon see a slight increase in prices as, believe or not, this summer a lot of properties which were on the market for a while have now been sold," says Sara Nobre of Elite Realty.
The Eastern Algarve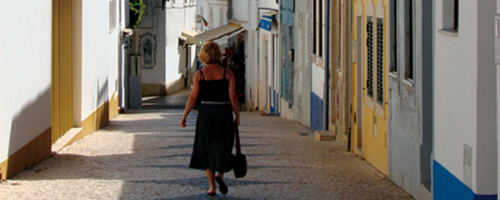 "The east has the feel of old Portugal with some new additions to it, it's more traditional here," says Steve Bennett of Buy Portugal (buyportugal.com). Tavira is the honeypot. It's a magical city, steeped in history with a Moorish castle, attractive historic centre either side of the Ria Gilão cobbled streets, good selection of shops, restaurants and bars and bustling daily market.
Margaret Ann Windsor moved to Tavira six months ago from Vale do Lobo, where she'd lived for 11 years.
"After so many years in a five-star tourist resort, I am now enjoying a relaxed lifestyle in a lovely town with delightful squares and riverside cafes," she says. "Everyone is friendly, helpful and refreshingly normal. I love the craft shops, the market, the ancient architecture and numerous social activities. Wish I had moved sooner."
Not only has her lifestyle improved, but she was able to buy a similar sized property in Tavira for around a third of the price she sold her four-bed house in Vale do Lobo for: €265,000 (£219,281).

Over the last 12 months we have seen a lot of activity and the market is picking up slowly. Prices are much less than central Algarve and a little cheaper than the Western Algarve, says Michael Clarke.
And bargains can still be found. He is selling a newly built four-bedroom house with large terraces and space in the basement for another bedroom for a rock bottom price of €235,000 (£194,456). At Monte Gordo, overlooking Vila Real, he is selling four linked four-bedroom villas, off plan, for €350,000 to €395,000.

Close by are the lively waterside villages of Cabanas and Santa Luzia, where you can buy one-bedroom apartment from €60,000. Fuzeta and Luz de Tavira both have their own beaches and from Manta Rota, where you can buy a two-bedroom townhouse for €145,000, the coastline stretches as one long sandy beach to the border.

If you really wanted to splash out you could buy a fabulous beach front villa through Portugal Property at Manta Rota for a mere €5 million! Vila Real de Santo António is the last port of call before Spain. The town has an attractive pedestrian centre where, at Christmas, a red carpet is put down and you can munch on roast chestnuts while listening to the local bands playing on the street.

A two-bedroom apartment here can be bought for around €180,000. While in Castro Marim, an historic village overlooked by the ruins of a 12th century castle, MCI Property is selling a four bedroom villa with pool and garden for €300,000 (£248,236).

For someone after an ultra luxurious lifestyle, then the Eastern Algarve is also home to the 1,000 acre Monte Rei Golf and Country Club resort (monte-rei.com). Here, a selection of villas is for sale at O Miradouro Village, which has tennis courts, swimming pool, gym, spa, restaurant and bar. Prices start at €1.175 million for a linked three-bedroom villa.
search property in the algarve