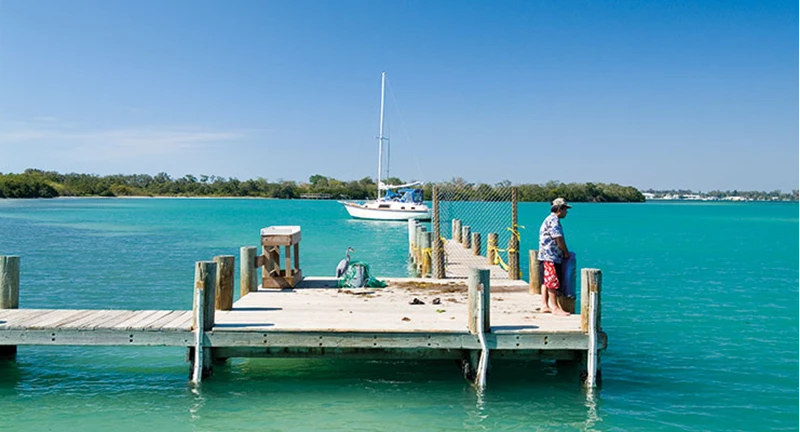 If Central Florida is all about whiteknuckle rides, then the Southwest coast is embodied by white sandy beaches. Two hours' drive south-west of Orlando you hit the Gulf of Mexico at Tampa Bay, which marks the start of Southwest Florida's 200-plus miles of stunning coastline, stretching as far south as Naples and Marco Island on the aptly named Paradise Coast.
Resorts on the Southwest Florida (SWFL) coast, which include 'America's best beach' at Siesta Key, are relaxed and ooze an old-world charm where life revolves around the beach, water sports and laid-back leisure activities. The more exclusive spots, such as Naples or Longboat Key, have a discreet country club feel but without any of the brashness you fi nd in certain parts of Florida's east coast.
The further south you head from Tampa, the higher the average annual temperature gets, so that by Naples the climate is tropical. Little wonder, the SWFL is a favourite with North American snowbirds and British retirees looking for somewhere to spend the winter months (and escape issues related to Brexit).
To reach the Sarasota/Tampa Bay area, there are direct flights from London into Orlando (nine hours) or, more conveniently, into Tampa (9.5 hours). Or fl y int o regional Sarasota Airport via Atlanta, which has connecting Delta fl ights with the UK. "This is my preferred route when I travel," said Pat Tan, an expat realtor at Sarasota-based Your Global Agents. "So I miss all the craziness at Orlando or Tampa airports, and avoid the risk of traffi c jams on the way to either of those airports!"
For the Naples-Fort Myers area, flying into Miami and driving 90 minutes across Alligator Alley is one option. "But now a few of my clients get connecting fl ights to Fort Myers after flying into Atlanta from London," said Tiff any McQuaid, president of Naples realty fi rm McQuaid & Company. "Then it's just 30 minutes from the airport to Naples or 10-15 minutes to Estero and Fort Myers. Flying into Fort Lauderdale is another option and about an hour away from Naples."
Now you know how to get there, we outline the key resorts on the SWFL coast, from bottom up.
Sarasota - the Best All-Rounder
Sarasota seamlessly blends an outdoorsy beach lifestyle with a lively culture and arts scene. In contrast to the retirement hubs further south, it is a colourful coastal city that attracts all types of foreign buyers. "We do have Brits buying holiday homes they use for short-term rentals (STR)," said expat realtor Pat Tan of Sarasota based Your Global Agents. "But we are seeing more people buying second homes, where they spend up to six months a year without renting it out at all."
Siesta Key and the other islands off Sarasota are especially popular with Brits looking for STR holiday homes. "Two-bed condos directly on the beach on Siesta Key start around $500,000," added Ms Tan. "Within walking distance of Siesta's beach but not on it, you can still buy something from $300,000. If you want to walk a bit more or cycle to the beach, then a condo just over the bridge on the mainland can be had from $200,000."
Fellow realtor Ian Harding at My Home on the Gulf recently sold a one-bedroom apartment on Siesta Key to a British client for $375,000. "After numerous winter vacations in Siesta, they decided to buy their own property there, one that would also generate rental income. They are expecting income of around $20,000 per year from rentals."
Another hot spot for Brits is Anna Maria Island, where a new condo development zoned for STRs has recently launched at the Harbour Isle community, set in a spectacular waterfront location. Back on the mainland, typical detached homes in more residential areas of Sarasota start in the high $200,000s, more for somewhere with a pool, either shared of private. Your Global Agents are currently selling new four-bedroom detached houses in a community with shared pool and gym, just eight minutes' drive to Downtown Sarasota and 15 minutes to the beaches on Lido Key for $325,000.
Another option could be the masterplanned community of Lakeland Ranch on the edge of the city. "We sold there to British couple Debbie and Andy Elcock in February this year," said Ms Tan. "They paid $500,000 for a fully furnished four-bedroom, three-bedroom house. It was a show home and the builder is leasing it back from them until they have fi nished selling in the community. This works well for the Elcocks, as they were not ready to start using the house right away. And being a show home, it's on a prime plot with huge lake views!"
Cape Coral & Fort Myers - Canals and Condos
Boasting more than 400 miles of canals, Cape Coral is ideal for boat owners or buyers set on a waterfront location. Neighbouring Fort Myers is popular for its beaches, but an added appeal right now is the redevelopment of its downtown area with opportunities to snap up new condos in very central locations. By contrast, nearby Sanibel Island, famous for its shells, is an unspoilt, old-world beach destination.
"Prices on Sanibel and adjoining Captiva are quite expensive as they are State parks with," said Zoe Attwood at Homes of America Realty Group. "Many overseas buyers purchase just on the mainland near the islands, before the city of Fort Myers, and on south Cape Coral which is just across the river estuary."
Kelly Denmark, an expat realtor at American Brokers Realty Group, added: "Most of my clients are 40-plus and looking for a second home to use as an investment to rent out when they're not using it themselves. In the Fort Myers-Cape Coral area, prices range from $180,000 for a condo to $700,000 for a home, and I have customers buying at both ends of the spectrum. Recently I had a single middle-aged woman who paid $189,000 for a condo in a resort community with lots of amenities and about 15 minutes' drive to the beaches." Looking at rentals, Ms Denmark recently listed a single family home in a golf course community about 15 minutes from the beach for $359,900, which "if let seasonally to vacationers could expect to rent for about $4,500 per month during the winter, slightly less in the summer".
Tampa Bay - Best waterfront lifestyle
ncircling Tampa Bay, the adjoining cities of Tampa, St Petersburg and Clearwater - the latter two on a peninsula - offer a world-class metropolitan waterfront lifestyle. St Petersburg's seven-mile waterfront park is the third largest in North America, and the city is also known as The Sunshine City, thanks to its 361 days of annual sunshine. Realtor Brian Smith at Lucas-Smith Realty highlights the popular seafront areas as St Pete Beach, Gulfport, Indian Rocks, Redington Shores, Madeira Beach and Treasure Island.
"A lot of our foreign owners invest in beachfront condos they rent out when they're not using them," said Mr Lucas. "They can largely cover themselves and typically generate between $30,000-$50,000 gross rental revenue. They range in price between $300,000-$500,000." Typical of his British clients, Mr Lucas recently sold a two-bedroom condo at the Pasadena Yacht & Country Club in Gulfport. "They wanted a second home in the Tampa Bay area, close to beaches, golf and Downtown St Petersburg. Their purchase worked out at £155,000, with £300 a month association fees."
Other popular options from Mr Lucas include condos at the Sunset Vistas development on Treasure Island beach, a short walk from the John's Pass Village boardwalk and shopping complex. Or the Beach Cottages development in the less developed barrier island community of Indian Shores, where prices are $500,000-$600,000, and typically grosses $50,000 in rental revenue.
Naples - Retire in Style
The only destination in the world with two Ritz-Carlton resorts, Naples is one of the richest cities in the USA in terms of average income per capita and boasts more golf courses per head of capita than any other area in the country. This is thanks to many of its properties being second homes of the super wealthy. Property prices reach into the tens of millions of dollars, typically for a residence on a prime waterfront plot with private mooring, but more aff ordable condos are available.
"Our overseas clients choose Naples for its 'small town', sea-side feel with a twist of luxury," said Ms McQuaid. "You won't find big neon signs up and down the roads here, as the integrity of the area is preserved with lush green, beautifully maintained avenues." Olde Naples, with its famous Fifth Avenue and traditional style mansions set amongst palm trees, is the heart of the resort. "This area offers that true Florida feel with a variety of condos and single family homes ranging from $300,000 to over $40,000,000," added Ms McQuaid.
"The area around the bay and in nearby Downtown Naples also is a hot spot. There you'll fi nd a mixture of older and newer condos. Being within walking distance of Fifth Avenue and the beach make areas like Bayfront and Naples Bay Resort very desirable, with prices from the $300,000 range to just over $1,000,000." Elsewhere, a selection of new and resale communities, many set around pristine golf courses, have sprung up along Naples's 10-mile coastal strip. "Park Shore, with its luxurious high-rise condominiums, is very desirable, being an easy walk to Venetian Village for shopping and dining," continued Ms McQuaid.
Other options include Fiddler's Creek, Naples Square, Naples Lakes Golf & Country Club, Kensington Golf & Country Club, Wyndemere Country Club, Mercato and Aqua at Pelican Isle. Touching on rentals, Zoe Attwood at Homes of America Realty Group: "Rental restrictions vary in time and frequency typical for all coastal areas - some from 30-day minimum three times per year to 30-day twelve times per year but a little known fact is that the Naples area has nineteen communities where you can rent with seven-day minimums for 52 weeks per year! Overseas buyers area usually spending in the $250,000-$550,000 price range."
Bonita Springs & Estero - the Young Upstarts
Just north of Naples is the town of Bonita Springs, a newer, more aff ordable beach destination than Naples and popular with retirees. It too has a high concentration of golf communities. Its sandy coastline includes the Barefoot Beach Preserve Park, one of the last undeveloped barrier islands on the SWFL coast.
Bonita Springs merges into Estero on its northern edge, an area tipped for growth. "Estero is an up-and-coming area," said Ms McQuaid. "With a new feel, it is the home of Hertz National Headquarters and a big driving force in the growth of the area. For British owners, this area is super desirable due to the Southwest Florida Regional Airport being only minutes away. And it has easy access to tourist destinations throughout Florida, being a few hours' drive from Orlando, Key West, Sarasota, Daytona, Miami and Fort Lauderdale."
Around Bonita Springs and Estero, budget from $200,000-$250,000 for a two-bedroom condo on a golf community, or from $350,000 for a three-bedroom detached home. Coconut Point is a hot spot right now, with its shopping and dining outlets. Otherwise, popular golf communities in Estero include Grandezza, Pelican Sound, and in Bonita Springs, consider Copperleaf, The Brooks and the Palmira Golf & Country Club.