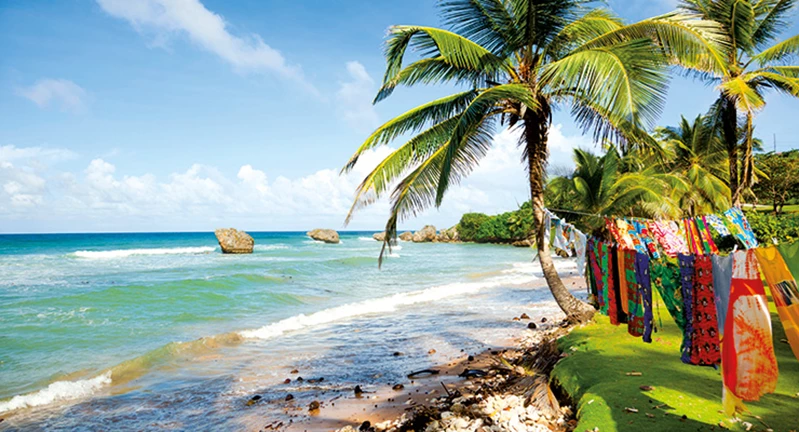 Back in 1966 when the Beatles were on Top of the Pops and England won the football World Cup, Barbados had a momentous year. On November 30 1966 the Caribbean island fi rst raised its own national flag to celebrate independence from Britain, bringing to an end some 340 years of colonial rule.
This November therefore marks the 50th anniversary of that proud day when there will be celebrations and parades across the island. Golden Barbados has built its brand so successfully that half a century on it remains a byword for tropical beauty and continues to shine: tourist arrivals are buoyant, up 8 per cent last year, according to the Barbados Statistical Service.
Barbados is small, 21 miles by 14 at most with a high point of 1,100 feet. It lacks the lush, rain-forested beauty of St Lucia and the sheer number and variety of beaches in Antigua yet it is the undisputed number one Caribbean destination for British holidaymakers and our favourite Caribbean island for a second home in the sun.
Just what is it about marvellous Barbs that keeps us coming back? "The climate, the white-sand beaches, world-class hospitality, high-quality construction and the absence of restrictions to foreign investment with no requirement for landholding licences as in many other Caribbean countries are the main reasons people choose to buy in Barbados," says Jason Applewhite of One Caribbean Estates (onecaribbeanestates.com), the Barbados affiliate for Christie's International Real Estate. "Buyers are typically aged 40 to 60, but we have seen an increase in interest from younger buyers in the last 18 months." Here are the big ticks for most British buyers …
Getting there:
daily direct flights It takes under nine hours to fly from London to Barbados and several airlines off er direct non-stop flights. British Airways have flown from London to Grantley Adams International airport in southern Barbados for 62 years continuously and have 12 flights every week — more than any other carrier. Other direct operators from the UK include Virgin Atlantic which has daily flights and Thomas Cook and Thomson which fly from London, Manchester, Midlands or Glasgow.
Climate:
28-30 degree average With average temperatures hovering between 28°C in January and 30°C in July and an average of eight hours of daily sunshine, Barbados can truly claim to be year-round. Our winter, December to April, is peak season there with little rain and lower humidity. Rainfall is highest from August to October, the official hurricane season, although Barbados's location in the eastern Caribbean means that it is outside the worst-aff ected region. 
History: Little England
Barbados is a member of the Commonwealth with the Queen as head of state. Despite 50 years of successful independence, its long historical connection to the UK and its continued popularity with British visitors means that it is still referred to as "Little England". It shares our legal, educational and judicial system and is one of the safest and wealthiest of the Caribbean islands, something that provides significant confidence to property owners there.
Things to do: beaches and sports
Barbados beats most of its nearest Caribbean rivals for the sheer variety of activities on offer. You can spend the day on a busy west coast beach, go surfi ng on the quieter east coast, play golf on one of the island's eight courses, shop for local crafts in Bridgetown or hunt down international brands at the Limegrove lifestyle centre. That's without visiting the rum distilleries, sugar mills, the garrison at Bridgetown or other historic aspects of Barbados.
"Barbados is so much more than just a beach destination," says Kieran Kelly of Chesterton Barbados (chestertonbarbados.com). "We have international polo, an opera season, culture and cricket. There is always something going on."
Old and new merge happily too. The Barbados National Trust was established in 1961 to preserve the wonderful architecture ranging from grand Georgian mansions to pastel-painted chattel houses, yet plans to roll out fibre optics across the island means that high-speed internet connections are already better than in some parts of the UK. The government has promised to cover the island with wi-fi access "from bus stop to rum shop."
Who owns on Barbados?
According to figures from the research company Wealth-X, 19 billionaires own property on Barbados, an extraordinary number for a small Caribbean island (compare that with the 112 billionaires in Britain). Most focus their attention on the so-called Platinum west coast which centres on Sandy Lane hotel and the neighbouring One Sandy Lane, beachfront apartments where Rihanna often hangs out that sell for $19 million.
Immediately back from the sea, the leafy Sandy Lane Estate has around 170 substantial and elegant homes in large plots beside one of the island's best golf courses. Homeowners include Peter Jones from Dragons' Den – his beautiful house is available to rent for $35,000 a night – and Lord Lloyd-Webber who has combined six plots to create a private and spacious estate of his own.
Aside from all the celebrities – and there are also plenty of UK sportspeople who own properties on developments such as Royal Westmoreland – there are plenty of British second-home owners in apartments, village houses and villas around the island. Most are concentrated around the west coast or the south.
What to buy?
Jet-setters love Barbados but so too do buyers with much more down-to-earth budgets. "The best thing about Barbados real estate is how diversifi ed the market is," says Kelly. "You can buy a multi-million beachfront villa or just a short stroll away a modern, comfortable and easy-to-rent three-bedroom townhouse is under $550,000."
Apartments are 15 to 20 per cent below their peak 2008 prices and some on the south coast start from under $200,000. At all price points, though, sale numbers are increasing. "The market has shown signs of positive growth within the last two to three years," agrees Applewhite. "Condo-apartments always present good value for money with potential for rental, but the same goes for standalone detached villas. Beachfront property is still most sought after for buyers and renters, but with most beaches within very easy access of most homes villas within developments along the south and west coast have much to off er."
One Caribbean Estates is selling two and three-bedroom apartments around a communal pool at Zinnia in Fitts Village from $295,600. The prime west coast location, south from Sandy Lane and almost opposite the beach is excellent. Also with One Caribbean but on the south coast overlooking the bay with waters protected by a reef, The Sands has three-bedroom apartments with crisp, modern interiors priced from $475,000.
"The Barbados property market continues to be active and energetic and we remain popular with British buyers who make up 70 per cent of our market," says Kelly of Chesterton. "The reduction in the value of the pound is a hot topic, but this has just added extra flexibility in the market, creating more opportunities to pick up properties at great prices.
"Ashanti No 1, for example, a threebedroom apartment close to Gibbs Beach, has reduced its price by 20 per cent from $500,000 to $399,000 to sell, and Battaleys Mews is offering interest-free finance packages allowing buyers to put down 25 per cent and pay in stages over the next few years."
Battaleys Mews is a gated development with a communal pool on the prime west coast. The high-quality, attractive development of three-bedroom townhouses is an easy walk to the lovely Mullins Beach and priced from $595,000. The established resort has a good rental record and is available through Chesterton Barbados. Inland gated sporting estates remain popular, with potential for strong rental returns too. Savills (savills.com) are selling a two-bedroom house at Royal Westmoreland directly on the ninth fairway of the golf course for $595,000.