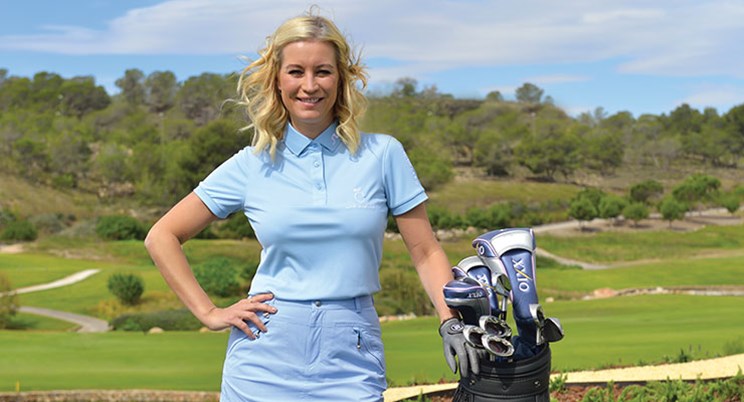 On the Strictly dancefloor Denise Van Outen wowed viewers with her footwork and natural swing — the TV and West End star now hopes to do the same on the fairway.
After taking up golf in 2014, this year Denise is determined to improve her 36 handicap and complete a round in less than 100 shots. To help her to achieve this, she has teamed up with the Las Colinas golf resort in Spain's Costa Blanca, which she visited for the first time in May, staying in one of its show villas.
"I've been to Spain but not really to the Costa Blanca before now," Denise told me during a barbecue at the villa. "Usually, I've gone to Ibiza, where my brother lives, Mallorca or 'Marbs' — being a good Essex girl — and I've been to Barcelona a few times. I was pleasantly surprised just how easy it was getting here. The flight and transfer times are nothing, so it'll be perfect for coming out with my six-year-old daughter Betsy."
Denise's last trip to Las Colinas — which is 45 minutes' drive from Alicante airport — was in June when she came with Betsy, who has her own set of clubs, and her boyfriend Eddie Boxshall, also a keen golfer. The Kent-based star was also planning to visit this month, to take part in the Copa Las Colinas tournament, and again in October or November when it's cooler.
"When it's hot you have to tee off so early," said Denise, who shot to fame in 1997 presenting The Big Breakfast and more recently starred in EastEnders. "And there's nothing worse if you've had a few drinks the night before. I've made that mistake a couple of times — early tee-off after being in the bar the night before…"
Essex-born Denise plays most of her golf at The Grove in Hertfordshire, but she knows what it's like to tee off in the sunshine. When she and Eddie went to Barbados for the wedding of Girls Aloud star Kimberley Walsh in January, they checked in at the Royal Westmoreland resort, staying in one of the royal villas and making time for a round of golf. A month later Denise took part in a charity golf tournament at the Emirates Golf Club in Dubai. She has also played at the Pevero course in Sardinia's fashionable Costa Smeralda.
Denise should feel quickly at home at Las Colinas, a low-density boutique resort set within 330 hectares of countryside in Campoamor, near Torrevieja. Since opening in 2010, the 18-hole championship golf course, which includes an academy, has hosted qualifying stages of the European Tour and been ranked as one of the top 100 courses in Europe. Other facilities include a clubhouse with two restaurants, a mini market, a falconry school and its own beach club 10 minutes away at La Glea beach in Campoamor.
Resale apartments at Las Colinas's first development, Encina Community, which includes semi-detached villas, start at around €220,000. Or interested buyers can choose from 10 remaining new-build units at the Acacia residence, where prices start from around €285,000 for a two-bed. A third apartment development is planned for the near future.
Much larger budgets might stretch to one of the luxury villas dotted around the golf course, such as the property Denise stayed in. Part of the gated nine-unit Enebro complex and with its own pool, it's on the market for €756,000 (plus VAT). Another option is the equally smart Limonero complex, where a London couple recently bagged a stunning 400sq metre villa with sea and golf views for €1.2 million. Community fees at Las Colinas are about €120 a month for an apartment, and €140-€160 for a villa.
So when and how did Denise catch the golf bug? "I got into it when I turned 40 and was looking for something to do as a hobby," she said. "I was at Stoke Park [in Buckinghamshire] hosting the 100-hole golf challenge charity event and some friends who were playing got me to have a go. It was the first time I'd ever played and literally I was on the green in a pair of Jimmy Choo heels.
"After that, a friend who works for TaylorMade ordered me some clubs and advised me to have a lesson, which I did — mainly because I think he thought I'd never use them. So I went to The Grove, had my first lesson and then signed up to ten more. Most people do these over a couple of months, but I did them in a week. Then I did another ten and got really into it.
"I go to my local driving range at least twice a week and have been going with one of the mums I know from Betsy's school. I play a round once or twice a month, sometimes just doing nine holes, but more in the summer."
Golf helped to break the ice when she met Eddie for the first time. "I was late for a blind date with him. I told him it was because I'd come from watching the PGA at Wentworth and discovered he loves golf and has played for 20-odd years."
I wonder if Denise has made any especially memorable shots in her two years of playing. "I've got two favourite shots," she confirmed. "One was on the 13th at The Grove when I hit the ball from the tee straight on to the green, right next to the pin. I was playing with a group of businessmen, who were waiting for me to mess up. The other was in Dubai when I hit over water from the tee and landed on the green. And my worst was in the Costa Smeralda when I hit an air shot with Justin Rose standing next to me. He just laughed. Annoyingly Eddie got closest to the pin that day and won an award."
How about someone she'd most like to play a round with? "It would have to be Catherine Zeta-Jones — for a couple of reasons. I know she's a really good golfer and loves the game. She's plays with Michael Douglas. But also we'd have lots to talk about as we both played the character Roxie Hart in Chicago — she did the movie version and I did the Broadway and West End shows."
So the million-euro question: would Denise buy a golf property abroad? "I've always said I'd love to get a place on a golf course and now I'm considering buying at Las Colinas," she said. "It would depend on cost, of course. It would be somewhere to come with Betsy and Eddie, and in the months when the weather is too bad to play golf back at home.
"Here, you get sunshine in the winter, and even if it's a bit chilly I'm not worried as I'd just wrap up. I'd like something that was easy to lock up and leave. The villa I stayed in is lovely, but I haven't seen the apartments yet."
Has she considered anywhere else? "I've looked in Portugal before, around Quinta do Lago, where some of my friends have places. But I thought, why buy somewhere where I can go and stay with friends. I haven't got any friends who have a place in this part of Spain, so I could maybe invite them here."
If Denise doesn't end up with her own place at Las Colinas, she can always watch A Place in the Sun. "I love 'buying abroad' programmes like A Place in the Sun," she enthused. "I series-link them, I literally watch all of them. In fact, I would love to do [present] it. I could do a golf-themed A Place in the Sun — that would be my dream job!"