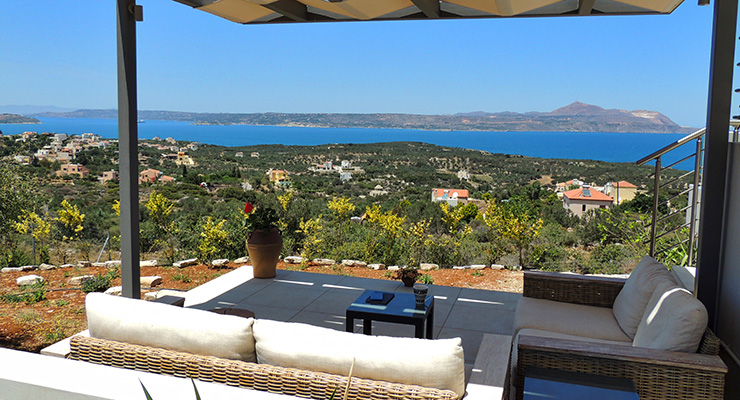 Roger Collins and Elizabeth Andrew fell in love with Crete on their second visit to the island in 2011, some thirty years after they first visited. They talk to us about having a home built 2,500 miles away from the UK and life on the island.
Tell us why there was such a gap between visits to Crete?
When we first visited Crete back in the eighties it was only our second holiday as a couple and for our next few holidays we always wanted to try somewhere new. Then once we had children we visited France a lot because of its proximity and we loved it there. In fact, we had always imagined that if we bought anywhere abroad it would be in France.
Then in 2011 we were looking to find a late summer holiday and wanted to find somewhere that was likely to still be hot & sunny so thought we'd try Crete again. A friend recommended the North West side of the island and we absolutely loved it. 
We'd never been to the same place two years in a row before but the following year when we started talking about holidays we both said we wanted to go back to Crete. From there it has been a bit an obsession – we went back every year before buying last year.
Have you always wanted to own an overseas property?
It's been a long-term dream. Although we both love Manchester, we also both really like the sun and you don't get much of it in Manchester. For years we watched A Place in the Sun and attended two of the A Place in the Sun Live exhibitions in Manchester and Birmingham which really helped us see that it was not an impossible dream.
We never thought we would be able to do it but then some things fell into place and buying a place in the sun was the thing we most wanted to do.
After all your years of dreaming, things didn't turn out how you expected did they?
Not at all! From January 2015 onwards I spent a lot of time on websites compiling a short-list to view. Trawling through and making the list was great fun & filled many wintery Sunday mornings. Key things we wanted were a good view of the sea (& mountains if possible), must have a pool and be in good condition so it was easy to maintain.
Over the years we'd dreamed of having a place big enough that our children and their partners could come & stay as well so the short-list was mostly 3-bed villas.  When we finally got to Crete that summer, we saw 10 properties many were very nice but didn't quite excite me as much as I had hoped.
One of the agents who showed us round said they also built places to order and asked if we'd be interested. After I'd stopped laughing I let him show us some examples of places they had built and the quality was fantastic – we'd not seen anything comparable really at a price we could afford. 
The agent had been working with an English couple who planned to emigrate to Crete. They had purchased the land, drawn up plans & had them approved but then decided not to go through with it.  This meant we could take over their plans, make some changes and additions of our own and have the whole process done far more quickly.
When he showed us the plot of land the views were everything we could have ever wanted but never dared expect. Part way up Drapanos Mountain but sheltered from the winds with stunning views and plans for a very modern villa that we loved. We made the decision within three days of seeing the land and the plans.
How do you find life in Crete?
Crete is fantastic. It has great scenery, great food and wonderfully warm, friendly and generous people. We love that you can get in the car and in 30 minutes be right up in the mountains with spectacular views.
There is so much to explore, every time we go out we seem to discover something new. We have stumbled across many beautiful villages and lovely tavernas while out and about. Not to mention the famous beaches in the South West of the island at Elafonisi and Balos on the west.
I enjoy my 10 minute morning walk to get fresh bread from the mini-market, and all along the way there are views over Souda Bay and the mountains – it sometimes feels like it's a privilege to just walk there.
What advice would you give other potential buyers, particularly those having a home built?
Don't use a normal high street bank to transfer your money abroad – you'll get far better exchange rates with a currency exchange specialist.
I think having a relatively clear idea of what you want is important. Knowing what you would and wouldn't compromise on will make the property search more efficient for you and your agent.
Talk to a wide range of agents and if you possibly can talk to other people who have bought out there, as they will know a lot of inside information that it's almost impossible to get from other types of research.
If you end up having a home built, ask to speak to previous clients and see some of the properties they've built before. We also took everything that our architect said on board because he knew the area and had ideas that we didn't. In Greece the architect is responsible for the project so are personally interested in its success.