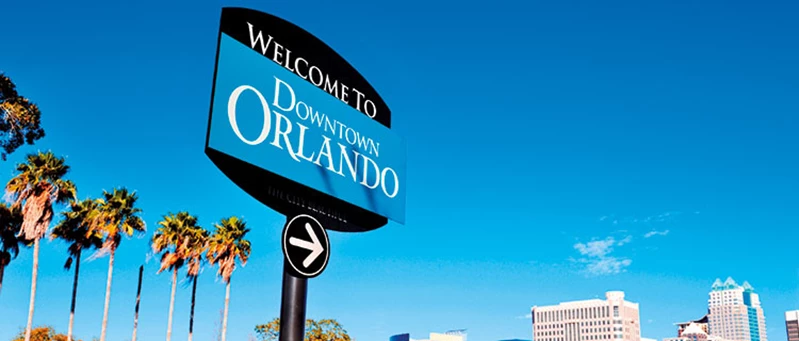 There is a saying in Orlando, the theme-park hub of central Florida, "You don't know the half of it!". This could quite comfortably be applied to the economy of the metropolitan area that drew 62 million tourists in 2014, thereby setting a record for an American location.
While Orlando is renowned worldwide as a top holiday destination - and especially the home of Disney World - as well as a popular second-home destination, with its tropical climate and relaxed lifestyle, the region also is one of the top 10 locations in the country for business, catapulted by a growing population of more than 2.3 million, and Florida's tax-friendly regime.
So whilst many British families will dream of having a villa within the magic radius of a 10 or 15-minute drive of Disney World (that they can rent out when not in use to other such families and cover their running costs) there is so much more to off er property investors looking for rental returns or capital growth.
"Orlando is the second-fastest-growing large metro area in the nation over the last few years, with more people expected to move here than any other point in history, with a net immigration of 350,000 new residents by 2020," says Gary Walmsley, a realtor at The Walmsley Team in Kissimmee. "Basically speaking, more people equals more economic opportunities and although Orlando is known for tourism and hospitality, more than two-thirds of the local workforce are at work in other industries."
Great infrastructure and employment opportunities
Whilst one shouldn't discount the tourism sector – Disney World alone employs over 74,000 people, making it the largest single employer in the region - Central Florida is increasingly becoming a centre for e-commerce. The low tax base of Florida is a great incentive for start-ups, on top of statistical area in the US in 2015 the access and infrastructure.
A widening of Interstate-4 is in progress, along with a major expansion at Orlando International Airport, including the new $1.8 billion south terminal (early 2019) and a $3.1 billion Intercity train system (late 2017).
"If there's an e-commerce business that's getting placed in the state of Florida, it's getting placed in Central Florida because of its interface of interstate highways and access to the entire state. Virtually every single user is looking for a hub in Central Florida," Jared Bonshire of the commercial-real-estate firm Cushman & Wakefield, told the Orlando Sentinel recently.
With the strength of the region's established aerospace industry, it's no wonder that Florida's employment total is rising. The aerospace firm Lockheed Martin now employs over 10,000 people in its Orlando facility. Orlando is the world capital of Modelling, Simulation & Training (MS&T) and the top producing region for engineers in the Aviation, Aerospace & Defense industry.
One of the global companies attracted to the region is the delivery company FedEx who is building a 300,000 sq ft centre in Davenport so it can work with vast fulfilment centre that Amazon completed last year in Lakeland (halfway between Orlando and Tampa). Digital media brands include booking.com with their customer service centre in South Orlando and entertainment software company, EA Sports at Maitland (north of downtown Orlando).
Life sciences and healthcare are growing here at exponential rates with more than 92,000 jobs and growing, especially at the Medical City of Lake Nona, a 650-acre site near Orlando International Airport.
"Orlando added more jobs than any other metropolitan statistical area in the US in 2015, with 52,200 jobs created in the 12 months ending December 2015, according to revised data released by the US Department of Labour," adds Walmsley. "Employment growth in 2015 came in at a revised 4.6 per cent, making Orlando the fastest-growing of the 30 regions in the country with an employment base of at least 1 million jobs. The revised 2015 total is Orlando's highest annual gain since 2004."
Then there is education. The region offers more than 35 colleges, universities, technical schools and private institutions. The University of Central Florida is the US's second-largest, providing opportunities to 60,000 students.
What does this all mean for the property market?
Expansive growth and economic opportunities have positioned Orlando to become one of the hottest spots in the country with rising demand, positive gains in recovery, really good fundamentals and positive momentum, suggests Walmsley.
Garrett Kenny, Chief Executive Officer of Central Florida developer and agent, the Feltrim Group, agrees. "With big firms moving into Central Florida we are seeing extra demand for real estate and rising employment security, which is good news for all. It provides added confidence for real estate investors who add it to the long list of reasons why buying property in and around Central Florida is a wise step.
"It's not just US investor demand and interest from snowbirds [buyers from cold climates relocating south for the winter months], but international investors, particularly from China, the UK and Latin America, understand the fact that Central Florida's property market is a great prospect."
Official figures suggest that 2015 was a very good year for both home and condo sales in Florida. While statewide median prices have increased year-over-year for 50 months in a row.
Jonathan Smoke, Chief Economist of the realtor.com website says 2016 is the year for homebuyers and sellers. "This should be our best year since 2006. It is now cheaper to buy a home than rent in 77 per cent of counties in the US," says Smoke. "Florida is positioned to become one of the hottest spots in the country with rising demand, positive gains in recovery, really good fundamentals and positive momentum."
Home sales expected to increase 8-10 per cent in 2016, while home prices are likely to rise about 5 per cent, according to Dr Brad O'Connor, Chief Economist for Florida Realtors, the property website.
Buy-to-let opportunities
With Orlando offering some of the fastest growing rental returns in the United States, it's no wonder that a growing number of property investors are considering buy to let. Orlando apartment rental returns grew at around 9 per cent on average in the year to March 2016, according to the Apartment List Rentanomics website, taking it into the top three in the United States, points out Walmsley.
"Despite rising property price in Orlando there's still opportunities to purchase real estate in prime locations, with excellent R.O.I., income and existing management from day one, from under $100,000."
Jon Sendell, owner of Florida Homes reports some success with British investors who are buying homes to cater for the thousands of delegates that attend the numerous conferances in the Orlando area (outside of the peak rental periods).
"A recently had a British investor who due to the increase in UK stamp duty wanted to move away from the UK buy-to-let market and invest overseas," says Jon. "However it was most important to maximize his rental returns, which meant looking at a rental market which fills in gaps outside of peak times."
"To achieve this we approached the 'conference and exhibition' markets of which there are hundreds in the Orlando every year, the majority of which fitted into our criteria. Our client now has a regular income from either the organiser or direct from their employees/customers/suppliers who wish to bring their family away with them and make a short holiday of at the same time."
"With the property situated on Solterra resort, Champions Gate, it not only has fantastic resort facilities on site, but is a short drive from the main attractions as well as being close to major conference centres such as Gaylord Palms Resort and the Omni. "Our buyer is extremely satisfied with the rental return which is netting over 5 per cent after running costs, if you add the current capital appreciation of the property - estimated at 8 per cent per year - then this gives a very healthy return."
The property at the Solterra resort – just minutes from the theme parks - was a six-bedroom, five-bath villa for $385,000 with pool and spa. Another option is offered at The Shire community at Westhaven, a resort community in Davenport, also handy for the theme parks and the conference centres.
"This is an ideal location to suit the conference market as well as the more typical vacation rentals," adds Sendell. "We have a property that comes with bookings throughout the year and well into 2017. This would again suit the British investor looking to diversify from the lettings market."
Any property that can cater for both the vacation and conference markets seems a savvy buy. As mentioned above, as a tourist destination, the area continues to break records year on year with over 105 million visitors to Florida in 2015, and approximately 60 per cent of all visitors spending time in Orlando.
"We have seen a sizable shift in the number of visitors to the larger eight and nine bedroom homes within these well located and amenitized resorts," adds Gary Walmsley whose company also has a rentals arm. You'll need a budget of around $425,900 (£295k) for one of these.
At the other end of the budget he is selling properties at The Palms Club at MetroWest, a master-planned resort community in southwest Orlando, with a selection of one to three-bedroom condominiums with prices from $99,900 – $139,900.
"All units are being sold with transferable leases in place, yields currently being achieved from 4.36% – 5.72%," he suggests.
Or, at the Windsor at Westside, a brand new resort community that will complement its bestselling sister resort communities, Windsor Hills and Windsor Palms at Kissimmee, you can get a home from the "low $300,000's". It will feature all of the amenities of these popular resort communities, such as a clubhouse, state of the art fitness centre and pool with lazy river and offers easy access to the Disney parks via Toll Road 429 and the Western Way Boulevard.
Meanwhile Feltrim Group's newest development is the luxury lakeside development, Balmoral at Water's Edge, an upscale and elegant garden-themed community, with 245 Tuscan-style architect-designed homes and resort-style amenities. It is located 25 minutes from Disney World.
It features fully furnished three to five-bedroomed houses (prices from £225,000) within a 113-acre private gated community featuring natural and manmade lakes and impeccably landscaped gardens and park, which are ideal investment properties and vacation homes. Its leisure facilities include a resort-style pool with luxury clubhouse, mini waterpark, lakeside beach, gym and spa, restaurant.
There will also be an adjacent Ronaldo football academy. The Brazilian soccer star Ronaldo has opened academies in his home country and plans to open more in Florida as well as 30 in China. The Four Corners area of Orlando is quickly becoming a hotbed for youth and professional football, says Garry Kenny who is behind the plans.
"At our Fountains at Champions Gate development [80 townhouse units that sold mostly to British and Chinese investors last year] we've got 75 children coming from Brazil in July for soccer, " he says. The sports field complex there has also hosted Canadian and MLS teams for training as well as two Copa America teams. It seems that Disney is definitely only part of the Orlando story during the next few years.