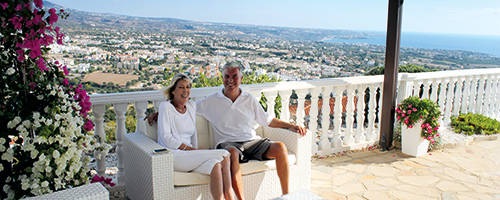 "We wanted sunshine and an easier way of life for our retirement - we chose Cyprus!"
Lesley Dumayne and Geoff Black moved from Edinburgh in February to Paphos in Cyprus. Geoff, 60, has now retired from his career in the gas industry, and the couple - who both have grown-up children - sought a new home in Cyprus with a budget of £400,000. Here Lesley, 59, tells how their property wishlist was an estate agent's nightmare...
"We had always been on holiday to Cyprus and loved it for the weather, friendly people, the laid-back atmosphere and the fact that people speak English and drive on the left. We wanted sunshine and an easier way of life!
"Our property search began a year ago - online and also by watching lots of TV programmes like A Place in the Sun. After a small inheritance we had a budget of £400,000 and we knew getting a mortgage wasn't really an option (at our age) so we were cash buyers. But our wish-list was very specific!
Whilst we wanted three bedrooms, three bathrooms, a pool, lots of outdoor space and a house large enough to take all the furniture of our big house in Scotland, we also didn't want to be in the middle of nowhere - or in an expat complex.
"But then what made it really hard for our estate agent, Diane Murphy (at cyprus101.com) was that we wanted an outlook with a view of the sea and also to look at the twinkly lights of the towns in the hills by night! We didn't want to look out onto a pitch-black sea.
The final thing was that we didn't want a house full of the orangey Cypriot wood that is so common, but then again as we began to realise, you can rip all of that out if you find a good location, but you can't move a house! We also didn't want a property reached by lots of steps, that is quite common.
"We liked Paphos area and after seeing what felt like nearly every house on the island, we found our ideal property in Peyia, near Coral Bay. It is a bungalow with three bedrooms, 2.5 baths, a pool - and wall to wall Cypriot wood! Well that soon came out. But it also had the most amazing tree of 200 lemons in its 250m2 of grounds - great for our gin & tonics!
"Priced at €545,000 (then about £440,000) it was over budget and we know we paid over the odds for it, but it was the house we really wanted to we were prepared to stretch. We have since renovated it and also had a lot of guests so that has kept us busy most of the year.
"Cyprus is really trying to get back onto its feet and with Paphos becoming the European City of Culture in 2017 it is sprucing up the roads and infrastructure, and there is a lot of building of new properties too. There are plenty of very happy expats out here - not many Russians in this area - and we'd thoroughly recommend retiring out here. We do miss the family but not much else.
"One thing we would suggest though was that if you have a fancy car, you sell it before moving to Cyprus. Bringing our car over has been the bane of our life - it has taken 8.5 months to sort out all the paperwork - far more complicated than the whole house purchase or moving our furniture. Buy a car hear instead - it will make your new life far easier!"
Must Know for Buying Property in Cyprus
1. Do use a solicitor: choose them carefully, you can check the UK Government website for recommendations.
2. Your solicitor should handle deposits - do not give direct to developers or estate agents.
3. Get a structural report on the property.
4. Must have clear Title Deeds and no outstanding monies or mortgages on the property - make sure your solicitor has copies for you to see before completing.
5. Bargain hard, offers can be accepted or declined and renegotiation is the name of the game.
6. Property transfer taxes on property are reduced by 50 per cent discount when you buy before 31st December 2016.
They are arranged on a sliding scale and after this date they will be: 3 per cent on first €85,430; 5 per cent on the next €85,430 and 8 per cent on the remainder.
So for a house costing €200,000 transfer fees would be €9,166 (plus lawyer and document fees).
7. Capital Gains Tax has also been waived until 31 December 2015.
8. Buying in joint names reduces purchase costs in Cyprus.
9. You can get mortgages - Hellenic Bank is one source.
10. There are lots of great value properties, no need to rush have a look at what is available before making a commitment.
These have been provided by associateservicecyprus.co.uk