Our presenter Laura Hamilton finds a lot to like in Central and Gulf Coast Florida.
I had been fortunate enough to visit Florida as a child on two occasions and both times I loved it. My parents, (like most who take their children to Orlando) wanted us to experience the theme parks so looking at property wasn't on high on the agenda.
However after an incredibly jam-packed four years of being part of the A Place in the Sun presenting team, getting married and having two children of my own, I was told I was going to be heading to Florida and filming Stateside in Orlando and Clearwater.
Since being part of the show I have predominantly focused my property searches within Europe, so I was excited to be given the chance to explore some other markets further afield.
So, 26 years after I last went at age 15, what would I find? I started by doing some research. Central Florida is divided into five counties, Lake, Seminole, Orange, Osceola and Polk County. The city of Orlando is the county seat of Orange.
The terrain of Central Florida is predominantly flat and there are hundreds of lakes and swamps dotted around. In October the dry season sets in and it usually lasts until late April. The sub-tropical wet season is typically between May and September.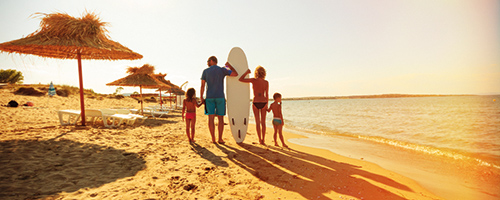 Blessed with a pleasant all year round warm climate, averaging 362 days of sunshine and holding a world record of 768 consecutive days in a row, it's no wonder Florida is called the 'Sunshine State'.
According to visitorlando.com, over 90 million people visited Florida in 2015 alone making it America's most visited region and I was one of them! It appeals to a wide selection of people worldwide, both young and old for so many reasons.
Whether it's the guaranteed good weather, the amazing discount designer shopping, or the love of rollercoasters and theme parks, there is something for everyone.
Throw in a great selection of restaurants with generous size portions, an excellent service industry and no language barrier for us Brits, and you get a country that is generally easy to explore and get around.
During the 2008 financial crisis average prices inland across Florida plummeted by around 40 per cent and now it seems the property market is recovering well, with local agents reporting a 12 per cent increase in sales between 2014 and 2015.
More than half a million residents moved to Florida in 2015 and 10 per cent of them are known as the 'snowbirds' who travel from northern cities of Northern America like Toronto and New York during the winter months to escape the cold weather.
In a recent survey 54 per cent of the sales were international transactions, 15 per cent of which were made by Brits who are, either looking to jump on the property investment bandwagon, or just want their own little piece of the American Dream.
Florida is without doubt one of the most family friendly places I have ever been and, I now know first-hand having returned with my own children. That actually makes me feel quite old but whilst I investigated property, they investigated all the fun things to do (just as I had done) and I thoroughly enjoyed it, as I'm sure they did.
I soon found out that if you are looking for a property in Florida, as a holiday home or investment, my advice would be don't wait. Agents are becoming increasingly concerned that demand cannot keep up with supply and although there are lots of new developments cropping up, in some instances homes that are marketed correctly are selling in a matter of days.
And, with house prices having risen consistently for the last 52 months they might well not be back up to their 2006 peak but they are most definitely on their way...
A lot of bang for your buck - Kissimmee
So I started my first search with Birmingham based couple Toni and Sylvester Swanston (see below). This chirpy couple married just twelve years ago, and had been visiting Orlando pretty much ever since. They were looking for a 5/6 home to accommodate their large family made up of their brothers and sisters and their nieces and nephews.
Most recently Toni had recovered from a major operation and, after a near death experience they had both realised it was now or never. They needed to make a change, enjoy a slower pace of life and spend more of their free time relaxing in a property in Orlando that they could call their own.
Our first stop was a six-bedroom, five-bathroom family home with its own cinema in Kissimmee's Calabria Westside development - a new development of 40 odd Italian style executive villas with pools - marketed by Bardell Real Estate for £239,000 it was an incredible amount of property for the money.
Presented in an immaculate condition, I was surprised it was being let out as a holiday home. Clearly the owners had instructed a good management company who were justified in taking their 20 per cent fee. Toni and Sylvester felt it just wasn't quite their style and I must admit I was a little shocked they didn't like it!
We continued the search and viewed a five-bed in the upmarket development of West Haven on for £260,000 through JC Penny Realty. West Haven in Davenport is a large estate of six smaller communities, 15 minutes from Disney.
Despite of its incredible balcony that Toni and Sylvester had asked for, they didn't bite. That then took us on to a five-bed golf course villa for £287,000 in the gated community of Drayton Woods on Providence championship golf course, in Davenport. Drayton Woods is a small neighbourhood of new homes within the master-planned Providence Golf Club near Disney.
This place was being sold through Bonjorn in Clermont. Fifty-three homes had been sold here in the last six months with another 3,300 to be built soon so supply here is clearly keeping up with the demand. Although Toni and Sylvester adored the development, they just couldn't agree on the property.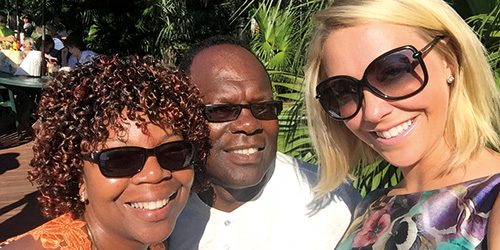 My favourite - Clermont
My favourite house of this entire search was a 35 minute drive away in the laid-back residential area of Clermont in Lake County. Further away from the theme parks this area offers a great quality of life to its 38,000 residents with its rolling hills and many lakes.
Plus I fell in love with the next house. Not only did it have use of a private beach and jetty on a lake, it had a heated pool and hot tub. At over 3,000 sq ft it was the largest property we viewed. Marketed through Coldwell Banker West Realty at £286,000, I thought Toni and Sylvester were mad for not moving forward with it. They just felt needed a bit too much work.
Toni and Sylvester didn't purchase through me but they are returning to Orlando shortly and I really hope they don't wait too long before they are priced out of the market.
West is best - Clearwater
My next house search took me to the west coast of Florida and the Gulf of Mexico where I was looking for a property in Clearwater. With a weekend off in the area before my next search began, I became rather fond of the place near Tampa Bay.
Its 35 miles of pure white sandy beaches are considered some of the best in America and it is somewhat of a haven for watersports and sailing but also incredibly family friendly with its old-fashioned beach resort feel.
For culture-vultures it offers a jam-packed calendar of music, food and arts events. The property market here weathered the storm of the financial crisis a little better, with prices on the coast falling by around 30 per cent.
My house hunters this time were no strangers to the property world. With a string of successful renovations under their belt and a small property portfolio in the UK and France, Eve and Vinden Grace had been keeping a close eye on the markets in Florida.
This property savvy couple had picked Clearwater as their chosen destination for an investment property because they were planning to let out and thought that being closer to the beach would make it more desirable.
With a budget of £100,000 we started our search in the town of Oldsmar - between Tampa and St Petersburg - in the East Lake Woodlands community.
The upmarket development made up of over 4,000 properties features a golf course, a clubhouse, and several swimming pools and is handy for Tampa international airport.
I thought showing Eve and Vinden a bargain two-bedroom apartment listed through Future Home Realty for just over £65,000 would be a good place to start. This property had been purchased as a foreclosure (bank repossession) some six months previously for £38,000 and had been renovated by its current owners.
Being the experienced developers they were, Eve and Vinden didn't want to purchase something someone else had recently made the profit on so we put that one to bed.
Happily ever after? - Dunedin
That led us to one of my favourite properties during my search with them; a three-bedroom townhouse with sea views, just minutes' walk from the beach in Dunedin, a popular beach town with the lovely sounding Honeymoon Island state park.
Listed by Forever Estates and on the market just over their budget at £104,000 I loved this place. Its location was just perfect and it was a doer-upper, something I thought would really appeal to Eve and Vinden. Since recently completing my 12th renovation this was exactly the kind of property I would have purchased had I been looking.
Although it had been on the market for a couple of months, the vendor (an elderly lady who could no longer cope with the stairs) was holding out for the asking price because she knew she could.
Until we viewed our 4th property in the upmarket community of Palm Harbour in Innsbrook, the town house in Dunedin was very much at the forefront of their minds.
For just under £104,000, Your Total Realty were marketing an immaculately presented town house/apartment in this classy and pristine development. The property enjoyed views over the community lake, its own garage, and two great size bedrooms. It was a perfect lock up and leave or holiday let.
It was a fantastic outcome to be able to secure this property quickly for them at £104,000, a price that Eve and Vinden were happy with after finding out two other extremely interested parties were hot on their tails to view. I'm sure this is very much the start of their property portfolio in America and I was honoured to be part of the start of it.


Laura Hamilton
Originally published in the A Place in the Sun magazine - Issue 125