We take a tour around a region with some big plans and asks what is on offer for home-hunters.
The region has plenty to offer British bargain-hunters, starting with golf, beach and country homes at prices to match other Spanish Costas. Plus, we're due to see the highly anticipated Paramount theme park opening in Spring 2018 which is set to rival Disney's in Paris and expects to draw in over three million visitors a year once it's complete.
The region - tucked between Valencia and Andalusia on the Spanish coast, with the Costa Calida as its coastal stretch - has traditionally appealed to those seeking property in more affordable and less developed towns compared to the nearby Costas. You won't find the high-rises of Benidorm or Benalmadena blighting the coastline in Murcia, but the flipside is fewer flights and world-class amenities.
Lee Cohen, who runs Luz del Sol estate agency based in Mazarrón, had this to add: "Late in 2015 we had a record week, selling as many houses in seven days as we'd been selling previously in two months. Over the last couple of years, things have definitely turned. Murcia and the Costa Cálida are still developing - the Paramount theme park is still on the cards and they say Murcia's new airport at Corvera will open next year."
Competitive prices and some welcome stability in a local market that just a few years ago was ravaged by developer defaults and repossessions makes property in Murcia especially attractive to UK buyers in 2017.
So what is currently available to tempt property hunters?
Carry on Camposol
Seventy-five per cent of Luz de Sol's clients are British, while 50 per cent of its sales is for property on the popular Camposol golf urbanisation, a huge purpose built town located 10 minutes from Mazarrón and previously featured on A Place in the Sun: Home or Away.
There are now over 3,900 properties at Camposol, with two-bedroom terraced homes starting in the mid €40,000s. Demand is such that these days some clients are buying without even viewing their property.
"We sold a three-bedroom villa at Camposol for €189,000 to someone in the UK," continued Mr Cohen. "The buyer had been to Camposol before but saw the property on the internet back home in the UK so arranged to buy via email. We always tell people to come and view before deciding but we've sold three or four properties recently over the phone and the internet."
Similarly, Chris Mercer of Mercers, an agent based at Camposol, said: "Prices have stabilised and enquiries are increasing. It is hard to beat Camposol for price. You can pick up a two-bed, one-bath detached villa with a private swimming pool on a golf course development for as little as €99,995."
"Our average price is around €120,000, although recently we've sold our most expensive villa at €320,000 to some British people and small two-bed terraces from €46,000."
Camposol is divided into sections A to D, however section A tends to be the most desirable, being the original phase with a wide selection of amenities. "There are no repos in our area," adds Mr Mercer, "100 per cent of our current sales are resales."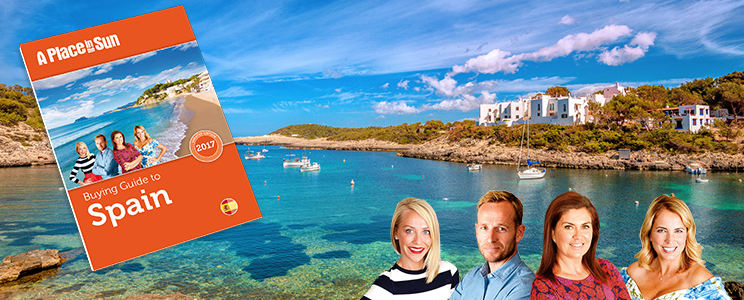 download our free guide to buying a Spanish property
Polaris World Resorts
Murcia's arrival on the residential tourism map is thanks largely to golf, beginning with the opening of the famous La Manga Club resort, with its championship courses, 42 years ago.
Fast forward to the last decade and it was the wave of new golf resorts, in particular, those built by Polaris World with their Nicklaus Design golf courses, which made the region a hot spot. The property crash that came in 2008 dented confidence in these resorts, but evidently they are now back in favour.
"2017 has been far better than last year," said Matt Oakley, director at Murcia Golf Properties. "The market is buzzing with lots of potential buyers. The golf courses and the vast majority of assets owned by Polaris World were given to the banks a few years ago now. The resorts are managed well - better even - under the management companies employed by the banks."
The resorts of Mar Menor, La Torre and Hacienda Riquelme, each located between the Mar Menor lagoon and city of Murcia, are the three most popular Polaris World resorts, according to Mr Oakley.
At Mar Menor, apartments start at €140,000 and villas at €160,000. At La Torre, apartments are from €70,000, townhouses €100,000 and villas €130,000, while at Hacienda Riquelme apartments start at €75,000.
"There are very few repossessions across these resorts," continued Mr Oakley. "One of our recent sales was arguably the best penthouse at Mar Menor, in terms of location and orientation, which had an asking price of €189,950. All within the space of a week, some clients from Wales saw it online, came out to view it, fell in love with the view, agreed on the price, paid a reservation deposit, met lawyers, opened a bank account and got a currency firm lined up."
Aside from Polaris World, Mr Oakley considers the Hacienda del Alamo resort near Fuente Alamo good value at the moment, where a bank-owned property is available, along with Roda Golf, situated near the edge of the Mar Menor and resort of Los Alcázares.
La Manga Club
Murcia's flagship resort, La Manga Club, is a favourite training ground for the world's best football teams (it hosted more than 180 teams last year alone), and in the past has had its fair share of players behaving badly.
But a decade later the 1,400-acre resort close to the superb beaches of the Mar Menor lagoon and bordered by national parkland, remains a favourite with sporty families and has various residential offerings. The latest opportunities to buy at La Manga Club, aside from resales, include the new communities of Acacias, Buganvillas and second phase of Las Mimosas.
Each of these offers plots, typically 500-600 square metres, for custom-building villas, with typical prices starting from €220,000 for the land only.
"So including plot and build costs, a brand new three to four-bedroom detached home typically costs €550,000-€600,000, which is a good investment," said Yolanda Ros at La Manga Club's property sales office. "We just sold a plot at Las Mimosas to British people in August and have a British lady interested two neighbouring plots at Las Acacias."
A more affordable option could be one of the 52 refurbished apartments recently released for private ownership at Las Lomas Panoramic, part of Las Lomas Village that is run as a condo-hotel and situated in an elevated position next to La Manga Club's award-winning Spa and Fitness Centre.
"Prices here start from €80,000 for a studio, with two-beds around €225,000" added Ms Ros. "We sold a two-bed to a British couple in October. Las Lomas is an ideal lock-up-and-leave holiday home with low running costs. The properties are looked after and run like hotel rooms by La Manga Club, with owners getting some usage and annual income, as well as discounts on facilities and green fees at the resort."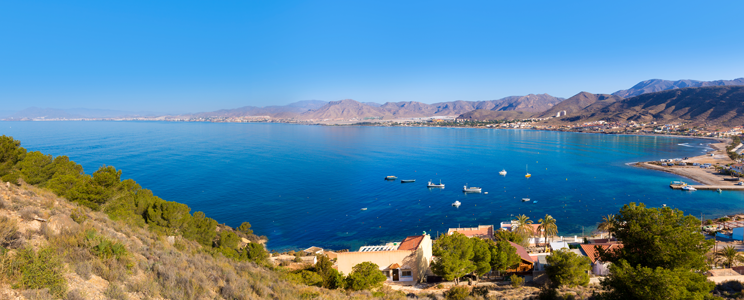 Prefer the coast?
For beachside homes, Puerto Mazarrón has become a favourite spot for British buyers. Typical prices here, due to the proximity of the sea, tend to be higher than on inland urbanisations. The smaller villages of Isla Plana and La Azohía, just east of Puerto de Mazarrón are also popular.
"Around here, we have two-bed apartments between €69,000 and €147,000, duplexes from around €120,000 to €190,000, while detached villas can be anything between €200,000 and €900,000," said Mr Cohen.
"For something exceptional, we have just reduced a stunning, modern four-bed villa in Isla Plana to €445,000 from €595,000. The property has sea views from every room, a gym, oxygenated indoor pool and annexe. Nine to ten years ago the owner was offered €1.5 million."
Meanwhile, resorts on the shores of the Mar Menor lagoon near San Javier airport offer alternative beachside options. These include Los Alcázares, Santiago de la Ribera and the beach area of Lo Pagán in San Pedro del Pinatar.
"We have new-build townhouses on a development within walking distance of Los Alcázares and less than a five-minute drive from Roda Golf starting from just €127,500 and with monthly community fees of just €50," said Iain Lochrie at Camerons, whose average client spends circa €220,000.
"Or just 400 metres from the beach in Lo Pagán we are selling two-bedroom apartments off-plan, with a communal pool, for what works out around £120,000, including taxes and furniture. The improved quality of today's new-build attracts clients and we only work with builders with a proven track record."
Golf or beach, new, resale or bank-owned, there's little doubt Murcia is emerging as dynamic international markets, with something for everyone. And when Corvera airport opens, things really could take off - literally and metaphorically!
Quieter side of Murcia
Away from the coast and golf resorts, homes in Murcia's countryside and inland villages offer value for money and an authentic rural lifestyle.
The areas around Totana and Lorca are increasingly popular, including Purias, Aguaderas, La Parroquia, Esparragal, La Estacion. According to Paco Sánchez of PacoHouse, an agency based in Lorca, typical British clients there prefer villas and character properties, spending between €100,000 and €300,000.
"A recent sale to a British buyer was a typical four-bedroom, two-bathroom Spanish villa in the village of Purias," said Sánchez. "This sold for €225,000 and included a fully fenced and gated plot of more than 5,000 square metres. It had no pool but one could be built legally."