Not a tough choice for this very actively retired couple from Berkshire
In the beginning Sue and Steve Humby planned to spend their retirement at a static caravan in Tenby in South Wales.
This iconic seaside town sits on a beautiful swathe of Pembrokeshire - which the Humbys could view from their verandah overlooking the beach - or from their new boat.
With Steve reaching 60 and a plan to change gear in life, the Humbys spent every weekend in Tenby, motoring over from their five-bedroom home in Newbury, Berkshire.
But there was just one problem - the same problem that persuades many 60-something couples to cast their eyes south when thinking of retirement - the weather.
"Pembrokeshire was lovely but we simply couldn't enjoy it because of the poor weather," says Sue, now 61. "We couldn't use the BBQ on the veranda or take the boat out so we had a rethink."
They began to consider buying a holiday home abroad - offering year-round sun but not too far from the UK and their friends and family, including their 28-year-old daughter and 32-year-old son.
Why Choose Cyprus?
"We looked at Southern Spain and we looked at Cyprus," says Steve, 63, who retired from a career in life sciences. "But preferred Cyprus because we felt more comfortable with the culture and also the language. Neither of us are great linguists and in Cyprus English is widely spoken. We also liked the familiarity of the legal system."
Sue and Steve started looking at the western side of Cyprus, around Paphos, but then had their second rethink.
"We suddenly asked ourselves why were looking for a holiday home there and giving ourselves two homes to maintain when we were supposed to be freeing up some time to enjoy ourselves," says Sue.
"How would we spend our time in the UK anyway once retired? Our five-bed home with a large garden took up enough of my time to look after so I persuaded Steve that we sell up and move to Cyprus full-time!"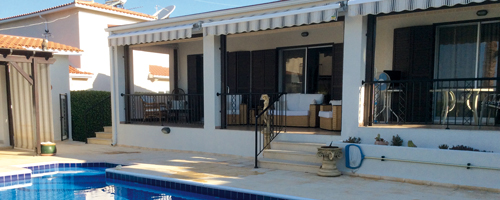 So with a budget of £400,000 the Humbys started looking for a three-bedroom home with a pool, rather than a hassle-free lock-up-and-leave apartment ideal for a holiday home.
With the help of Gloria Aubrey from Bedfordshire based Cyprus Property Services, they looked at about 25 properties.
"We did what we said we'd never do and bought on that weekend," laughs Sue, who says that their vendors were a British couple moving back to England, and in no hurry to push through the sale.
"It was an ideal situation, we gave the owners a deposit and then took a year to make all the necessary preparations before taking possession. We had time to sell our UK home and research the whole move properly," says Sue.
Their three-bed villa is located in Tala, an attractive village about eight miles outside Paphos and the couple paid £20,000 for the contents, making the overall cost £387,000 which they paid in cash.
"We definitely downsized the house but upsized the boat," jokes Steve.
They saw a lot of beautiful properties in isolated locations but chose Tala because they wanted to walk to the shops and restaurants and not be reliant on a car - a mistake some retirees make.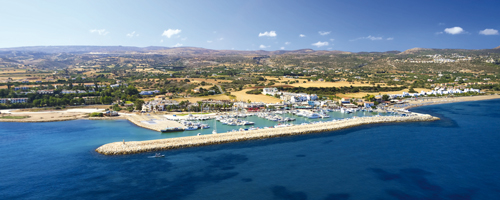 Planning for the Move is Key
Sue, who had already given up her job at the local council, now credits much of the success of their move to the year's worth of meticulous preparation beforehand. They've seen people move over in a rush without organizing things properly, only for their move to fail.
One of the most time-consuming things to sort out was taking a car over to Cyprus. "There's a high duty to be paid if you import a car to Cyprus but if you are retired you can get an exemption." says Sue.
"But you have to have owned the car for at least six months before you export it and it has to have completed a certain mileage, and provide all sorts of documentation. In fact moving the car over to Cyprus was more complicated than getting us over there!"
"Essentially you need to show you can support yourself so we had to show three years of bank statements, three years of utility bills, for example."
They also sorted out shipping their dog over ("his flight was more expensive than ours!") and getting their dive certificates before departure.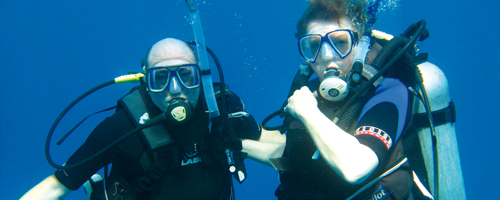 "We wanted to begin diving as soon as we arrived in Cyprus so we made sure we qualified here in the UK," says Sue.
They also bought a 45-foot motoryacht with two ensuite berths and shipped that to Limassol, filled with some of their furniture. They've kept it moored at Latchi, at a relatively affordable €1,900 a year fee.
And so when they arrived they dived straight into a life full of boating, and soon made friends through the dive club, the local rugby club, the Paphos Tigers, or, for Sue, through horseriding at the resort of Aphrodite Hills nearby.
"We've been very busy and made friends with Cypriots, Russians and other British expats," says Steve, who says their neighbours are German and English. "We eat out quite a lot, go off on the boat - we've been to Turkey a few times and spent six weeks touring the Greek islands - and sometimes just spend a weekend on the boat over in Latchi!"
Even the banking crisis in Cyprus doesn't seem to have dulled the dream. "To be honest you wouldn't know there has been a crisis, although some smaller businesses have failed, the banking problems didn't affect us.We had always been advised never to keep much money in Cypriot banks and we didn't see any of the queues seen on the BBC news," says Steve.
"If we sold our home we wouldn't be able to take the money out of Cyprus but there are ways one can work around that, such as by conducting the transaction outside Cyprus. We did that when we bought our house - the sale being completed in sterling in the UK."
Daily cost of living is also cheaper - assuming you don't buy lots of imported Waitrose products available in the many "UK Shops" around Paphos.
Do they miss anything about the UK? "Of course we miss the family and we miss the green countryside of the UK but we might well end up coming back in the end," says Sue. "We've got a ten-year plan and the game might change when we become unable to manage the boat and the diving. The first three years have just whizzed by."