The Canary Islands, lying off the north-west coast of Africa, are Brits' favourite short haul, winter sunshine destination.
They're the nearest - average four hours' flying time with BA, EasyJet, Ryanair, Thomson and Monarch - destination with winter temperatures that rarely fall below 17C/70F. The fact that they are Spanish islands and use the familiar Euro too adds to their familiarity and allure.
In total there are seven main Canary Islands - Tenerife, Gran Canaria, Lanzarote, Fuerteventura, La Palma, Hierro and Gomera - each with a distinct geography, character and even climate.
Accordingly, they each tend to appeal to distinct audiences - although, for example, Tenerife, such is its size, attracts snowbird retirees, families, walkers and clubbers, each drawn to different areas and coasts.
Approximately 10 million tourists visit the islands each year. The British are the largest, by number, of visitors to the Canaries but Germans, Scandinavians, Dutch and mainland Spaniards are prominent in number too.
Tourism suffered during the global recession but has steadily regained lost ground since 2013. Peak to present, the average property price is down by 42 per cent, and by 48 per cent on the coast, according to data from Tinsa, a valuations company.
Alex Williams of agents Dream Homes said, "Although prices are still very low, they do seem to be on the increase - although light years from the prices we saw before the economic crisis."
Tenerife
Amongst Britons, Tenerife is the most popular island for property enquires, according to HomeAway. The largest island, home to one of its two capitals (Gran Canaria is the other), the most visited and developed, and with 365 days a year of sunshine, it's also the location of Mount Tiede, Spain's highest mountain and an active volcano.
That it has sunshine every day of the year - somewhere on the island - and also the highest mountain tells you this island is geographically diverse.
The North is rugged, generally less developed (although the capital Santa Cruz is here) cooler in temperature, and draws nature lovers, retires, and families in the main. Several beaches are volcanic, coarse black (grey) sand.
The south-west, in contrast, is sheltered, warm, heavily developed and has a reputation for boisterousness, which has lessened in recent years but it remains the destination of choice on the island for under 30s. Playa de las Americas is the main resort in the south. It's one of the island's most requested destinations.
Paul Ruane of Los Gigantes Properties says, "The hot spots are areas along the south coast. People who are looking for a vibrant area with night life concentrate on areas such as Las Americas, whilst people who are looking for a better quality of life in a tranquil environment concentrate on the area of Los Gigantes.
"Tenerife has the best climate in the world and offers a wealth of attractions for visitors to enjoy, from the famous "Loro Parque" and " Siam Parque" to "Teide National Parquet. There's an abundance of things to do: swimming, diving, walking, golfing, tennis, cycling, parascending, jet skis, fishing, dolphin and whale watching."
Property prices on Tenerife, according to Ruane, range from on the south coast the average one bedroom is £150,000, whereas on the south west coast the average is £120,000. Three bedroom villas on the south coast average £800,000 and on the south coast around £600,000.
The island's changing - more sophisticated image - has been enhanced in the last few years as a multimillion pound investment has resulted in the creation of the 5-star, oceanfront Abama Residences. This is luxury living of a standard that has raised the bar not only on Tenerife but also across the Canary Islands.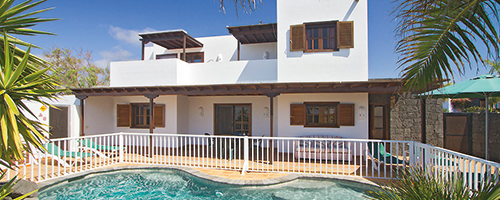 Lanzarote
Lanzarote has a fascinating landscape, part volcanic - the lava fields and caves are a must see - mountainous in the north and with miles of flat, sandy beaches in the south.
The island is conspicuously low rise, which is thanks to now deceased local artist and cultural ambassador Cesar Manrique. His influence was such the island decreed not to build high-rise to preserve the vistas for all.
Nowadays, Manrique's vision seems ever more prescient given that high-rise apartment blocks are being replaced by low rise in many coastal resorts on the mainland costa.
On Lanzarote, the popular areas are Playa Blanca - Yaiza, Puerto del Carmen - Tias, Costa Teguise - Teguise and Playas de Orzola y Arrieta - Haria.
Alan Dennett of Salamanca Spanish Villas, said: "Lanzarote boasts over 90 beautiful beaches and year round sunshine and has three main tourist centres, Puerto del Carmen, Costa Teguise and Playa Blanca. From here you can also take the regular Ferry Service over to Corralejo in Fuerteventura.
"The latter is situated on the southern tip of the island with views to Fuerteventura. With its warmer micro climate and peaceful village centre, it is the preferred destination for families and retirees. It is also the more modern and stylish of the three main resorts, with the additional beneficial development of the marina."
Property prices, says Dennett, range for a one-bedroom apartment, priced from €75,000, up to around €225,000 for a three-bedroom villa.
Fuerteventura
Fuerteventura is the nearest island to the west coast of Africa. It's the flattest, and many say the hottest and windiest, making it the island of choice for windsurfers.
Traditionally, it's been less developed than other islands but the areas of Corralejo, El Cotillo, Caleta de Fuste, Villaverde, Lajares are putting the island on the second homes map.
Nicolas Tan of GoldAcre Estates says, "Corralejo, Caleta De Fuste, Costa Calma, and Jandia are the popular places for families. The island's appeal is its white and golden sand beaches, its quiet and peaceful with fewer people, the hot and dry climate with less humidity, and an international culture mixing well with Canarian culture.
"Prices are from €70,000 for an apartment through €160,000 for a three-bedroom villa with pool."
Gran Canaria
Gran Canaria is one of the two island that's home to a capital city, Las Palmas, which reflects its senior status. It's also an island that's traditionally been popular with a more mature holidaymaker and house buyer.
Lisa Rogers of agents Consorcio Inmobiliaria, said, "Gran Canaria is suited to all ages young and old also is the gay capital of Europe.
"The hot stops are most definitely the south of the island for sun and a hive of activities, restaurants and bars are plenty. The north has a more cultural feel to it beautiful scenery and traditional Spanish tapas restaurants. Las Canteras beach is a must visit for miles of beautiful white sand and the sand dunes in Maspalomas are a natural beauty."
Property prices reflect the island's stature. Alex Williams of Dream Homes, said, "Gran Canaria and Tenerife are more expensive than some of the other islands.
However, in Fuerteventura and Lanzarote there has been a higher decrease in prices and also in properties which have been repossessed in resort areas, and we have seen some properties sold for as little as €17,000 which is unthinkable in the south of Gran Canaria."
search property in the canary islands