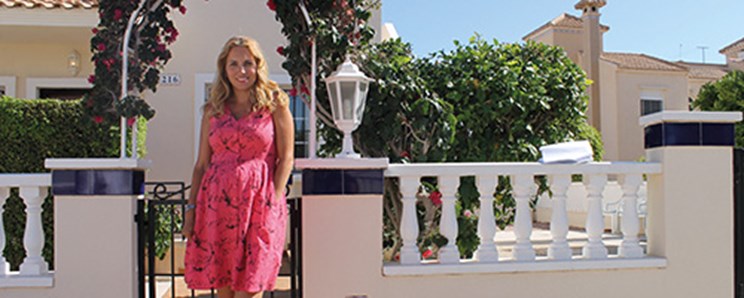 Jasmine and our TV crew have been busy this summer with several sets off property-hunters seeking homes north and south of Alicante. What would they find? How far would their budgets go? Here Jasmine picks out some highlights.
The Costa Blanca is certainly in favour at the moment with our property-hunters and it's not hard to see why. Could it be the 120 miles of gorgeous Mediterranean coastline with 160 Blue Flag beaches? Or maybe the 300+ days of sunshine each year? But add to that the property that is amazing value for money and we have the answer.
Two million British tourists flock to the Costa Blanca each year, and I'm lucky enough to have spent a lot of time there over the past decade so have really noticed the changes the area has gone through.
Take the infamous resort of Benidorm, which despite its reputation for being a bit tacky and full of high-rises, seems to be experiencing a resurgence in popularity - perhaps because of investment into the area but also perhaps because of a certain hit TV sitcom!
No, the Costa Blanca never stops evolving and right now it is a really interesting time to look at the property market there. I've been on the ground in Spain for the last few weeks filming looking at what's available, talking to agents, vendors and locals and getting the lowdown on what the future holds for this popular area of Spain.
If you're thinking of heading out there with a mind to purchase a home, you might find it useful doing the same - research is so important, and remember that the different parts of the Costa Blanca differ quite dramatically, both in scenery, language, ambience and of course, cost. You may notice some road signs are confusingly in two languages, with Javea for example, also known as Xabia: there are two official languages in the area: Castellano (Spanish) and Valenciano, spoken by the Valencian community.
However it may come as a surprise to you that prices are no longer falling and the market has bottomed out. After falling 50 per cent after 2008, they have been stable for approximately two years, and in some areas are even gradually beginning to rise again for the first time since the market crashed in 2008.
Properties are priced far more realistically now; gone are the days when you could knock 50 per cent off the asking price. Most agents now say 5-10 per cent below is what constitutes a good offer these days.
The other factor of course is the favourable exchange rate. With the euro fluctuating between €1.38 - 1.44 to the pound British buyers can maximise the value for money that they can achieve.
In mid-July 2015 a €100,000 property on the Costa Blanca would cost a UK buyer approximately £10,000 less than it did the same time in 2014 when the exchange rate was hovering at around 1.26. Couple this with the new pensions legislation (the over-55s can access funds from their private pensions), and it's no wonder sales to British buyers are on the up.
So where are they all looking? I have picked out a few highlights to give you a flavour...

Subscribe to A Place in the Sun magazine
To read the rest of Jasmine's article and others like it, why not subscribe to the A Place in the Sun magazine? Or pick up a copy at your local WHSmiths.