It has always been a dream for Jason and Donna Harris to own a home in Florida. The couple, who co-own a business sub-contracting staff - have been visiting with their two children - Danielle, now 21, and Josh now 18 - in the school holidays since 1989 and decided it would be cost-effective to buy a property themselves.
"I watched the market for many years and it wasn't until after the great property crash of 2008/9 that we perceived it was the right time to buy," says Jason, 47.
"We were seeking a property that was partly an investment - and something to pass on to the children - but also for lifestyle, as somewhere we could offer friends and colleagues to stay. The fact that we would also want to rent it out meant we would have to look in the Short Term Rental (STR) zone of Orlando, on a gated community.
The Harrises embarked on their property search with a budget of £200,000. "There were plenty of agents out there but we did our research on the internet forums. We found Mark Shore at the British Homes Group, dropped him an email and arranged a trip in August 2012," recalls Jason.
"In a four-day trip we viewed 13 properties and it was a real eye-opener. Some of the homes were empty, some of them had American owners who were still lying in bed when we viewed the home, and some of them were badly presented.
"We narrowed the search down to two after some great advice from Mark. Before we did the viewings he suggested we grade each property 1-10, take notes of what we did and didn't like for each, take photos and reflect briefly after each viewing.
"We decided on a newly renovated short-sale property that was on The Manors at Westridge, Davenport. We bought it fully furnished for $175,000 (£111,724)."
Jason adds that the purchase process was their second eye-opener. "To get a mortgage we had to jump through an awful lot of hoops because we own a company. At one point we nearly had enough and called the whole thing off but our perseverance paid off and the rewards outweigh all the pain we had in the process!"
They completed in the October. The four-bedroom, three-bath 2001-built villa with covered pool backing on to a conservation area is exactly the sort of property people seek to rent in Orlando. Offering the privacy of not being overlooked, it has proved to be a popular let. It's within the magic 15 minutes from Disney.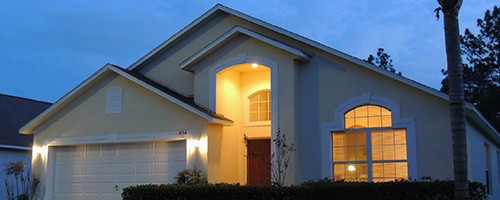 "We've got 19-20 weeks booked for next year, at around £500 per week, and we use it five to six weeks ourselves," adds Jason "But the expectation of renters in Orlando are far higher than those in Europe - they ask if the home has a spa, a games room and the right quota of bathrooms. There's so much competition out there. We thought carefully how to present the villa."
He can't emphasize enough the importance of getting the right management company on board. "We use Orlando4villas.com and pay $140 a month retainer for their services, plus extras like the welcome packs the guests almost come to expect. We installed an alarm and external cameras and in the process discovered that our villa wasn't being cleaned as often as we believed it was. We can now watch the pool cleaner! The little tricks employed by some management companies that absentee owners need to be aware of."
The Harrises hope to spend more time at the villa in ten years, or whenever they semi-retire.
"We love to play golf there, we go to visit the coasts, do all the touristy things - and lots of maintenance tasks. About half of each 'holiday' is spent doing jobs to keep the villa up to scratch - prospective landlords should beware of this! - but that said we don't mind. As the cliché says, we are living the dream."

Jason's three top tips
Do your sums. Can you really afford to buy the property and run it? There are lots of hidden costs such as taxes. The sales tax on rental income is 12 per cent.
Get the right management company - and know what to expect from them.
Don't underestimate the amount of time needed to maintain your home.
Buying high-quality, durable furniture can be a better economy in the long run for rentals.


(Originally published in A Place in the Sun magazine - Issue 120)