Duncan and Lorraine Pickering from Lincolnshire bought a holiday home in the Turkish resort of Side in 2008.
Here Duncan, 48, a solicitor, tells their story and shares a few tips learnt along the way...
They say that fortune favours the brave and those who have taken the foreign property plunge in the economic market of the last five might be considered foolish. But are they? Were we?
Buying a house in the UK is stressful enough but we were looking in a country that we have never visited, in an emerging market during the global downturn.
That's just what Lorraine and I did.
The thing is we've always loved holidays. Who doesn't?
But for some people holidays are about being waited on in a hotel. For us it was always about sun and relaxation. We love hotels but even five-star hotels can fail to deliver in terms of service, and your expectations are shattered and dreams dashed.
Sometimes we just want the flexibility of being able to do things when we want to, without the formal constraints of a hotel and we saw a place of our own would provide that.
Let's face it; a home in the sun must be on most people's "bucket list" if they can afford it.
We had a budget of £160,000 and with six children - then aged between 11 and 19 - I knew we were unable to afford what we needed in Spain so we had to look further a field.
And of course you need a bit of luck in this game.
I'd always dreamt about owning a place abroad but never ever considered Turkey. I'd never even been to Turkey.
Yet we were on a plane to Spain in February 2008 and saw a photograph of an idyllic villa with pool in Turkey in the inflight magazine.
I fell in love with the villa that was pictured - contemporary and elegant with a stunning terrace overlooking an inviting pool - and with prices starting from only £57,500.
We knew that £57,500 would not buy us a villa but while in Spain I couldn't resist the temptation to email the developer, Mecitoglu Homes (mecitogluhomes.com); exchanged emails with Sarah an English sales rep and learnt that although they didn't build four-bedroom apartments they were about to start on 14 four-bed villas at a place called Side (pronounced 'See-day') on the Mediterranean Coast.
And so the sales pitch: I could put down a fully refundable £2,000 deposit, take an inspection trip and when we'd been to have a look if we didn't want to proceed they would give us our money back.
We bought a few books on the region as well as buying a property in Turkey and started to live the foreign property dream. We also looked at the developer's website and researched as much as we could about the area.
We took a punt and went out that Easter at the developer's expense and signed up there and then for an off-plan property: a four-bed villa set over three floors that is bigger than our five-bed house in the UK.
No high pressure sales from the developer, they were just really nice people.
We looked round a number of their completed projects to check on quality and spoke to other owners of varying nationalities.
We also liked the area.
Side in the Antalya region is a sleepy ancient coastal port, 45 minutes from Antalya airport and 25 minutes from the golfer's paradise at Belek. It sits on a quaint peninsula and its Roman ruins and amphitheatre ooze a sense of tranquility and calm.
To be fair the location was a gamble. We had never been there before and in hindsight we have been lucky because Turkey has benefitted from the decline in Spain and other countries over the period and also because it wants to join the EU.
We have seen significant investment in the region. What was more important was a "place in the sun" that could satisfy our needs as a large family. Such a villa in Spain would have cost four or five times as much.
On the way back to the airport I was slightly apprehensive. A bit like the time you take your first baby home from the hospital, or when you pass your driving test and have to drive the car on your own for the first time.
It was a big step - and in a foreign country, but six years on I am happy to say we have no regrets.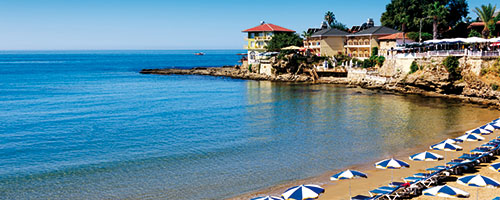 Benefits of Buying Off-Plan
Buying off-plan we got a hefty discount. The villa cost about £160,000 but the flexibility of buying off plan and a considerate developer means that I've spent about £20,000 more on additions and personal tweaks and variations as well as all the contents.
By buying off plan we arranged for the cabling for flat screen TV's in the four bedrooms and surround sound cabling in the lounge and terrace overlooking the pool, not to mention choosing our own tiles for the bathrooms and kitchen.
We also replaced a circular jacuzzi bath in the master bedroom with a normal shaped one, gaining some space to make enough room for a double walk-in shower and dual sinks in the ensuite.
The bath was a stunning feature but in a hot country like Turkey we wanted a large shower in our ensuite. We did not want to walk down a flight of stairs and borrow someone else's shower. Buying off-plan gives you that flexibility.
We have an eight-metre pool and because we didn't want the traditional ladder style stainless steel steps at the end we asked the developer to cut tiled steps into the pool so that we could walk straight from the patio into the pool and have a seated area that we could sit in to read books and have a refreshing drink etc.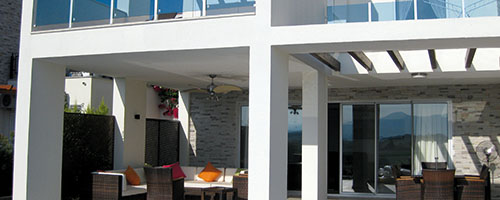 As well as 14 villas there are 90 apartments and we liked the idea of being on a complex with others.
We have some really nice neighbours, and not just from the UK.
As well as our own private pool there are two communal pools, an indoor pool, tennis court, gym, restaurant/bar and mini market.
There is plenty for the children to do. The Turkish people are great. We can get everything in the supermarket that we can get at home and we're not threatened or worried about security.
Our house itself was completed slightly later than anticipated in December 2009 and the build quality is superb. Every month the developer uploaded photos to their website and we were excited to see our villa taking shape.
The weakness of the pound at the time and the fact I was buying in pounds really helped.
We had to pay cash as the mortgage market in Turkey was very embryonic, although our bank, Garanti, does offer mortgages and the developer now offers payment plans on some of its properties.
Current selling prices for similar villas are now over £250,000 - the Turkish property market has not crashed like Spain, Cyprus etc, and prices have steadily risen.
There are often horror stories about foreign builders so you need to find yourself a respected developer with a proven track record with property you like and good testimonials.
We have considered rentals but the ongoing costs are less than €1,800 per year and therefore we won't be forced to rent it out to cover these costs.
I've managed rental properties in Spain and the Caribbean for clients and understand the hassle of renting property. It's one thing renting to family and friends who will look after it, but some of those who rent expect to be able to treat it as they wish for the money they pay.
I don't want to have to redecorate each time someone drags a suitcase up the stairs and scuffs a wall or breaks something.
We use it as a second home rather than a holiday home trying to visit four or five times a year. We have a duplicate wardrobe there so it really is lock up and go.
Given the ages of the children we rarely all get to go together but some of them are at an age now where they will start going by themselves. When they have families of their own it will be a great place for them to go and only have the expense of buying flights.
Antalya airport unlike some airports in Turkey is open all year round. Side gets quieter in the winter as you would expect, although from December to March you can ski in the mountains in the morning and swim in the sea in the afternoon!
Have we had any problems? Not really, the odd snagging here and there. Ventilation is the main issue with any property that is locked up for months over the winter. With security on site they open it up to ventilate weekly and we have our cleaner that checks on it fortnightly.
Any regrets? None whatsoever! With interest rates the way they are I am not getting a return on savings in the UK so my money is working harder abroad, giving us unlimited holidays in the sun in the process.
The Turkish lira has devalued substantially over the last 12 months so when we take pounds and convert them over there we are getting a lot more lira for our money.
Would we recommend people to take the plunge and buy abroad? Absolutely!
Browse all of our properties in Turkey here >>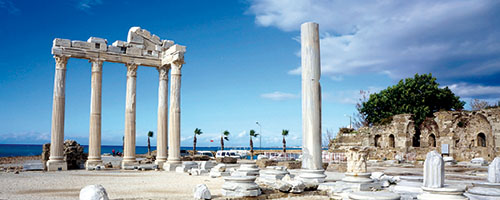 But we have a few tips for other buyers...
1. If buying off-plan choose a builder by reputation and inspect previous developments. Make sure you can give the property your own personal stamp to make it different from other similar properties. This may add value or make it easier to sell.
2. Try to fix the price by buying in sterling so the price you sign up to is the price you pay.
3. Accept that building methods in foreign countries may not be the same as the UK.
4. Expect to be subject to any local utility anomalies - power cuts and water shortages do occasionally happen!
5. Buy a wireless dongle to allow all family members to get online anywhere in your property, to save everyone fighting over the internet!
6. Take sterling out to convert into local currency - you normally receive a much better exchange rate.
7. Identify the expensive supermarket products abroad and then stock up throughout the year in the UK, when those goods are cheaper on sale or promotion, and take them out with you.
8. Maximise your duty free allowances at the airport or on the aeroplane. Imported spirits are likely to be much more expensive locally.
9. Check out where the medical and dental facilities are. You never know when you might need them.
10. A local English speaking cleaner with internet access and a camera is a worthwhile investment to check on your property and keep you informed.
11. Try to buy flights as early as possible in the year to get the cheapest deals. Use a comparison website like www.skyscanner.net.
12. Ventilation is key to a property that is locked up for a lot of the year.
13. Consider checking the price of buildings and contents insurance in the UK as well as locally to see if any savings can be made.
14. Consider the local laws relating to inheritance and make an appropriate will.
15. Be prepared to compromise. A sea view will cost a lot more but remember the sea is just an expanse of water that rarely changes. You can still get stunning views away from the sea and the corresponding price reduction may allow you to buy a larger or different property.
Browse all of our properties in Turkey here >>

Top Five Things to Do in Side
Aphrodite restaurant in the picturesque harbour of Old Side. Undoubtedly the best location and going strong since 1970.
The Amphitheatre at Aspendos hosts cultural spectaculars like the Fire of Anatolia.
The remains of the Temple of Apollo are a famous landmark and great for a photo overlooking the ocean.
For golfers the 12 manicured courses at Belek are a must.
Local markets are a great source of fresh produce at fantastic prices.

Liz Rowlinson
(Originally published in the A Place in the Sun magazine - Issue 118)