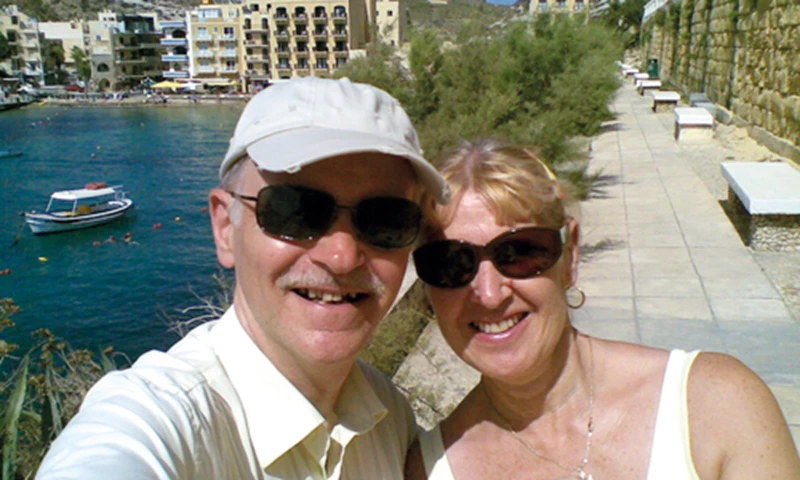 Michele and Keith Jenkins fell in love with Malta 30 years ago. However the island changed in that time and so have their priorities and here, they explain why they are buying a new holiday home.
Just as we outgrow our family homes in the UK, so it's just as possible to mature beyond a holiday home as our personal priorities evolve.
Equally, locations change over a period of time - sometimes for the best, but often for the worse - although the perception of progress or development can often be quite subjective.
For Michele and Keith Jenkins, both factors played a role in their decision to sell one holiday home in their beloved Malta for another after 19 years. For they are in the process of buying a "fixer-upper" townhouse in the beautiful capital city of Valletta for "around €200,000 (£158k)".
The 200-year-old home is located right in the centre of the historic city, near the theatre that is one of their favourite haunts in the city these days.
Whilst they renovate it, they will keep their two-bed apartment in Bugibba, a lively resort on the north-west coast near St Paul's Bay.
It's been a great holiday home for them, but they are ready for a change as Michele explains.
"We first fell in love with Malta back in 1983, following a work trip of mine," says the market researcher in her 50s, "and after visiting every year for holidays we soon talked about buying a place there."
"Malta is easy to reach, has a great climate and back then we wanted to be by the sea as we spent a lot of time on the beach. It wasn't a young and fashionable place, but that is why we liked it, it was full of people like us."
[Listing:AP1478171]
They bought a new two-bed apartment within a block of three in 1995 for 15,000 Maltese lira and their neighbours were Maltese second-home owners.
"We loved the fact that our Maltese neighbours came for the summer months and then returned to their principal homes elsewhere in the island's towns," says Michele, who is based in north-west London when back in the UK.
"Every year they would arrive around 30 June and stay till 30 September like clockwork. But now they are elderly and that is not happening and the buzz has gone.
We are not allowed to rent out the properties in our block but there are a lot more holiday rentals in the resort generally, and it's got a much more cosmopolitan ambiance, rather than one of the locals - something we are not so keen on."
The main square in the popular holiday resort of Bugibba is now packed with bars, restaurants and nightclubs and is popular with language students.
"We were both working full time, but we still managed to get there about four or five times a year," says Michele. "A couple of restaurants I am very happy to recommend in Bugibba/Qawra are Damiano's for great pizza and pasta and La Stalla, a pub restaurant with a wide menu that does excellent fish. We've been going to La Stalla pretty much since we started going to Malta."
But for Michele and Keith, who had been spending increasing lengths of time in Valletta, it made sense to think about relocating there. "We have always visited Valletta on every single visit to the island because this is where all the culture is," enthuses Michele.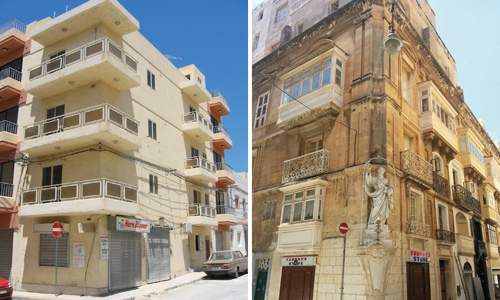 "The architecture is extremely interesting and we visit the theatre, cinema as well as the St James Cavelier Centre for Arts, a great arts venue with concerts and contemporary art exhibitions.
Restaurants are also improving and there are also great green spaces: we like the touristy Upper Barrakka Gardens and also Hastings Gardens because it is very peaceful.
"You won't find megastores in Valletta either. The main shopping streets - Republic and Merchant Street - are pedestrianized and full of little Maltese local shops, which we like. The covered market is also great for local cheese, fruits, veg and deli items."
The house they have bought is going to need extensive renovation, a process that their estate agent, Frank Salt, are able to manage but it sounds a fantastic project. "It is set over six floors with one or two rooms on each level - a legacy of when Maltese divided up houses vertically between family members," says Michele.
"We are going to remodel it with two or maybe three bedrooms but will probably do most of the dining and sitting out on the rooftop terrace."
[Listing:AP1367770]
She explains that they got an architect to have a look at it before purchasing, and it's very sound structurally. This is essential if you are buying an historic property, such as one of Malta's famous "houses of character" that appeal to overseas buyers for their unique charm.
As foreigners Michele and Keith are also applying for a "permit to buy" the property (foreigners are not allowed to own more than one resale/historic property - although new-build SDA (Special Designated Areas) homes are exceptions to this rule).
"The permit to buy via a notary is taking around four months to come through - it used to be less but perhaps there is a larger volume of applications now."
Find out more about owning property in Malta >>

Liz Rowlinson
(Originally published in A Place in the Sun magazine - Issue 120)