The Lambs attended our A Place in the Sun Live exhibition in March, bought a new home in the Algarve within a week, and moved into it on 30th April. Some people don't mess about when the time is right to buy!
Ken and Marion Lamb from Culross in Fife been considering purchasing a home overseas for some time. Sitting at home in their detached home enjoying stunning views of the Firth of Forth they had got fed up with Scottish winters.
"We were sitting there watching many episodes of A Place in the Sun with people following their dream and purchasing a home abroad and decided enough was enough," says Marion, 57.
"All of a sudden we asked ourselves, 'why are we sitting here in this grey misery, when we could go and have some sun?' We were in the fortunate position of being able to buy a home without selling our Scottish one - it's been stuck on this slow market for a year now - so we thought why dither? Life is too short."
Much time had been spent Googling options and when they saw a mention of the A Place in the Sun's exhibition in Manchester they knew it was time to put the plan into action.
"We weren't quite sure where to buy at that stage, having considered the States but then thought it would be too far and too expensive for our family to visit us. With winter sun being imperative we rejected France in favour of Southern Spain but then rejected Gibraltar as being too insular. So we headed to Manchester with the Costa del Sol or the Algarve in mind," says Marion.
Attending A Place in the Sun Live
The Lambs went to the show with a long list of questions and the hope that some might be answered. These revolved around tax, pensions and inheritance to help them make their decision about location.
Ideal Homes Portugal hit the jackpot by having their lawyer in situ at the Manchester show. They got a lot of their questions answered by staff on the Ideal Homes Portugal stand. "The tax benefits of Portugal were very encouraging [no IHT and pensions taxed at zero]," adds Marion.
"There and then we booked an inspection trip - striking whilst the iron was still piping hot," she says. "A week later we were being shown around the Algarve in the glorious sunshine by Sasha from Ideal Homes Portugal. We looked at both Central and the Eastern Algarve, and really liked the authentic feel of Tavira in the Eastern Algarve."
"There are no loud disco bars, pubs with Sky Sports and no fish and chips," says Ken, 66, also retired. "We liked the feel of the former fishing village that hasn't been spoiled by tourism. There's been a nice boardwalk added with restaurants though, which is a plus."
Buying the Property
The Lambs arrived in Portugal on Tuesday and after looking at about 15 properties by Friday afternoon at 3pm the decision had been made. They went for a new three bedroom apartment at the O Pomar development in the village of Cabanas, which is the beach village part of Tavira.
Apartments there start at €175,000 for two bedrooms, or €245,000 for three bedrooms. Some offer BBQs on their terraces, and storage rooms are available in the basements, and each unit has an allocated car parking space.
The large complex boasts a peaceful, family atmosphere with two swimming pool areas, plus one swimming pool area for children and a children's play areas and a selection of bars and restaurants on site. Cabanas waterfront is a few minutes' stroll away, from where a short boat ride provides access to the white sands of Cabanas Beach.
Retired golfer Ken will be able to walk to a golf course - and revive his former hobby. Meanwhile former artist Marion hopes to dust off her easel and resume her work in her retirement.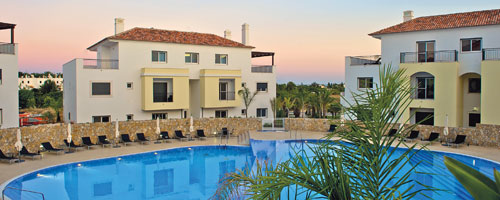 "Even our children were alarmed at the speed at which we bought the property but it ticked all our boxes and accessibility into Europe won me over, he says. "Faro airport is half an hour away and the thought that I could jump on a train from the Algarve and wake up in Paris is so exciting [you can get the train from Conceicao station just seven minutes from the apartment to Faro airport or beyond].
"This apartment will be perfect for the family to come and visit. And the village of Tavira is more charming than I could have wished for, I really feel we are buying in a magical part of Portugal."
On that first visit they visited a law firm to sort out the documentation, even opened a bank account whilst they were there, and they completed on 30th April - only five weeks after viewing it. Ken says: "I had no idea it would be this easy."
The Future
Marion comments: "Our plan is to try out life in Portugal for a year. We'll then make a decision to stay there permanently, or not as the case may be. We have never lived in an apartment so that will be an interesting test. If we manage to sell our Scottish home we may well upgrade and look at the other end of the market out here. But this apartment is a great starting point and it was a good time to buy with the weak euro too."
"We are looking forward to taking cultural trips to Lisbon and exploring in the car. The Spanish border is only 20 minutes away too. We don't feel isolated in Tavira as we do a bit in Scotland."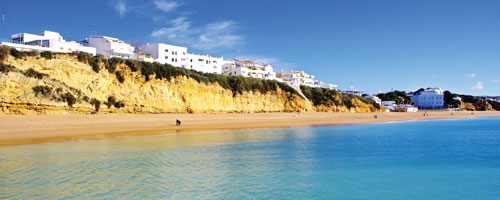 Buying Property in Portugal | The Basics
• To purchase a property in Portugal usually involves four steps: Reservation Agreement, Promissory contract, Deed, Registration.
• The time lapse between initiating the negotiations and signing of the Deeds can vary between a few days and a couple of months.
• Purchase costs vary in between 5 and 8.5 per cent, depending on the purchase price.
• Taxation in Portugal has suffered significant changes recently, with reduction of rates for active professionals residing in Portugal and no taxation for retired people, plus IHT benefits.
• If you rent out your property, you need to apply to the local town hall for a licence.

Liz Rowlinson
Originally published in the A Place in the Sun magazine - Issue 122