Five years ago, Greece was mired in its debt crisis and there were very real fears that it might leave the euro.

Even bargain hunters felt wary of investing in this sick man of Europe. But in 2014 things have been a little different. Whilst unemployment is still high in Greece and home values in Athens and Thessaloniki have plummeted by nearly 50 per cent, the Greek economy has been slowly improving and the foreign buyers are back.

Greek GDP is expected to rise by 0.6-0.7 per cent this year as the government's fierce austerity measures have eaten away at the colossal sized debt, and bond prices have risen. Add to that the flourishing tourism in many of the island hotspots, and there's a new-found confidence amongst consumers.

"Since January the market's gone wild," says Sypros Mantzos of A Property in Greece (apropertyingreece.co.uk). "We are two or three times busier than last year. The reasons? The reduction in property purchase tax [from 10 to 3 per cent] has helped incentivise buyers; the recovery of the Greek economy is another, alongside the end of all those worries about an exit from the eurozone. Finally the recovery of the UK recovery has encouraged second-home owners to think again about buying - whilst prices are still down."

Mr Mantzos says that even in the popular islands, prices are still stagnant and vendors are still very open to offers, so for those with cash (there are still no mortgages available) there are plenty of opportunities. So here we try to bring you a good selection of what's on offer.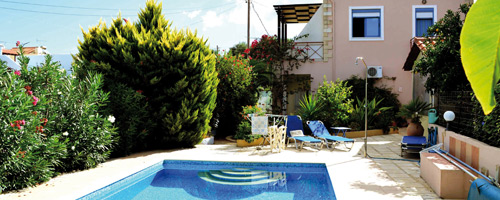 Crete
The most popular market for Mr Mantzos is still Crete, with the Peloponnese and Corfu next in demand. Crete is a comparatively large and diverse overseas market, popular across all price ranges, according to Maggie Waldon of Crete Property Consultants (creteproperty.co.uk).
"Following several lean seasons, the market began to recover at the end of last year. We have seen buyers across a cross section of properties, a mix of renovators, retirees and those seeking a secure investment property," she says. "Th e new lower property purchase tax has helped, but also the golden visa scheme [for non EU investors spending €250k or more].
This has led to an increase in buyers from Australia, New Zealand and China." Prices are generally still down by as much as 30 per cent. In the attractive village of Agios Stephanos the agency is offering are charmingly renovated two-bedroom, two bathroom traditional house for only €70,000. It's only 5km from the sea and a major selling point is its 20m2 roof terrace - to add to the 90m2 of internal living space.
Equally lovely, in the popular market village of Neapoli, is a two-bed townhouse with courtyard for €87,000. It's a slightly smaller 64m2 but it oozes authentic character and would make a great lock-up and leave bolthole or holiday rental property. Neopoli is 10km from the sea in the north-eastern corner of Crete.
For those with a bit more to spend, in the same area they are also selling a three bedroom villa in Milatos Beach - only 300 metres from the sea and a managable 40 minutes drive from Heraklion Airport - for €250,000. If you prefer the west side of Crete, there's rather a handsome two-bedroom, three bathroom stone villa in Kefalas village for €249,950 within walking distance of tavernas, cafés and mini markets. There is room for a pool to be built within the gardens of fruit and olive oil trees. For sale through A Property in Greece (www.apropertyingreece.com). Also from this agent is a two-bedroom property with private pool for €160,000 in Kamisiana, also in north-east Crete. It offers sea views from its upper floor balcony and a beautiful garden.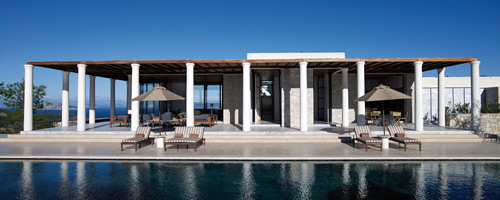 Peloponnese
Also a perennial favourite for its accessibility and beautifully unspoilt coastline, the Peloponnese also off ers fabulous holiday homes from £200k to £20 million. This large archipelago is south-west of Athens and reached by crossing the Corinth Canal by road - a journey of at least 90 minutes. In the nearest area, Argolis, around the Argolic Gulf, can be found the chic island of Spetses but also nearby the exclusive little enclave of Porto Heli where the former King Constantine of Greece, amongst others of his ilk, have holiday homes.
There you can buy a private villa at the Amanzoe resort for €3 million if you are fan of the Eastern inspired brand of uber-luxury hotels (amanvillasph.com). It is the Aman Resorts' first European outpost selling private residences, and such classical-meets-Asia low-slung properties come fully furnished and with sea views.
Dolphin Capital are also behind a rather different project, the Nikki Beach Resort & Spa, which is located in the heart of Porto Heli Bay, rather than a peaceful swathe of olive covered hillside like Amanzoe. The international chain of beach clubs (Marbella, St Tropez, Miami etc) have chosen Porto Heli to open their first Greek outpost, with branded hotel room suites for sale from €400,000 (portohelicollection.com). These party pads will suit anyone who is very keen to have a rooftop sushi bar a few steps away, a yacht club, spa, fitness club, stylish pool with loungers - or to benefit from healthy rentals returns from their investment.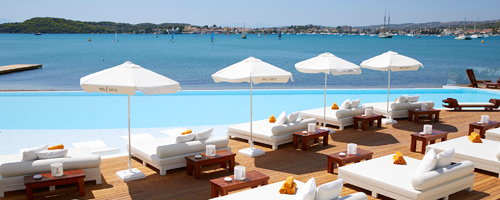 The rooftop duplexes are especially chic, with roof garden and Jacuzzi, but all rooms come with a sea view, balcony or terrace. If you head south-west down the Peloponnese towards Messinia and specifically Kalamata (which has its own airport supplied by Easyjet), you can get very reasonable properties in another unspoilt area with lush vegetation, dramatic scenery and great beaches.
For example, you can get a wonderfully characterful traditional Mani tower house with three bedrooms for €140,000, reduced from €240,000. In a peaceful location with sea views, it is ten minutes from the beaches and amenities of Stoupa. Alternatively, you can get an equally characterful two-bed stone house in the pretty fishing village of Ag Nicholas, near Stoupa, for €170,000 (both through O'Connor Properties (oconnorproperties.gr).
According to holidaylettings.co.uk, rentals enquiries for the Peloponnese tripled during 2013, with 2014 on course for a 75 per cent spike, so demand is certainly there for vacation lets.
Corfu
Moving west to the Ionian islands, next up we look at Corfu. At the high-end, on the exclusive north-east coast, the island has begun to attract Russian buyers, but there is a lack of supply of premium properties, according to Alexandros Moulas of Savills Greece (savills.gr).

"The perception of Greece abroad has now improved now that the economy has stablised. Eighty per cent of our customers want Corfu or Mykonos because these two islands offer some of the best properties in Greece. In the last year we have had [individual] sales of €7.5m and €9.7m in Corfu."
At a more typical level, in Corfu you can get a substantial detached villa on a 4,000m2 plot and sea views - within walking distance of a taverna or a village - for €700,000.
A Property in Greece has a selection of properties across Corfu perfect for summer boltholes, including a pretty country style terraced cottage reduced from €150,000 to €99,000. With three bedrooms and 140m2 of internal living space, it's not poky, and near Kassiopi north-east Crete it is also in a popular area.
Or in Skripero - also North Crete - a stunning three-bedroom, two-bathroom village house of 187m2 down from €395,000 to €273,000 (www.apropertyingreece.com).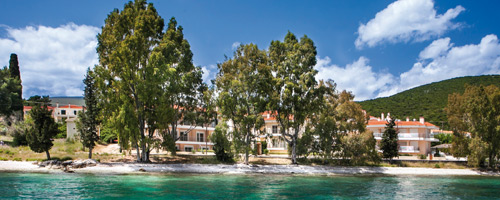 Kefalonia
Sticking with the popular Ionians, Kefalonia is also in demand with home-hunters, with its legendary clear waters and beautiful landscapes. Historically it's been popular with the 40-plus market - semi-retirees in particular - for its peaceful and laidback feel. It's not been overdeveloped by tourism and there isn't an oversupply of luxury properties, in fact there's been rather a shortage of homes suitable for overseas owners, something that Athens developer Mark Whitehouse, of DesignR Developments, is addressing.

"During the last decade the Greek government has begun to release some land for development - it has always been strictly controlled - and we are building the first project of dedicated holiday homes," he says. "In one of the prime locations, just minutes from one of the island's main seaports, we have aimed to create high performing investments for buyers."

The beachfront development, in Karavomylos, consists of 45 apartments, priced from €90,000 to €330,000 (designr.gr). All have access to a shared pool. Buyers so far have been British, Greek, Italian and Middle Eastern, and occupancy of the rented apartments is 100 per cent, according to Mr Whitehouse who says that one-beds rent for €70-95 per night; two-beds from €120; duplexes that sleep six from €180.

Also on the island, a well-established local company, Vinieris Real Estate, offer resale properties, land, new-builds and luxury villas - to suit budgets from €35k to €3.5 million. "We have by far the largest range of resale properties on the island," says Paul Hitchen of Vinieris (kefalonianproperty.com). "This year we have seen unprecedented interest in homes, showing that confidence is back in the property sector here in Kefalonia."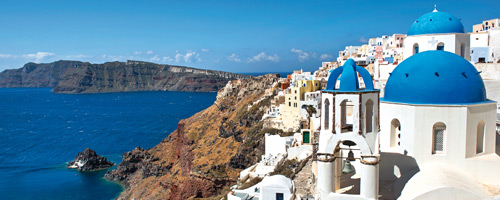 Cyclades
Whilst romantic and picture-postcard Santorini is ever popular with honeymooners and island-hoppers, homes are scarce and tend to command a premium. They may not be as expensive as those in trendy neighbour Mykonos but for a nicely renovated cave house atop the caldera (volcanic crater), expect to pay €650,000 as per this example that has stunning sea and sunset views from its 20m2 terrace (for sale through Savills).

Less accessible and thus well known is the island of Kea, a sleepy little island of 3,000 inhabitants full of ancient ruins, chapels, tavernas, quaint harbours and hidden coves. You need to get a one-hour ferry from Lavrio in the Attica region of the mainland to reach the island, after a 40-minute drive from Athens airport, hence Kea is often known as a "secret" destination for those in the know - Athenians have been holidaying there for years.

However a new hilltop project in Vourkari on Kea is targeting overseas buyers - with traditional style turn-key new 100m2 villas for €125,000 or 300m2 versions for €250,000 - with on-site beach club (keavillas.gr and kea-estate.gr). "Properties in Kea will rise by 30 to 40 per cent in the next couple of years, offering a great ROI," suggests Ioannis Michalopoulos, the developer of Kea Villas, who adds that his buyers have so far been Greek, Lebanese, Italian and American.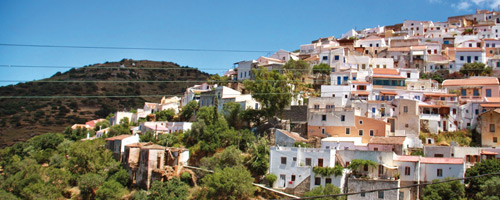 Evia
Also more well-known amongst Athenians than the British market is the island of Evia off the eastern coast of Greece, and the second largest isle after Crete. It can be reached by bridge from Chalkida on the mainland if ferries aren't running.

The popular locations of Zarakes, Almiropotamos and Dhiliso can be reached by road or ferry/road from Athens within two hours. A mix of mountains, beaches and authentic villages, it's another tranche of unspoilt Greece.

"Zarka the local name for Zarakes, is a traditional Greek farming village where elderly ladies dressed in black and old men on donkeys, are a regular sight. It is a lively, friendly village situated in the narrowest part of Southern Evia and has glorious views over the Aegean Sea to the East and the Gulf of Evia to the West," says Diana Hewitt of Evia Sun (eviasun.com).

There she is selling a recently converted and extended stone two-bedroom house with mountain views and beaches five minutes away for €230,000. Or in Almiropotamos, a small, picturesque village with meandering lanes with traditional stone houses and a scenic fishing harbour and tamarisk edged beach, there's a three-bedroom an ideal lock up and leave traditional house for €90,000.

Liz Rowlinson
(This article was first published in A Place in the Sun Magazine Autumn 2014 issue 119)