It offers some of the best history, beaches and new homes with sea views in the Algarve: we take a close look in and around Lagos, the prize of the Western Algarve.
A long the increasingly popular western Algarve, the real magnet for property-hunters right now is the area around Lagos, including the next-door beach village of Praia da Luz. This winter it is aplaceinthesun.com's biggest Iberian hot spot, if clicks on property listings are anything to do by. Last year it was the location with the second highest number of enquiries and bookings on the Algarve (after Albufeira) for holidaylettings.co.uk, who report that enquiries for the area are increasing more than 30 per cent, year on year. This refreshingly less developed stretch of the Algarve has been popular for a few years now but why does it seem to be gaining more fans?
As ever, it seems to be combination of factors. Improvement in access to the area has been one driver over the past decade - the completion of the A22 motorway from Faro to Lagos cut the airport transfer from 2.5 hours to 45 minutes - but the fact that it is an area that has developed later than the central stretch around Albufeira is an advantage, says Melissa Bart of Exclusive Algarve Villas. "Lagos [pronounced Lah-gosh or Lah-goosh] attracts a lot of people as it is a fresh, real Portuguese town. It's a relatively new town, with modern infrastructure but also because it is a large working town that is a much more authentic environment than the holiday resorts of Villamoura or Albufeira. It's not just a place for tourists, which is why many Northern European 'snow birds' choose to winter there."
The resort is at once modern - you can still buy new properties there as it is not fully developed - but equally its history is a pulling point, adds Simon Hobson of Infinito Real. "The big earthquake of 1755 destroyed many of the historic towns on the Algarve yet Lagos's Arab-built castle and character remained intact. The port was of great significance during the great age of seafaring [it's where Henry the Navigator built and prepared his ships for the pioneering voyages to West Africa] and is arguably the most interesting town on the coast."
The old town is enclosed by 16th-century walls with pretty cobbled streets, elegant plazas and ancient churches, then the fishmarket dating from 1924 in the old Doca Pesca harbour. The modern part of town is not unattractive and there are some great fish restaurants and shops around the port and marina area. The beaches on hand are some of the best in the Algarve - Meia Praia is a lovely 4km stretch of sand next to the marina, then there's the sheltered Batata Beach or the dranatic rock formations of Dona Ana Beach, a favourite with families.
The availability of such sea views is another factor that brings property-buyers, suggests Ms Bart. "You can't get sea views in Villamoura, you can in Albufeira but it's over-built, but in Lagos it's possible to get a sea view in a choice of more laid-back locations. Nearly all the properties in Praia da Luz have sea views, which is quite unique for the Algarve, that is generally quite flat." Indeed, because Praia da Luz climbs back up a hill, the geography is a bit more like Spain's and does draw buyers just for that reason.
Another is of course affordability, as the western Algarve is still more affordable than the central stretch as a whole, yet slowly edging up. Prices fell 30 per cent after the global downturn but are now "back to somewhere where they were", according to Simon Hobson. "You can still get a very nice villa for €1 million that you wouldn't be able to get on the central Algarve," he says.
Melissa Bart adds that although the really good post-downturn deals dried up in 2014 - there's much less stock on the market now - prices are still not properly rising yet. Demand is dominated by British buyers, followed by the French in the last two years, but the Swedes have always loved Lagos for the new-builds, the nature and the tax benefits (the Non-Habitual Resident tax scheme offers part-time residents zero tax on their pensions). "Many Swedes choose to buy a home here in which they can spend six months and a day in and live tax-free for ten years," she says. There are also a few Norwegians and Benelux buyers too, but a weak domestic market. "The Portuguese cannot afford to buy here," adds Sergio Perreira of Algarve Elite Property.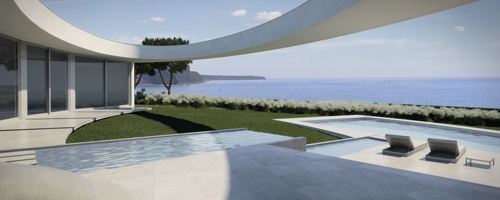 So where best to buy in and around Lagos? Porto de Mos: popular resort in the making
Mr Perreira suggests the best areas for holiday rentals are also the two most popular areas for property-hunters - Porto de Mos and Praia da Luz. This is confirmed by holidaylettings.co.uk who report that apartments are more plentiful in terms of rental properties but villas are very in demand. (Meia Praia is also in demand).
Porto de Mos is a newish development overlooking the beach offering modern villas with sea views. It's more urban and closer to Lagos than Praia da Luz. "A modest new-build villa will cost you €300,000 plus; a townhouse nearer €200,000," says Sergio Perreira.
Exclusive Algarve Villas has properties there from €500,000 to €2.5 million. "Porto Mos will be a fabulous resort when it is finished," suggests Simon Hobson. "It got hit by the recession badly and some new hotels were halted but properties in this area have better views than those in Lagos itself."
You can also buy apartments. Infinito Real has a spacious beachfront two-bedroom, two-bathroom one (over 110m2) with plenty of terrace space, for €295,000 (£217k). Owners have access to two shared swimming pools and secure underground parking (portugalvillasandapartments.net).
Praia da Luz: Classy beach village

Pricing is similar at Praia da Luz, suggest agents. Here the beach is smaller but we've already mentioned the elevated views and the village itself is charming. "It's a quality environment that has been established for 30 years and the environment is more rural than that of Porto de Mos," says Melissa Bart. "There's been a slow but high standard of growth." Algarve Elite Property is offering a 130m2 two-bedroom, two-bathroom townhouse with access to a shared pool on Praia da Luz for €225,000 (£165k; algarveeliteproperty.com); whilst there's a slightly larger one (at 147m2) with a private pool for €280,000 (£206k) through Exclusive Algarve Villas (exclusivealgarvevillas.com).

If you'd like a slightly larger one still, but can manage without a private pool, there's one with 195m2 for €260,000 (£191k) in a quiet position overlooking the sea. It has three bedrooms and a balcony overlooking the sea (through Elite Realty, eliterealty.eu).

Going up another notch, there's a large three-bedroom villa with office, laundry room, beautifully laid-out gardens around the pool area with BBQ area. All the bedrooms access the terraces surrounding the property. It's €595,000 (£437k) through Algarve Elite Property.

Apartments in the centre of Luz cost €200,000 to €300,000.

To be a few steps from the beach will cost. Infinito Real has a stunning seafront villa at Praia occupying a prime position. Offering four en-suite bedrooms and a roof terrace with Jacuzzi it's a cool €825,000 (£606k; portugalvillasandapartments.net).

There's also an outstanding contemporary villa with a striking curved architecture - accessed by a floating bridge over a water feature - with five bedrooms and private pool - over 667m2 - under construction for €3.9m (£2.8m; eliterealty.eu).

Or, up another notch, size-wise, you can get a six-bedroom, six-bath villa (complete with spa, pools, cinema room, snooker room, gym and steam room) over a palatial 1,372m2 for €4,950,000 (£3.6m; buyportugal.com).

If you like the idea of something with separate buildings (for guests, extended family or rentals) then there's an unusual property full of character on the edge of Luz, towards Burgau. It's got two one-bedroom cottages, a studio and a two-bed one, all in traditional style but finished to a high-spec internally, around a swimming pool. Offering plenty of privacy within lovely grounds, it's priced at €550,000 (£404k; exclusivealgarvevillas.com).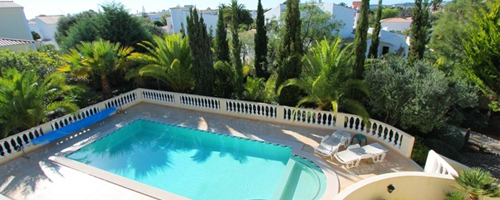 Rural, Meia Praia or marina

For those seeking the rural option, also check out Ferrel, a residential area halfway between Praia da Luz and Lagos where villas are surrounded by fields. You won't get a sea view but you can get a good-quality detached villa with a pool for €350,000 to €450,000. There are other options. There are plans to develop the area behind Meia Praia beach - so this is an area to watch - although you can buy a three-bedroom apartment there in a new development with access to a pool, for €215,000 (£158k; buyportugal.com). This property is close to the marina - another area of interest for some buyers. "This spot is good for rentals and close to town and you can buy a modern apartment with good facilities from €180,000 although we have sold many high-quality ones with sea views for €400,000," says Melissa Bart.

In the old centre of Lagos you can get older apartments to do up from €100,000 but this option is not especially popular with overseas buyers and if you seek greater value, an alternative is the tiny fishing village of Alvor (to the east) where you can also get apartments at that price point.

If you head west from Lagos you hit Sagres, a superb area for surfing but beware the temperature drops as you get closer to that Atlantic seaboard so volumes of buyers tail off after Lagos.

Liz Rowlinson

(This article was first published in A Place in the Sun Magazine -
Spring 2015 issue 121)