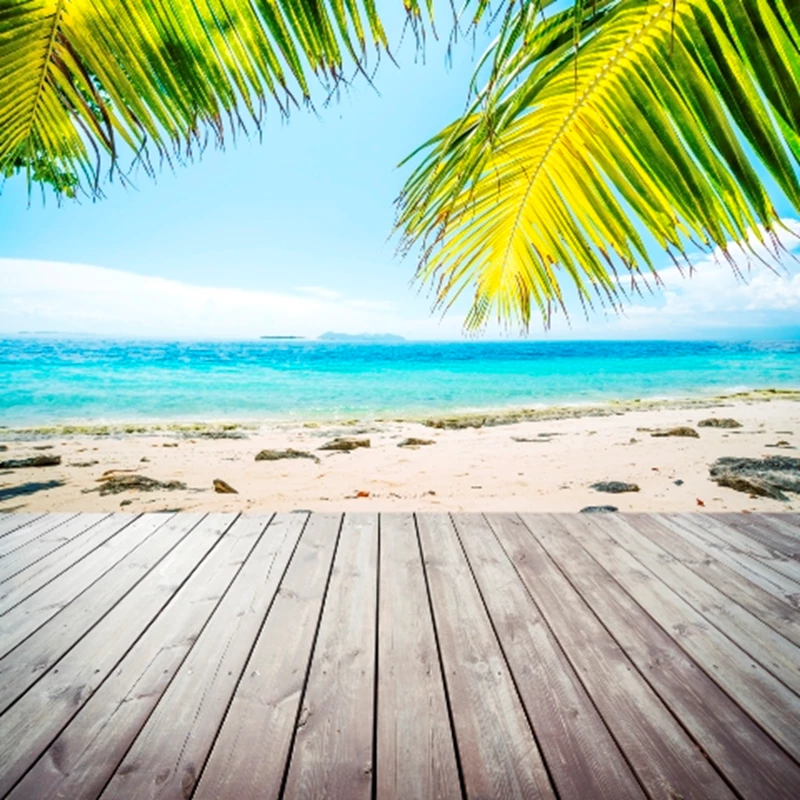 A Place in the Sun TV presenter Adrian Simpson fell in love with this beautiful little Balkan nation but renovating a home there was much tougher than he'd dreamed.
I can vividly remember the moment I decided to buy a home in Montenegro.
I saw a large dilapidated building online in a place called Risan in the Bay of Kotor with 12 bedrooms. It was like one of those glorious relics you see in France but right next to the crystal clear waters of the Adriatic.
The Bay of Kotor is absolutely stunning. It's Europe's southernmost fjord and the mountains falling into the sea are quite spectacular - like the South of France, or Italy, just more beautiful.
The property was on sale with a guide price of €250,000 in a country whose property market was just about beginning to explode, all for the cost of a small flat in London.
From that moment I set my heart on living there and developing a property. All I needed to do was convince my wife Amy that it was the next step in our life together and get a plan worked out of how we were going to do it.
It was January 2nd 2006 and I was 37 with an 18-month-old daughter Kit and another on the way.
I had helped to run a property company in the UK with friends in which our first project was developing an old warehouse in Clerkenwell, whilst I was just starting in television as a presenter on Top Gear.
From this I had also undertaken many residential projects with Amy around southwest London. I had set about finding us a property adventure abroad, and it was mainly just for the adventure. I didn't want to be amongst the golfing expats, I wanted to find an interesting country where interesting people were going. And that bit certainly worked out.
I researched everything - property prices, flights, schools and began a dialogue with agents and ex-pats to try to build a picture of what we should be looking at. We had a budget of around €150,000 for the whole project and we wanted to be near life and most importantly near the sea. There was absolutely no point in going to Montenegro and not having a sea view.
I also attended several seminars, which looking back were shamefully myopic in I their outlook: agencies peddling half truths and concealing facts to encourage wildly illconsidered property purchases by a British nation obsessed with making a quick buck from a place abroad. It was at the height of the overseas property boom aft all.
So, having got together a list of contacts and liaised with agents out there for a comprehensive tour of suitable properties, the three of us set off on July 16th for a ten day visit that was to change the rest of our lives. That last sentence is no exaggeration - what we experienced, how we coped and what we achieved will forever be a part of who we are.
Landing at Dubrovnik, which is one of three airports you can access the Bay of Kotor from (the other two being Tivat and Podgorica), it's just a 16km drive to the Montenegro border, we were really hit by the heat: it was around 35 degrees and the hills that overlook the airport were scorched with that season's wild fires.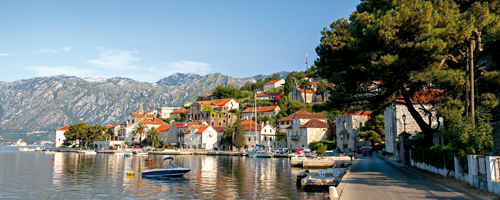 The next thing I remember remarking on was how green it was - once we were driving through the first valley that leads to the town of Herceg Novi on the gulf of Kotor - we were surrounded by wonderfully thick verdant vegetation, amazingly colourful flowers and huge palm trees.
And then I remember noticing the guttering - it's the kind of thing you do notice when you're obsessed with buildings. It was the most spectacular I had ever seen, wonderfully sturdy construction, very often made from copper.
Having made these initial observations and being of reasonably sound intellect - I still didn't put two and two together, but I was to discover why everything was so green and why they have brilliant guttering, the hard way.
I now know that this is because it rains so much. In fact that's doing it a little bit of a disservice: it absolutely lashes it down throughout the winter months and can quite happily keep raining biblically for weeks at a time.
But, back then I didn't know this and during the next seven days we saw a lot of houses, some piles of rubble and some pieces of land that agents assured us would be worth several million this time tomorrow.
I have never been in such a frantic, frenzied, maniacal situation and probably never will be again. Overseas buyers would pile into agencies clamoring to buy things not yet on the market, owners would increase prices almost daily and you quickly learned not to mention a certain house to anybody in a bar because people would instantly get up and go and find it.
It's hard not to over-emphasise just how bonkers it was; nothing in that country had been selling for over two decades because of the Balkan conflict and now buyers wanting a bargain and owners suddenly aware they could be sitting on a pile of cash, both sought to beat the situation up into almost cinematic proportions. It was Gold Rush Fever all over again, and everybody bought into it.
We managed to dodge the hysteria and do what we'd always done and went for the house that many people had seen but not really got.
It was a three-room apartment sat on an old workshop, which had been built 25 years previously but never finished in a tiny hamlet above the fishing village of Djenovici. Th e price was €50,000.
In fact as soon as I saw it I knew Amy would love it because it had the sea view, just the right amount of land and had great potential that nobody else had seen, and she did. It was her that made the offer and both of us were so excited by it we returned that evening in the pitch dark with Kit and were promptly welcomed by the rest of the villagers who have since become our life-long friends.
As we stood on the half-finished concrete balcony of our prospective home and looked out onto the moonlit Bay of Kotor, with the twinkling lights of the Lustica Peninsula opposite, we both knew it was the start of something really... different. We had a grandstand view of the bay, could walk to the beach and bars and were only a short drive to the airport.
The purchase process was reasonably straightforward with a contract and pre-contract to sign and after paying a local solicitor a hideously over-inflated sum to make the whole thing work it was ours within 30 days.
We kept our London property and rented it out which in turn gave us extra money to live on whilst we worked on the house.
After finishing off our last project in South London and then telling my TV agent I was moving to the Balkans, I bought an old Jeep, filled it with our stuff , and drove to Montenegro with my then 74-year-old dad, Alister. He has been part of all of our property projects and this was one he really didn't want to miss out on.
We arrived on October 4th 2006 and I then had three weeks before Amy and our daughter Kit arrived to get things kickstarted. We rented a small flat above a cobbled square overlooking the harbour in Herceg Novi and parked the car in a disused building site behind it.
I did a lot of groundwork - meeting architects, builders and solicitors to try and work out what we could do with the house and who could help us. Most of the time their English was good enough for us to get by but I was learning more Serbian by the day. I rode my bicycle to all the builders' merchants, plumbers shops and tiling centres to work out prices for what we needed.
It was the beginning of one of the toughest periods I will ever experience. Being at the mercy of other people's whims and interests, in a country where you understand very little and find it even harder to get your point across could be mind-bendingly frustrating.
We opted for a builder who, unbeknownst to us, had a serious drink problem and managing him became a full-time damage limitation exercise. We faced huge daily issues managing the reconstruction and much of that was to do with shoddy work, which then involved site meetings at which I would I have to shout at the workers in order to get my point across - by that point my Serbian had become OK - and I understood a importantly I could swear in Serbian.
We had a period of eight weeks where nothing happened as the tilers had made such a poor job of the entire house that they blamed the tiles. the tile shop blamed the tilers and nothing happened at all until I could broker a deal between them.
Painters covered all the new floors with paint and couldn't understand what the problem was, and then we had the swimming pool...I signed a contract that promised a finished pool within 30 days.
Every day was spent going to the house or sourcing things for the building project, but we did have some interesting trips around the country to ski resorts and plenty of time at the beach.
Nine months and much anguish later we had a completed pool. And to top it all the guttering and green vegetation started to make perfect sense when throughout the winter and early spring months it rained so hard, for so long, that it felt like it would never stop.
If all this sounds like a living nightmare it's not Montenegro, it's property developing. OK, I've never had builders so drunk in the UK that they've passed out on the job but wherever you're doing it, it's always supremely stressful. Anyone thinking of going there to run any kind of business should be aware that there's lots of red tape and laws can change daily. I know some good friends who through no fault of their own found it impossible to run a business there successfully.
In our case, I've not really mentioned the clueless accountant charging London prices, a Chief of Police who took away my passport screaming that he was going to have me kicked out of the country, my 10-week-old son being critically ill in a Balkan hospital with acute bronchilitis or my brakes failing driving down a mountain. there was never a dull moment and very frequently I'd wake up in the night completely overwhelmed by it all.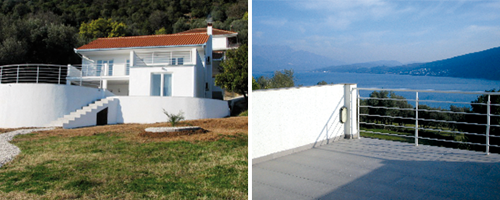 However, once the property was finished, €100,000 later and once the builders had disappeared and once we were left to enjoy living there, the whole experience changed. We'd started with a dilapidated apartment above a workshop and ended up with a three-bedroom villa with swimming pool and garden.
For a start the sun came out, then we moved in and immediately decided to hold a British party for our village. I cooked four enormous Shepherd's pies and that evening we got to know the wonderful people who we can now call friends: Milos the goat herder, Boris the engineer from the shipyard, Millerad the fireman and Zdravko the electrician.
They must have really appreciated the effort because since that night we've been accepted as part of the village and they make no bones about telling us that as well. They are a gloriously welcoming and generous people and I think they are the best neighbours in the world. I love their straightforward outlook on things and I love their sense of humour.
We spent three and half very happy years there where Kit and Jasper attended school every day and became fluent Serbian speakers. And even though it's now five years since we left - for the children's education, amongst other things - it remains a big part of ours, and their, lives. Despite our travails, it has been, and continues to be, a real privilege to own a house there.
In the evening we can walk down to the beach and have a swim or hang out at one of the local bars, or simply go and sit with one of our neighbours on their terrace and while away a few hours looking at the Bay. And despite only visiting there infrequently, the people in the village still make us feel like we're part of the gang. Us being there is important to them because we made an effort to be part of it.
Despite all the foreign property buyers, it's still a blissfully untouched place with a very basic and beautiful way of life - kids play on their own until way after dark, locals produce much of their own food and think nothing of sharing the sometimes little they have with complete strangers.
It's evolving rapidly and the country we first saw is slowly changing. the glitz and glamour of Budva, which is the Russian party town, was still very much a Serbian tourist destination back then.
And the grubby, rusty old Naval yard in Tivat, is now the go-to deep water marina in the Med and party place loved by Russian oligarchs - Porto Montenegro.
But you don't have to look too hard to find the very old school and charming old Montenegro and that for me will always be what the country is about.
I'm often asked would I do it all again. There's no doubt that in many respects it was the toughest time of my life: juggling a TV career with property-developing in a foreign country and two young children puts a strain on relationships and can be very challenging at times, but having met the people I have, having seen all the wonderful things and ended with a great house in the best village in the world, the answer is of course, yes.
I have enjoyed my A Place in the Sun odyssey but I have now left the show to concentrate on other projects and have currently launched a bespoke speech writing service allspeechesgreatandsmall.com
The do's and don'ts of buying a home in Montenegro
DO...
• Get a list of authorized solicitors from the British Consulate.
• Research the forums for ex-pats living there.
• Check out where the sun goes - some parts are in shadow nearly all day.
• Verify your land isn't going to be bisected by the Balkan Highway in the future.
• Take your time - it's a slow market and plenty of ways to get it wrong.
DON'T...
• Give lump sums of cash to anyone for a service until they have delivered.
• Underestimate just how long it takes to get things done.
• Be tempted to use a builder/solicitor etc as recommended by the estate agent.
• Forget your umbrella!
(This article was previously published in A Place in the Sun Magazine Autumn 2014)