"This French town has become my new faith. I am doing something I believe in and I am living my dream".
Charlotte Buckingham tells with heartfelt honesty the experience of swapping Bristol for a new life in south-west France with her daughter Poppy, 7.
Sunday is market day. Every Sunday, without fail. In the wind, the rain, the intensity of summer; even on Christmas Day. It's a new kind of worship, this market day, and it is something that the French take very seriously.
Ironically, Sunday is a good day for business in St-Antonin-Noble-Val and also for the townsfolk. A rich tapestry of dried fruit, herbs, saucisson and cheese shroud the streets. A fine feast of food for the eyes, heart and stomach. Not forgetting the gossip.
A congregation of locals can't help but busy themselves with the 'he said, she said, who said what?' A hive of excitement... words buzz like bees over pastis and grands crèmes at the market place with its bar standing proudly like an altar in the centre of town. Today is no different. This little French town is packed with proud market traders who colour the cobbles with the fruits of their labour. Like a river that has burst its banks, people pour down the streets to see, smell, taste and buy their sweet delights.
St-Antonin-Noble-Val is a medieval town in the Tarn-et-Garonne department of the Midi-Pyrenees in southern France, where our story began seven years ago.
I was 29 and living in Bristol working in children's media where a work colleague of mine had a renovated barn which he rented out to holidaymakers in a nearby village Verfeil-Sur-Seye. The opportunity to bask in sun in the south of France for two weeks was something I could not refuse. As a young girl I had always holidayed in Brittany and Normandy but this was my first visit to the south. With my family - my Mum Liz, Dad, Phil and sister, Adel Burgess in tow, I drove through France in the scorching month of August.
Exhausted from the 12-hour drive, we decided to stop for chocolat chaud and croissants in St-Antonin-Noble-Val. And as clichéd as it might be, the moment I set foot in this old French town I felt I'd come home. It was the most bizarre sentiment and one shared by my father who felt exactly the same way.
Although the barn was based in a nearby village, we spent most of our time here in St Antonin. Summer festivals, fireworks, swimming, canoeing, street markets... It was heaven for holidaymakers.
The location is perfect. It is an hour from Toulouse and Rodez airports. You have everything you need in town: cafés, bars, restaurants, supermarkets, schools etc. The Pyrenees for ski season are not too far afield, the beaches of the South of France and Spain are all within easy reach.
There are hundreds of quaint little towns to explore such as Puycelci, Najac, Bruniquel and Penne. It has been used as a film location in Charlotte Gray (featuring Cate Blanchett) and more recently The Hundred Foot Journey (starring Helen Mirren; released September).
The coup de foudre
So it is no surprise that when we stumbled across a regal four-bedroom bourgeoisie townhouse for sale in Val, curiosity got the better of us and we had to arrange an appointment to view it.
And she was beautiful. It was love at first sight, with her thick stone walls, overbearing fireplaces, and a twisting oak staircase with its spine-like appearance holding together her insides and connecting a rabbit warren of bedrooms. the house is 200 square metres in total and located in the centre of the village.
The house was a mass of period features, crooked oak beams, terracotta floors and absolutely terrible 1970s wallpaper.
As if in a dream (or a film), I threw open the shutters, casting sun on the smokestained walls and saw the most amazing view of the old town with its dramatic mountainous backdrop: blue sky, white gorge walls, the bright sun; like a painting framed by the worm-eaten windows.
The house spoke a language, more familiar to me than French. She prayed that I breathe life into her old pores, to make new and to love what has become our home.
We very quickly decided to buy the house for around £85,000. It was to be a family investment. My parents, sister and I (who were both in our twenties at the time) formed a French Société Civile Immobilière, a type of limited company, which made the buying process easier and protected the investment.
Fortunately, the local estate agent was fluent in English and she explained what we needed to do in great detail. She also helped to arrange a French mortgage, which again was extremely straightforward. The notaire was local. With the estate agent on hand to help with translations, the language did not prove to be a barrier at all. She even collected me from Toulouse airport when I flew in to sign the papers.
I distinctly remember the day we were handed the keys. It was January, at dusk; freezing cold and miserable. The town was eerily quiet. The only sound was the wind as it raced through the streets and alleyways, rattling the shutters of old buildings and sweeping up what was left of the silver papered Christmas decorations.
There was no water at the property, and nor was there any electricity. The house was so dark, we couldn't even see it properly. A stark contrast to summer - it felt exhilarating and exciting but, at the same time, it was also completely nerve-wracking.
I remember thinking: "What have we done?" But it was an adventure. That day, we also had the opportunity to meet the family who sold the house. It had been left to three siblings in their late sixties.
The family had grown up here and kept the house on as a holiday home when their parents passed away but sadly it was no longer in use and had fallen in to a state of disrepair. On the surface, the house looked pretty dilapidated but we were very lucky as on closer inspection the majority of work on the house has been cosmetic.
Shabby chic was the name of the game. We needed a new roof. We had a loft to renovate and a room used as a store for logs, which we hope will become the kitchen one day. My four-year-old daughter Poppy was about to gain a huge room fit for a little princess with pink walls and plenty of space in which to play. The bathroom and kitchen were very basic but adequate for our needs.
We always intended for the house to be a holiday home as I had dreamt about living in France but never imagined it possible.
However, after a difficult period for me in England, I separated from my long-term partner and decided to move to France permanently with Poppy to help give us both a fresh start. It was a romantic idea and I desperately wanted an escape.
I took a long hard look at all the things that were making me unhappy in England. Although I love the vibrant nature of Bristol, city living has never been my cup of tea. I grew up in rural Staffordshire and had always craved more of a rural life for my daughter too. Personally, I wanted, needed the time and space to think and write, feel inspired by my surroundings and focus on living life instead of chasing my proverbial tail.
I also felt a strong desire to protect and nourish my daughter's childhood. As a child I was surrounded by nature and played outdoors, we kept chickens and grew vegetables and were children for longer without the pressure of the media and consumerist society. I sought this for my daughter.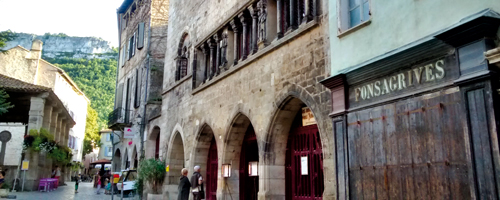 St-Antonin-Noble-Val has all of those things in abundance. A spa town carved into a white-washed gorge, it has a variety of outdoor activities on offer. Kayaking, fishing, swimming, caving, cycling, it is all on the doorstep. It is a safe and joyful piece of paradise for children.
Young children play together on the street like we used to. We spend our time deerspotting, watching the sun rise, marvelling at star-filled skies, making jams and eating tarte aux fraises. We make playthings out of bark, pine cones and leaves rather than plastic bottles.
When I moved to St-Antonin-Noble-Val, I enrolled my daughter into the local ecole maternelle (nursery school) and ran a small boutique selling organic and Fair Trade children's clothes to make ends meet.
The trade here is mostly built on tourism and is extremely seasonal. However, out of season the town is very quiet and I decided to shut up shop at the end of the summer season.
My daughter's school experience was very positive, I love the fact that there is no uniform in France, Wednesdays are a non school day and class sizes are limited to 20 pupils but the lessons are more prescriptive and less interactive. Poppy was bilingual in no time at all and made friends both English and French quickly but for me, conversing with other parents and teachers in French was daunting and quite a challenge.
We started to miss family too and although we felt accepted by the local community, the weight of my decision to move here permanently suddenly felt heavy.
To help ease the pressure I took Poppy out of school temporarily, I decided to home educate her so that we could spend more time in the UK as well as France. During the last year, winter has been spent in Staffordshire with family and summer in France.
This has been a useful time to re-assess what is best for Poppy and I and we have decided that France is where we want to be. Poppy would like to go to back to school here from September and I am in the process of selling property in the UK so that I can buy a chambre d'hote business and a shop to rent out.
I am doing a Masters in illustration online and hope to pursue a career writing and illustrating children's books, using my background in children's media. I also speak better French. Of course, we will miss England. In my darkest hours I can have the most incredible doubts, but the UK is only a short flight away after all.
I am also still in love with this location. Seven years after first stepping foot here, I still love to meander through the winding streets, collecting my thoughts as I go and reflecting on what has been a life-changing experience.
This town has become my new faith. I have hope, aspiration now and, at long last, I can say that I am doing something I believe in with every part of my being. I am living my dream.
Search for properties in the Tarn et Garonne area>>>
How to make the most of your new life in France
It can be really easy to be seduced by the laid back way of life and cheap property prices in France. However, if you are considering moving out to France make sure you do the following:
1. Be realistic about how you are going to make money.
2. Research the area carefully. Be very picky about where you choose to buy!
3. If at all possible give it a trial run.
4. If you have children and want them to go to school locally - research the schools in the area, talk to other parents, children and teachers.
5. Choose a location where there is already an international community. You will be grateful of the support and advice of fellow Brits!
6. Learn the language.
7. Be practical about proximity to local amenities. Don't be tempted to buy in a setting that is too isolated.
Pros and cons of life in rural France:
Pros:
1. Beautiful surroundings
2. Property is great value for money
3. Great culture
4. Food, wine, quality of local produce
5. Good healthcare
6. Close to the UK
Cons:
1. Difficult to find employment
2. Renovation can be expensive
3. Learning a new language is a challenge
4. Education system is very different - Do your research!
5. It may be difficult to integrate - depending on location.
This article was first published in A Place in the Sun Magazine Autumn 2014.