Confidence to buy property in Spain is back with a bang, with estate agents along the Costas reporting a lively first quarter of the year - much busier than 2013.
Just as encouraging is a report by PriceWaterhouseCoopers which says that Spain transformed from "property pariah to star market" at the end of last year, and is "expected to continue in much the same vein in 2014".
With a landscape no longer limited to distressed resale and repossessed homes, new-build and off-plan developments are helping to stabilise values.
As a result, average prices in established parts of the Costas are predicted to bottom out during 2014 - although some areas are already buoyant.
So the waiting game for twitchy buyers seems to be over; and, for Brits, the strengthening pound combined with cheap euro mortgages and incredible financing, make conditions even sweeter.
But should you choose new-build or resale? Here's a look at where and how to secure a bargain on both sorts on the Costas this year.
Costa Blanca
Alicante, home to the Costa Blanca, was Spain's most sought-after province among European buyers in 2013.
This is reflected in the high volume of searches on aplaceinthesun.com - at the time of writing, it's the most popular location not just in Spain but across the world - and is unsurprising, given the affordability of property there.
"Resales are still our most popular purchase, with the most popular budget being under €100,000 (£82,600) for a two-bedroom apartment, townhouse or bungalow with a communal pool," said Julie Newton at Casas Espania, which sells in the southern Costa Blanca.
"Most buyers with this budget will need to compromise on beachfront and be a short drive from the beach."
The Orihuela Costa, which includes Torrevieja and the dense but cheerful resorts of Punta Prima, La Zenia, Villamartín and Cabo Roig, is the key buying area in the southern Costa Blanca.
Newton advises looking 15-20 minutes inland to maximise a lower budget, and highlights a two-bedroom townhouse in the village of Algorfa, available for €72,000 (£59,500), as good value.
Similarly, in the northern Costa Blanca, homes in the traditional villages of the Orba and Jalón valleys are noticeably cheaper than in the coastal resorts of Moraira, Jávea or Dénia, themselves more expensive than in the south.
"Only in January, we sold a couple from Lincolnshire a lovely four-bedroom, four-bathroom detached villa in Orba, with sea views and its own pool, for €210,000 (£173,600)," said Kieran Byrne, the managing director of the estate agency HomeEspaña (homeespana.co.uk).
"This is typical of what we're selling there at the moment, and is excellent value."
Meanwhile, buyers in the Costa Blanca have an increasing choice of new-build and off-plan homes, sold direct by the builder and not a bank.
"Developers here are starting to build again, particularly in the south, where we have a number of new projects, and people are rediscovering the value of new-build," added Byrne.
"According to recent statistics, Alicante ended 2013 with 2,037 new dwellings, which is a staggering 362 per cent increase in housing construction compared to 2012."
Byrne tips the new Linnéa Sol development in Villamartín, where prices start at €102,000 (£84,300), as a star buy.
For Nick Coleman of Moraira-based Hamiltons of London (moraira-hamiltons.net), Moraira remains the real hotspot along the Northern Costa Blanca, and people tend to have a budget of €200k-300k and are seeking a three-bed, two-bath detached villa with a pool, though you can get homes from €70,000.
"Most of our sales are resales, where you can still find good deals, though I believe prices are now at the level they should be, so we have reached the bottom of the market. Now is a good time to buy!" he says.
"We have a few new-build properties coming on sale but you'll pay more for them than resales."
The pictured property is a two-bed apartment for sale for €175,000 from Hamiltons.
Search here for properties for sale in the Costa Blanca.
Costa del Sol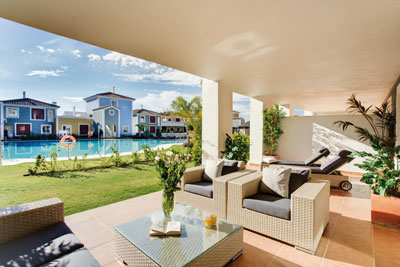 The Costa del Sol caters for all tastes and budgets, from the glitzy boutiques of Puerto Banús to family hotspots such as the Brit-centric Benalmádena.
Today's best buys there can be either resale, new-build or repos - key is being in an established area, having good facilities, being near a golf course and no more than 5-10 minutes from a hub, such as Marbella or Estepona.
"Given its location and size, a four-bedroom townhouse in Puerto Banús that we're selling with an asking price of €240,000 (£198,300) is great value," said Mark Rawlings at Your Dream Home (yourdreamhome.es).
For lower-budget buyers, studios and one-bedroom apartments are available in the hotspots of Benálmadena and Fuengirola for less than €75,000 (£62,000).
"Up to €125,000 (£103,300) will get you newer two-bed apartments in La Cala de Mijas, Riviera del Sol, Calahonda, Manilva or Estepona," added Rawlings.
"Villas and townhouses are available from €130,000 (£107,400), and you get a larger plot if you buy inland."
For something new, Your Dream Home has recently taken on the off-plan development Dream Gardens in La Cala de Mijas.
The resort will consist of high-spec three and four-bedroom apartments, with prices starting from €299,500 (£247,500).
Operating in the mid to high-end of the market, Daniel Enquist at the agency Crystal Shore Properties notes that bank repossessions now "very seldom reach the open market, due to a long waiting list".
One example, though, is a new two-bedroom apartment in the gated development of Lorcrigolf in the Nueva Andalucía golf valley.
"Apartments there have been selling in recent months for around €350,000 (£289,300)," says Enquist.
"But we are bringing this sought-after property to market, with offers in the region of €208,000 (£171,900)."
Also tipped by Enquist is a new development near San Pedro and Estepona, where Crystal Shore has apartments from around €200,000 (£165,300), which come with management options, furniture packages, great facilities and financing possibilities.
Search here for further properties in the Costa del Sol.
Murcia & Almeria
Buyers looking for a bargain holiday home on or near a golf resort, such as the six completed resorts by Polaris World, are spoilt for choice in Murcia, an area with a high concentration of repossessed properties, both villas and apartments.
With so much surplus resale stock available, supply and demand for new-build is negligible, says Lynda Day of NorthWest Murcia Properties (northwestmurciaproperties.com).
The company sells across six historic towns - Cehegín, Moratalla, Mula, Bullas, Calasparra and Caravaca - and the average customer has €150,000 (£123,300) to spend.
"There is no standout hotspot, and all the towns offer different attractions, so the best thing is for people to come out and research areas," suggests Ms Day, who cherry-picks a great reduction at a higher price point - a villa worth around €600,000 at the market peak and now available at €345,000.
Peter Birkett of Property Repossessions Spain (propertyrepossessionsspain.com) says that it's the coastal areas of Murcia and Almería that offer the best value for money, with prices of €60,000 (£49,500) upwards for a two-bedroom, two-bathroom apartment.
"For investors, apartments here are a better buy than villas, as three two-bedroom apartments costing around €70,000 (£57,800) each will generate double the rental income of a €210,000 (£173,400) villa," he says.
"And bank repossessions will always trump a resale for most clients, as they come with low-cost, high loan-to-value mortgages."
Clever buyers should also consider being close to Murcia's new airport at Corvera, which is expected to be open by early 2015.
"Then there is the [long-awaited] Paramount Theme Park to consider, being built near to the new airport and predicted to bring in three million new visitors a year," continued Birkett.
Standout repossessed deals on Birkett's books include new two-bedroom apartments in Mar de Cristal on the Mar Menor from €85,000 (£70,200), and luxury two-bedroom apartments in the coastal resort of Vera, Almería, available from €67,000 (£55,300) and requiring just a €15,000 (£12,400) initial outlay.
Spain's new bullet train-line will stop at Vera and is expected to be fully operational by early 2015.
Otherwise, combining golf and proximity to the beach and a marina resort is the large and popular Camposol urbanisation on the edge of Mazarrón, Murcia.
Typical of the deals available there is a two-bedroom villa with a self-contained two-bedroom apartment, as well as a pool, all for €189,995 (£157,000) through the agency Mercers.
Search here for properties for sale in Almeria.
Canaries & the Balearics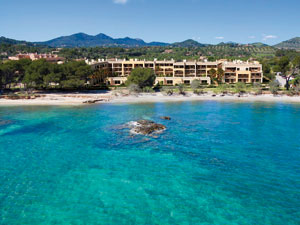 More controlled development means that today in the Canary and Balearic Islands, there are fewer opportunities to snap up new bank-owned repossessions, compared with in mainland Spain.
"There are hardly any cranes to be seen in Tenerife," says Bruce Grindley, the managing director of the Tenerife Property Shop.
"New-build properties are far and few between, so the best bargains are to be had from private sellers who wish to sell quickly and price their properties accordingly."
Grindley highlights a one-bedroom apartment in Amarilla Golf and a two-bedroom apartment in Golf del Sur as real steals in today's market.
The former, on a well-maintained complex, is "being sold below depressed market for a quick sale" for just £58,500.
The latter is on one of the most luxurious developments in the Canaries. Available for the reduced price of €299,000 (£245,600), it would have cost in excess of €600,000 some years ago.
Similarly, in Lanzarote, Optima Estate says that resales tend to be the best buys, highlighting two or three-bed semi-detached villas with private pools in Playa Blanca as especially good value. These are typically from €180,000 (£148,800), or one-bed apartments start from €60,000 (£49,600).
Meanwhile, in Mallorca in the Balearics, new-build is a viable option, with the developer Taylor Wimpey España offering a selection of key-ready developments, as well as off-plan opportunities, in the most desirable parts of the island.
Projects available from TWE include the last phase of its Cala Magrana complex in Porto Cristo, with prices from €179,000 (£147,900) and handover due this summer, and two new off-plan projects in south-west Mallorca launched this year.
For something special, Marc Pritchard, the sales and marketing director at Taylor Wimpey, says: "Costa Beach at Port Vell in the north-east is a front-line beach development - unique on Mallorca.
Apartments and townhouses there - [pictured above] - (from €220,000) will have private direct beach access."
Search here for more properties for sale in the Balearics.
Case study: "€89,000 for my perfect retirement pad - not bad!"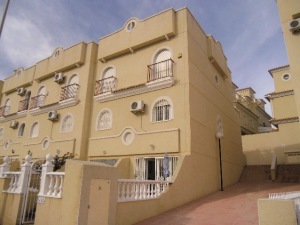 After a fruitless house-hunt up in England, it took a trip to the Costa Blanca for maternity nurse Julia Lannaman to find her dream retirement home. A Jamaican living in London, Julia visited the southern Costa Blanca last May, when the local estate agency HomeEspaña showed her a selection of properties. She found what she was looking for on the second day of her trip - a three-bedroom townhouse in Villamartín - and returned to complete the purchase in July, paying the purchase price of €80,000, plus fees and taxes of €9,000 (total: £73,250).
"I rent my home in London, but wanted a place of my own somewhere nice for my retirement," explained Julia.
"I spent three years discovering England, looking for somewhere suitable. But prices are crazy in the UK, and I was getting nowhere. Then a friend recommended I try the Costa Blanca and the rest is history. You get far more for your money in Spain, as well as sunshine, which, after years in London, suits me."
Julia's townhouse is on small complex, with two communal pools, and is a short bus-ride from the beach. It's over three floors, the bottom one being a self-contained suite, with a bedroom, bathroom and living area. It has a patio and solarium, and came furnished.