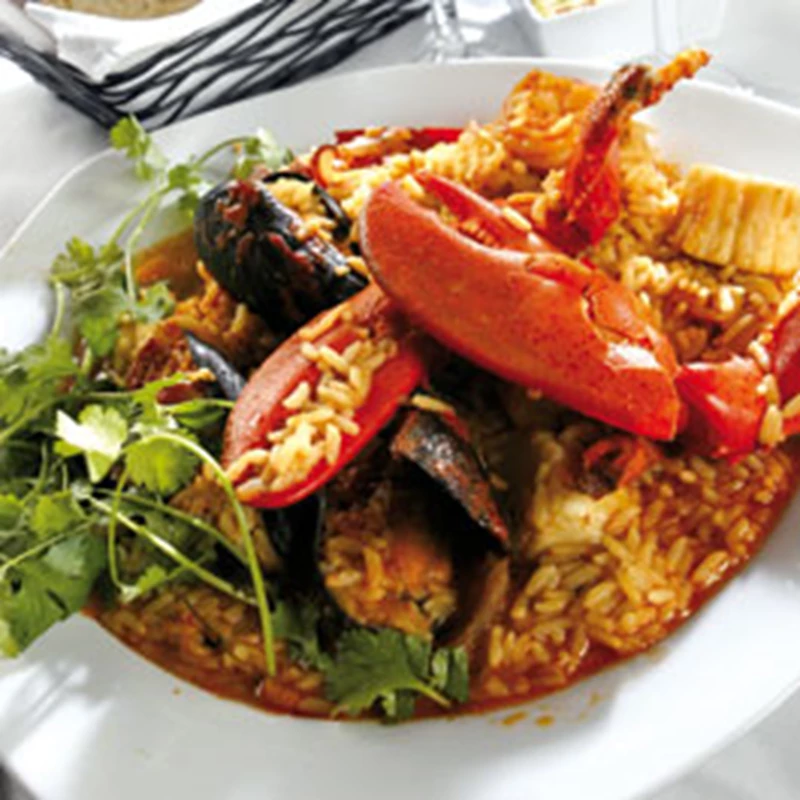 The Algarve is a much more diverse stretch of coast than the Costa del Sol, and offers so much more than rows of big resorts. Whether you have a taste for virgin beaches, authentic fishing villages or fine dining, Cheryl Markosky provides some pointers for homehunters...
Best for beaches
Algarve beaches range from the wildy dramatic with rocky outcrops and cliffs, to more subdued soft curves of sand.
Owning a home on or near a beach pushes up the price tag of apartments and villas (anything from 15 to 30 per cent, depending on position), but beachside property will sell easily and hold its value more than something further inland.
Christian de Meillac from Knight Frank's international department reckons that along with only a 2.5 hour flying
time from most European airports, a kind climate and great golf courses, the Algarve has some of the best beaches in Europe.
"Markets go up and market's go down, but I think we've gone through the worst on the Algarve," he explains. "Prices will remain mostly stable for some time to come until the situation in the Eurozone improves."
Lagos
Lagos has to be one of the all-time best places for beaches, says Mary Mangan from Winkworth International
"Meia Praia is the most famous of Lagos's beaches, stretching for two miles from Lagos to Alvor. Its sheer size, wonderfully clean sand, great beach bars and proximity to the town makes it a perfect choice."
You can even get a water taxi ('vai vem') from the centre of town during the summer, she adds.
A more intimate beach, Praia da Dona Ana (about a 25-minute walk from Lagos's centre), is blessed with clear waters and a warren of coves and hidden grottoes that can be explored by boat.
Praia da Luz has a fine beach with very easy access to all the amenities you want on a resort, but Luz can become crowded at the height of the season. But there's always some room if you venture over towards the eastern side.
For example...
Lagos apartment £101,712
A terrific lock-up-and leave two-bedroom apartment at Marina Park, with a pool, tennis courts, children's playground, supermarket and restaurant. And you're only a short distance from Meia Praia beach. (winkworth.pt)
Praia da Luz villa £591,548
Modern four-bedroom villa with heated plunge pool and private pool and barbecue area, only 100 metres from Praia da Luz beach. (knightfrank.co.uk)
Best for unspoilt fishing villages
Whitewashed churches, rows of fishermen's cottages, colourful fishing boats, wobbly lobster pots and veils of netting. What's not to like in the unspoilt fishing villages on the Algarve?
Untouched fishing villages are found mainly in the western and eastern coastal, from Salema, Sagres and Burgau in the west, to Cacelha Velha, Santa Luzia and Luz de Tavira in the east.
Tavira
Keely Capel from Portugal Property (portugalproperty.com) says that although Tavira's becoming more of a cosmopolitan riverside town these days, it still retains its fishing village roots.
"The river's home to a number of amazing fish restaurants and the Moorish-style buildings and castle walls lend traditional character and a timeless atmosphere."
Cabanas de Tavira, a riverside resort facing the Ria Formosa Nature Park, is about seven kilometres from the city to the east. Cabanas (which means hut in Portuguese) is great value, according to Sarah Goncalves from Algarve Manta Properties (algarvemantaproperties.com), with one-bedroom apartments from £63,836, and two-bedrooms £76,603.
Salema
Salema in the western Algarve is a very small and secluded fishing village halfway between Lagos and Sagres.
"The main road, Rua de Pescadores, is home to a number of fishermen who still moor their boats onshore and cast their nets daily," Mangan points out. "Recently, there's been some development close to the village, but it remains an out-of-the-way and laidback little town."
The beach is the main focus, with the main bars and restaurants scattered along its shore.
For example...
Cabanas de Tavira, £147,194
Air-conditioned two-bedroom apartment on three-year-old beach resort with two pools, children's play park and pub. (algarvemantaproperties.com)
Salema, £247,457
Three-bedroom townhouse in small beach resort with good rentals track record - last year, the owner generated £9,766 in rentals income. (winkworth.pt)
Best for rentals
Generally, the central Algarve, only 20-30 minutes from Faro Airport, fares best when it comes to rentals. People like to get to their destination quickly and be near all those things that make a holiday tick, such as proximity to a beach, golf courses, restaurants and shops.
Vilamoura

The resort town of Vilamoura, designed around a marina, ticks plenty of boxes: championship golf courses, casino, hotels, pools and a mix of apartments and villas. Property usually rents well, due to the variety of activities on tap. A two-bedroom apartment starts from about £191,993.
Vale do Lobo
Vale do Lobo's also popular, particularly with golfers, tennis aficionados and families. There are two golf courses (the Royal and Ocean) to keep those swingers happy, while families enjoy the cliff-fringed beaches and small 'village' peppered with shops, cafes and restaurants.
Prices vary hugely at Vale do Lobo, according to Vale do Lobo specialist realtor Infinito Real (portugalvillasandapartments.net), from £152,741 for a one-bedroom apartment that's just had its price reduced, to nearly £6 million for a grand five-bedroom, six-bathroom villa.
According to Vale do Lobo (where enquiries to holidaylettings.co.uk have increased by 97 per cent over the past year), twin-linked villas are especially popular with renters, with a typical three-bedroom linked villa costing around £426,651.
Loule
Other rentals hotspots away include the untouched beach resorts of Manta Rota and Altura (where one-bedroom apartments start at £76,797, and two-bedrooms £93,863), and the inland town of Loule with its poet's café, charming market and homes clinging onto hillsides.
A two-bedroom townhouse is good value at about £81,063, and a four-bedroom detached villa costs £597,311 (reduced dramatically from £1,365,284, through algarveproperty.com).
Another rentals goodie's the Dunas Douradas Beach Club within the Algarve's Golden Triangle between Quinta do Lago and Vale do Lobo. Facilities include: a gym, computer room, clubhouse and indoor/outdoor pools.
For example...
Dunas Douradas Beach Club £665,576
Luxury two-bedroom apartment in a spectacular beach location (knightfrank.co.uk).
Vale do Lobo £502,215
Contemporary two-bedroom duplex apartment with heated Jacuzzi and barbecue on roof terrace quintaproperty.com (Savills' associate)
Best for world-class restaurants & golf
Only 30 minutes from Faro Airport and just outside Albufeira (one of holidaylettings.co.uk's top four requested areas with enquiries up this year), the Pine Cliffs resort (pinecliffs.com) is a gourmand's marvel. You don't have to shift far from your home, as there are plenty of eateries on-site.
Fresh seafood's on tap at the aptly named The Fisherman, meat-lovers can go all caveman at the Gourmet Piri Piri Steak House, Master Chef geeks wend their way through the five-course cuisine menu with regional wine pairings, and East-meets-West at Yakuza by Olivier, with mash-up Japanese/Mediterranean fusion.
When a glass of Port or local almond Amarguinha liqueur's required to celebrate hitting the ball 198 yards over the ravine on the championship Devil's Parlour tee, golfers head for the Portulano Lobby Bar. Golf widows - and widowers - are found at the Mirador Champagne Bar with a flute of bubbly in hand after chilling in the spa.
While we're in the realms of fantasy (you might win the lottery, you never know), why not emulate Carey Mulligan and Leonardo Di Caprio in The Great Gatsby and consider an opulent art deco home?
E3 Property's putting the finishing touches to 24 apartments and 48 villas priced from £2.1 million at The Keys (thekeysatquinta.com) on one of the last development sites on upmarket golf estate Quinta do Lago. Along with art deco style, there are also homes based on high-ceilinged Hollywood Regency neo-classical designs and influences from the 1940s.
Owners of villas and apartments can enjoy room service, property management, maid service, childcare and airport transfers, as well as high-end golf on both the established North and South courses.
Cuisine is top-notch at Portuguese eatery Casa do Lago, Mediterranean-style Gusto (ranked number one in the area) and international restaurant, Gigi's.
For example...
Pine Cliffs, from £624,984
A two-bedroom townhouse starts at £624,984, while a luxury villa would set you back £3.8 million. (pinecliffs.com)
The Keys, from £2.1 million
Dream homes Gatsby-style at chic Quinta do Lago, with glamorous roof terraces and opulent pools. (Thekeysatquinta.com)
Best for rural retreats
Getting away from it all appeals to a number of house-hunters on the Algarve who are keen to escape crowded tourist haunts. Favouring venturing off-the-beaten-track, they prefer quieter mountainside spots or the relatively unknown eastern area near the Spanish border.
Monchique
Monchique's an engaging little market town in the Serra da Monchique, where eucalyptus, chestnut, pine and cork trees cover the hills. Cobbled streets, monastery ruins, and curative waters discovered by the Romans in Caldas de Monchique make this a rural hideaway worth discovering.
You can find some lower-priced gems in Monchique. A two-bedroom villa costs a reasonable £98,219; with values rising over £1 million for a luxury villa.
Vila Real and Castro Marim
The eastern side of the Algarve offers serene places that are also great value. Vila Real de St Antonio and Castro Marim attract those who like being right next to the border with Spain (you can drive over a bridge to Spain or get the ferry across the River Guadiana).
There's plenty to see, from 13th century castles, whitewashed churches and Vila Real's handsome main mosaic-paved square, Praca Marques de Pobal. A large expanse of marsh and salt pans attract birds (plovers, avocets, terms and flamingos) to the Reserva Natural do Sapal.
"Castro Marim's a small village with a lot of local history, fort, chuch and good facilities," says Algarve Manta's Goncalves. She tips buying a villa at Castro Marim Golf, where you get the best of both worlds - 21st century security and amenities next to a traditional village.
She also rates Vila Real for those who love messing about on the water. "For people who have motorboats or sailboats, it's a great resort to have a holiday home. There's a well organised marina, plenty of shops and fantastic restaurants."
For example...
Castro Marim Golf £447,983
Three-bedroom villa on the golf course with open plan lounge/dining room, barbecue area and private pool. (algarvemantaproperties.com)
Cabeco Beach, pre-launch price £305,000
On Praia do Cabeco between Manta Rota and Vila Real, these are four-bedroom beachside townhouses with air-conditioning, private pools and spacious terraces. (Mci-property.com)
Search here for further properties on the Algarve.