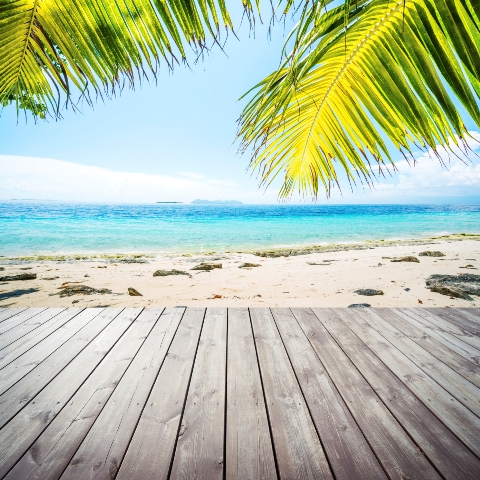 No doubt the Baroque architecture of Salzburg or the chocolate-box chalets of the Tyrol spring to mind. However, for those seeking an affordable second home with year-round appeal, the area west of Vienna, known as Lower Austria, is definitely worth a closer look.
Not only it is a short hop from Vienna - a slick airport with more flights to the UK than Salzburg - but property prices are around 50 per cent cheaper if you are seeking a little ski chalet or home close to a lake.
It's an area that is much more popular with German tourists and other nationalities than the British, but really shouldn't be as it has a lot of appeal - and you can get properties for under £100,000.
As the Danube (or Donau, as it's known in Austria) wends its way west out of Vienna, after about 70km you hit the beautiful old university town of Krems, which is situated at the confluence of the Krems and the Danube rivers.
The Bordeaux of Austria?
It's the beginning of the Wachau Valley, a 35km-long stretch that is one of the world's most beautiful river valleys, flanked by ancient stone-terraced vineyards, cultural monuments and historic towns.
At the other end of it is the Baroque abbey at Melk, a Unesco World Heritage Site, but in between there are plenty of pretty villages and hamlets set amongst vineyards famed for the production of the Gruner Veltliner and Riesling grapes.
The largest wine-growing town is Weissenkirchen (population: 2,200), but the picturesque small town of Dürnstein is like a collection of medieval doll's houses, with its ivy-covered homes pressed against a rocky mountainside.
High above the historic town centre is the castle ruin where Richard the Lionheart was held prisoner, but the town is equally renowned for its vintners, of whom Sean Branigan, a former Birmingham electrician, is one.
Sean, 49, left Brum 30 years ago when he followed a girl he had met on holiday to her hometown of Dürnstein (population: 800-900), married her and had two children there within four years.
Sean did a crash course in German at the University of Vienna and is currently a technician for the town's wine co-op, as well as producing his own wine (find out more at [email protected]).
He and his wife Susanna, a kindergarten teacher, live in a three-bed home they built in the centre of Dürnstein.
"I love the area and the lifestyle. I have always liked cities and I equally enjoy Vienna and its rich culture. Our town's got fewer than 1,000 people, but there is still lots to do, from the town band to the tennis club and Austrian curling. The last British thing I organised was a bonfire night two years ago," says Sean.
"I know of one other British family in the twin town of Unterloiben, so there isn't a huge expat community, but there's also my best friend from school who also met an Austrian girl on the same holiday. He followed me a year later and is also here!"
Sean's 120m2 home is worth around "€400,000 to €500,000" (£339,000 to £424,000), but you can buy a home for
much less than that.
However, demand is slowly growing. Recently a two-bed property at nearby Stift Göttweig was up for auction for €130,000, yet ended up selling to a Canadian couple for €248,000.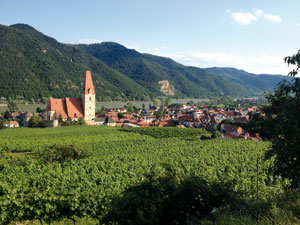 "The Wachau area is a bit more exclusive than most of Lower Austria, because of its wine tourism and proximity to the Danube," says Philip Smith of Amazing Austria, a property agency branching out into this area after many years selling in the province of SalzburgerLand. "There are great opportunities in Lower Austria for the next decade for buyers.
"Property prices are around 50 per cent of those of SalzburgerLand."
For example, you can buy a single-storey langenlois townhouse in a wine town of cobbled streets for around €70,000-€80,000, do it up or even extend it.
The traditional vintner properties are accessed by large wooden doors from the street, that open directly onto the inner covered courtyard, or innenhof, where the cart/cars are driven and unpacked.
Another property that has just come on the market near Weissenkirchen is a large house with five apartments (earning an income of €20,000 a year), for €279,000. The fifth apartment, comprising a spacious 140m2, is occupied by the owners.
For those who fancy running a B&B or holiday rental properties, there's a house available in the village of Emmersdorf near Melk, housing four individual apartments.
Near the River Danube, and close to the main train line to Vienna, it offers a lovely garden, with south-facing views, and sauna, all for €350,000, through Immobilien Strummer.
This agency is also offering a similar apartment-house (four units, again) within a century-old building in Haugsdorf, near Hollabrunn, for €97,000. This area, just south of the Czech border, is more affordable than the Danube valley.
Part of the reason why few British people are second-home owners in Lower Austria is that it's not been that easy for non-German speakers to get their hands on property.
"The bank is the first port of call for an Austrian selling their family home," says Justin Field, Philip's business partner in Amazing Austria.
"The property department of the bank will sell it, and list properties on their website, and locals can go in and negotiate over properties."
If you don't speak German, this will be impossible, and here Justin and Philip can work as intermediaries on behalf of buyers.
"We can get the best price for the buyer - we don't get an extra cut, but the buyer pays the standardised commission: 3 per cent of the sales price - the same as the vendor does.
"The other route is going to a listings site rather like Rightmove, but in Austria you have to pay a fee to view [on the website], and, again, if you don't speak German, it is tough."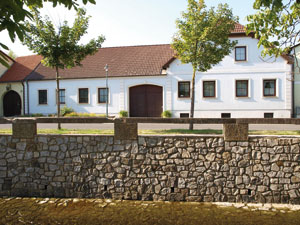 Buyers should be aware that in May this year the Austrian government introduced a type of Capital Gains Tax on second-home properties.
You can't just buy and sell on properties quickly without paying taxes on your capital gains (to discourage speculation, as per many other locations in Europe), but if you rent out your new-build home you can reclaim the VAT of 20 per cent.
Resale buyers should allow a total of 10 per cent buying costs in Austria.
Up into the mountains
Some of the best rental income-earning properties can be lake and mountain homes, and it was into the Hochkar ski region that we headed next on our property-viewing road trip.
This area is south of the Wachau and features the lovely lakeside town of Lunz am See, which is 75 minutes from Linz airport, or one and three quarter hours from Vienna.
With a restaurant overhanging the lake, houses with private moorings and waterfront picnic spots, this is Austrian scenery at its best, and has enough skiing for an afternoon on the slopes during the winter.
About ten minutes from there is a Sixties-built semi-detached two-bed cottage that was on sale for €89,000, but is now selling for €61,000. "It's been reduced as it hasn't sold, and they might take €50,000," suggests Philip.
"Spend €20,000 on it and you could sell it on for €115,000. Even with the new CGT, of 25 per cent you could make a profit as you can offset all types of expenses."
Our favourite was a little detached one-bed ski chalet for €129,000, with a stream running at the back of the garden and 800m2 of land in Göstling It could easily be adapted to provide another bedroom (there's a large superfluous storage room) and would rent for €50-€60 per night.
"It would cost €500,000 to €600,000 if refurbished and selling in SalzburgerLand," suggests Justin.
Or midway between Göstling (a town with a new high-spec wellness centre) and Lunz am See, there's a five-bed house in the heart of the Hochkar ski area for €165,000. It's on the side of the main road, so access is good, but it is not as idyllically peaceful as the little chalet in Göstling.
In Austria, if you want to borrow money, mortgage lending has traditionally been conservative, but, depending on the area, you can generally get 70 per cent loan-to-value, according to Gerald Buttinger, a financial adviser at Generali Versicherung AG (generalibank.at).
"Five- or ten-year fixed-rate deals are possible, though variable ones are cheaper. The interest rate is 2.5-3 per cent [at the time of writing]. If you already have a home in Austria, you can use it as a guarantee when borrowing on a second," says the English-speaker who also advises British owners on purchasing home insurance.
There's a lot of new-build going on in some of the mountain resorts of Austria.
Individual lakefront properties are few and far between - and stay in the same family for generations - but Amazing Austria are selling new "lake and ski" apartments at a new complex at Pressegger See Lake near to the Nassfeld ski area. It is only about a 15-minute drive to Italy, so you can swim in Austria and drive to Italy for coffee or lunch.
The development will have "super-luxury apartments", with two or three bedrooms, overlooking the lake. Prices will be from €360,000-€425,000, depending on size, etc.
There will be gated access via swipe card - ideal for a lock-up-and-leave property - and owners will have the benefit of a private beach area for swimming and boating.