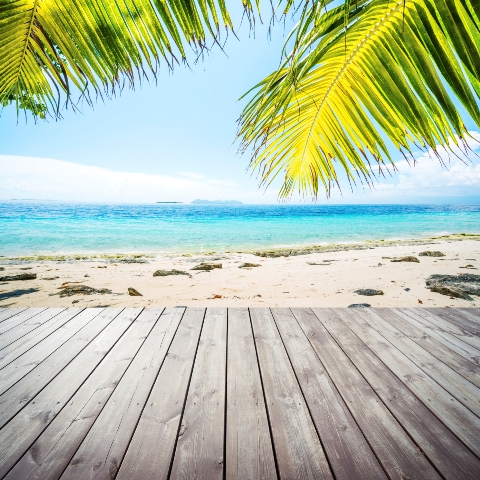 The Balearic island of Ibiza is famed for hosting some of the best parties in the world, whether it's those featuring foam or the finest champagne.
And that's the thing about Ibiza, it offers everything from one end of the spectrum to the other: from Ibiza Uncovered-style stag nights in San Antonio to high-end Ibiza Town, where VIP tables at Pacha nightclub kick off at £1,200. The same goes for its property market. If you assume that Ibiza is generally quite expensive, you won't be wide of the mark.
Unlike mainland Spain, a high demand for a limited supply of property has kept the market healthy, and for a quality villa you won't get much change from £1 million. Buyers are much more international than those in Mallorca, and tend to be a little younger, though they may be couples, families, and wealthy individuals seeking bachelor-style party pads.
The properties which have really held their value are the villas costing a bit more than £1 million, the four or five-bed places with an infinity pool and sea views which routinely command £20,000 a week during the party season. But although the island now attracts the sort of wealthy individuals who used to frequent the south of France, the good news is that there are some more affordable apartments becoming available, filling a bit of a gap in the market.
Two such schemes are from a Barcelona-based developer, Five Element Homes, and with apartments from €250,000 (£202,700), they offer the opportunity to get a quality entry level home on two of the most popular parts of the island, according to Cathy Ouwehand, of Ouwehand & Associates, which is selling the project in association with Savills. "People want lock-up-and-leave apartments, which are easier to maintain than stand alone villas, and these two projects offer high standard homes in great locations with fantastic rental yields," she says. "They suit today's needs - at a price that undercuts any competition."
First up is the up-and-running Cala Tarida development just behind the beach of the same name on the west coast (or Sant José area), which is a stunning strip of pine-covered little coves about 20 minutes' drive from Ibiza Town - the main hub of the south coast. Acquired from the original developer who went bust during the credit crunch, and turned round by Five Element, there are now only 15 of the 90 units left for sale. €250,000 (£202,700) gets you two beds on the ground floor, without sea views, but it would still be expected to bring in weekly rentals of €1,500 in the peak summer period. Three beds start at €350,000 (£283,700).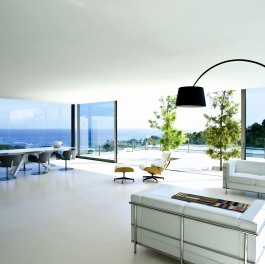 With attractive landscaping and a communal pool, this gated development is all about its great location, and the ground-floor units, although lacking the views of the upper floors, open out onto pretty little lawned gardens. Apart from having the beach close by, there are restaurants and this location is a little more laid-back than that its sister development, the White Angel, in Ibiza Town.
You couldn't be closer to the action - on a plot behind Pacha nightclub behind Ibiza Town Marina - the new development is being sold off-plan, with two-bed apartments from €270,000 (£218,850), three-beds from €367,000 (£297,500) going up to top-floor three beds at €740,000 (£599,900).
The aim is for the apartments to be "design-oriented" yet competitively priced, according to Ouwehand. "Working out at €3,500 per square metre, they are less than the €5,000 average, and considerably less than the frontline marina price of €9,000 per square metre," she says. Indeed, although the entry level for apartments in Ibiza is around £80,000 (see Ibiza Country Villas and Everything Ibiza), entry-level for something in an average-looking luxury apartment block along the frontline Ibiza Town Marina road is around €800,000 (£648,600) for two bedrooms.
In one new complex, Life Marina, by the Barcelona designer Jean Nouvel (responsible for the Agbar Tower), they kick off at a hefty €1,003,200 (£813,100) - for just one bedroom. The extravagant design of this multicoloured complex is not everybody's cup of tea, but very Ibiza (and is being sold through Lucas Fox). The complex has a more affordable (and more muted) part, Patio Blanco - more "Miami meets Andalucia" in style - that offers one-beds from €490,000 (£397,000).
This fashionable area is where people want to be, especially yachties who want a base, or Ibiza regulars who want the trendy restaurants, lounge bars and music within a short stroll, leading rentals websites say. According to www.holidaylettings.co.uk , the marina area (also known as Marina Botafoch) is the third most popular area in Ibiza for apartments (after Santa Eulalia des Riu just up the south coast, and Playa d'en Bossa, just south of Ibiza Town). In the area, the average peak season (June to September) weekly rate for a two-bed apartment is £1,350, with 10-12 weeks' occupancy fair to expect.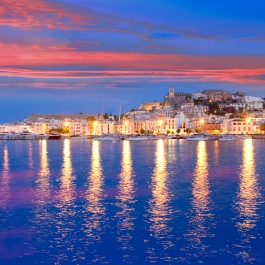 The atmospheric old town of Dalt Vila (Upper Town) is protected and it is quite rare to find apartments for sale there, right in the heart of the tapas bars and shops, but Everything Ibiza has a two-bed, two-bath, 106m2 apartment with cathedral views for €430,000 (£348,300). Villas are a different ball game, in every sense. Sant José is by far the most popular area, with the average weekly rate a whopping £4,122, according to www.holidaylettings.co.uk , followed by Ibiza Town. There really aren't any villas in the Ibiza Marina area, but around €690,000 (£558,800) is entry-level, according to Ouwehand, while "properties get interesting at €1,200,000 [£971,750] plus".
Five Element are selling high-spec off-plan villas at Cap Martinet (a beach in Talamanca, just 2 minutes north of Ibiza Town) for €1,500,000 (£1,214,650) in a highly desirable area where properties tend to cost €2,000,000 (£1,619,500) plus. These seven villas (four beds, four baths plus), with pool, will be typically low-lying, contemporary Ibiza style, with plenty of glass and outdoor/ indoor living. They are due for completion in 15 months.
Elsewhere on the island, it is possible to find a traditional three-bed home for around €250,000 (£202,700), or a three-bed villa with a pool that needs £50,000 of work for €350,000- €450,000 (£283,300-£364,300), according to British-born Yvonne Anderson of Everything Ibiza.
"The popularity of areas depends on what you seek," she says. "To be near the international schools, families choose Santa Eulalia or Santa Gertrudis; if you want sunsets, you need to be on the west coast; and the south is best for holiday rentals as it's got the best beaches, airport, and Ibiza Town," she advises.
"But it's got something for every budget. I sold a £2 million villa to a famous UK footballer last month; and also a £250,000 apartment in Cala Tarida. There are lifestyle buyers and investors, Brits, and all sorts of other Europeans."