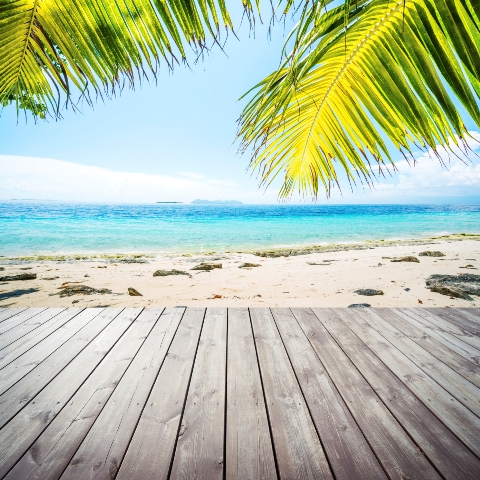 Golden sands and swaying palms: island life has always attracted homeowners keen to escape the manic mainland. And there can be nowhere better to enjoy a castaway lifestyle than laid-back Amelia Island, a peaceful seaport community off the north-east coast of Florida, near Jacksonville. Just 13 miles long by four wide, at its widest point, it's one of a chain of barrier islands clinging to the east coastline of South Carolina through to Florida.
Julie McCracken, who was born in Manchester and became a realtor in Florida, says one of the main attractions is the combination of Floridian palm trees and shimmering beaches, with four seasons normally associated with Blighty.
"There's a little bit of everything here," she explains, "from history (pre-Civil War Fort Clinch), the intercoastal river, theatres and restaurants to golf, fishing, and most of all, a sense of community." There's also a sprinkling of "foreigners", including the British, who love the small-town vibe of this older resort. "They don't want to eat sausage and mash on the beach, preferring the annual shrimp festival," McCracken adds.
Selling homes from her office in Fernandina Beach, McCracken says there's a good deal of choice for everyone on this small island. "Regular families come here alongside celebrities such as Oprah Winfrey and [the bestselling author] John Grisham, who's building his own house."
The market is levelling out after values dropped by between 10 per cent and 30 per cent since 2007. Compared to last year, the average price of a detached home is down by 11 per cent to $170,000 (£105,700), but attached properties are up 25 per cent to $295,000 (£183,300), according to the Nassau County Association of Realtors.

Beach homes
A popular spot with the British, the Summer Beach resort on the south end of the island offers mainly condos and townhouses, says realtor Marcy Mock. You could do worse than follow her example and get a mid-rise condo near the Ritz-Carlton which she rents to the hotel for overflow customers.
"There's a strong South Georgia and Carolina market, with people escaping the summer heat, while Canadians and Europeans like to hole up here in winter," she says.
A three-bedroom condo rents for $3,000 (£1,865) a week in the high summer season, and for $3,500 (£2,175) a month off-season. Ocean-front property costs more, although there are still bargains to be had. Recently, Mock bought a two bedroom condo at Ocean Place for $499,000 (£310,150) that would have been worth $800,000 (£497,300) in 2007.
Anticipate paying at least $500,000 (£310,800) for a condo, and up to $4million (£2,486,100) for a single family home. Going a block back from the water represents better value (expect to pay around $300,000, or £186,500 for a condo). And if you're on a higher storey, you'll still get a view and it will be quieter.

Golf property
With six courses on the island, you're never far from a driving range, says John Holbrook from Prudential Chaplin Williams Realty. He tips the affordable Arnold Palmer-designed North Hampton Golf Club at Fernandina Beach, with golf fees of $1,500 (£930). Family homes are great value too.
"You can own a nice house for about $300,000 (£186,200). As well as golf, there's tennis, basketball, soccer, playgrounds, fishing and an Olympic sized pool."
Jeffrey Chefan from Sotheby's International Realty recommends Amelia Island Plantation, now being spruced up by the Omni Hotels group. "The previous owners went bankrupt and everything was depressed for about three years. Homes starting at $300,000 (£186,200) could go up in value once the work's completed." Currently, you can negotiate most golf memberships. "You can request it comes with the house, but this isn't traditional," adds Holbrook.

Historic homes
The American equivalent of our period homes, historic homes date back to the 1800s and are found mainly downtown. "This is a popular area for retirees. They can walk to the bookstore, sit and enjoy a coffee and visit the icecream parlour," says McCracken.
A renovated three-bedroom Victorian-style home built in the 1920s with a separate flat costs $400,000 (£248,150). This heritage look with original pine f oors and banisters goes down well with purchasers, although not all of them like the maintenance and regulations that follow once in possession of a mature property.
"If you buy in a historic area, there are restrictions on what you can do to your home. You have to get approval for interior and exterior works, ensuring doors, windows and façades are in keeping with the period," McCracken adds.

Custom-built new homes
After falling in love with the show house at new subdivision Amelia Walk, marketing manager Joanne Saunders and her 39-year-old civil engineer partner, Gary, purchased a holiday home through Julie McCracken. "We could choose what we wanted, as it wasn't built yet," Joanne says.
The couple altered the $250,000 (£155,100) four-bedroom model to three bedrooms and an extra lounge in its "perfect" lakeside location. However, it didn't feel perfect when they bought back in 2008. "It was a worrying time with the recession," confesses Joanne. "We thought of pulling out, but were lucky the dollar weakened and we ended up with a good deal. Now, we have a place twice as big as our main house on the Isle of Man for half the price."
Joanne and Gary fly to Gatwick from the Isle of Man and pick up a New York flight, connecting to Jacksonville, a 45-minute drive from their new home. A second option is to go to Orlando and drive for three hours to the island.
"It's incredibly friendly, with the added bonus that the neighbours keep an eye on the place." Joanne says the slow way of life – walks, horse-riding, golf and camping – suits them. The couple also know they'd be able to let their home out if they had to, as demand is high.

Secrets of buy-to-rent success
Realtor Elizabeth Rawson, originally from Warwickshire, bought two three-bedroom apartments in an old cottage on Fernandina Beach direct from the bank last year. She paid $316,000 (£196,100) for a property worth over $500,000 (£310,300) before the crash. "I rent out both homes, grossing $2,400 (£1,500) a month," she says. The trick with foreclosed property is "to talk to the bank and work out the lowest price they'll take," she advises, although this probably isn't for the faint-hearted.
Look at commercial property too. Rawson's office was the best deal she's ever done: "The half that's my office is covered by a rented gift shop in the other half." Homes over commercial premises make sense too. A client of Rawson's rents out a hair salon that covers the mortgage on her home below.
Check you're in an area that allows short-term rentals if you're going for holiday-lets cautions Rawson. "Otherwise, you might be limited to longer lets of six months-plus."
The best investment is close to the beach, and always have a home inspection even if the place is new ("They might not have hooked up the air-con," Rawson warns).