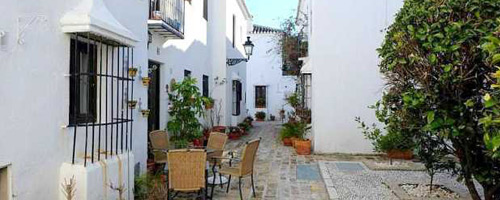 ---
PLEASE NOTE: This article was written in 2012.

Market conditions have changed dramatically since then, so this article was rewritten for 2016.
---
It's not often that you see a Boxing Day sale-style stampede when a property goes on the market, but it is happening in some parts of Spain.

Banks are offloading some of their €176 billion (£145.4 billion) worth of troubled property assets, including repossessed properties and bad debts to bankrupt developers, at such discounted prices - and with the promise of 100 per cent mortgages over 40 years - that young Spaniards, who are the hardest hit by unemployment in Europe, are seizing their chance to become homeowners.

Many of these bank-owned properties will be of little interest to Brits looking for a getaway in the Spanish sun.

One recent frenzy, for example, was for two-bedroom flats in a Madrid suburb, discounted by 50 per cent to £54,000.

But there are thousands of cut-price properties on the coast that will suit holiday home buyers down to the ground - if only they can find a way of dealing with the Spanish banks, who have 328,687 repossessions to sell, according to the Spanish National Statistics Institute.
Spanish banks may be the country's biggest estate agents now, but they aren't well versed in marketing properties, especially
not to foreigners who probably don't speak Spanish.

"Spanish banks have also become very picky about who they deal with, as they are worried about getting ripped off by unscrupulous agents," says Peter Birkett, managing director of Property Repossessions Spain.

"They won't even talk to individuals. One bank we deal with has 11,000 properties on their books across Spain, so where would your average buyer start if they turned up at one local branch?"

Bear in mind, too, that a bank probably only has the property because the owner could not sell it. "It's unlikely that the bank will have prime-located properties or anyone sensible for overseas buyers to talk to," says Campbell D Ferguson, director of the Ricsgoverned, Spain-based chartered surveyors Survey Spain.

"The bank isn't there to do you any favours. They're just looking for the best deal for themselves, and it's suspected that the best properties are cherry-picked by preferred buyers, such as their employees, before they go on to the wider market. So the buyer has to be prudent and look after themselves."

So where can buyers find help in looking for a Spanish bargain? Read on...

To spare buyers the stress of trying to deal with banks themselves, there are plenty of agents offering to do it for you. Beware all the opportunists who know nothing and will try to flog you anything. You can tell pretty quickly from their websites whether they've spent more than five minutes building their business.

And pick your properties carefully. Much of Spain's southern and eastern coastline is awash with discounted properties, and prices can look almost giveaway (mainly because developers really can't give them away).

Murcia has a huge amount of unsold stock you wouldn't want to touch with a barge pole - notably its golf resorts left half-built on remote scrubland - but it will also be home to the Paramount theme park in Alhama de Murcia, which has just been given the go-ahead, so investors are optimistic about rental returns for properties in the region and in neighbouring Almería.

"I've shown five people the Key Mare development in Vera, Almería, as a new high-speed rail link is being built there which will take you to the Paramount park in 15 minutes when it's all built in a few years," says Peter Birkett of Property Repossessions Spain.

He has struck a deal with the Key Mare developer in which two-bed flats now cost £96,000 (the last phase of similar properties cost £245,000), including a free furniture pack and air conditioning. In addition, 110 per cent mortgages are available.

"One Hong Kong-based investor is buying there on the basis that he can currently expect a 6 per cent rental return, covering all his costs, and he estimates an 18 per cent return once the park is built and he can get 30 weeks' booking a year," says Birkett, who deals directly with banks, but is sparing in what he passes on to clients.

He says: "I always think: 'Would I sell this to my sister?' The banks are often annoyed that I'm not marketing more of their properties, but many just aren't appealing to investors, who typically want somewhere on the coast they can use themselves and rent out."

In El Ejido on the Almerían coast, Birkett has two-bedroom flats at a new Porto Fino harbourfront development - a bank repossession - for £120,000, with 100 per cent mortgages available.

"It's a beautiful area, an oasis of palm trees, and El Ejido is a stunning town," says Birkett.

Repossessed villas are more unusual, but he has some four-bedroom villas with private pools in Turre, near Mojácar in Almería, that were built a few years ago, valued at £320,000, but 18 buyers failed to complete. They are now available for £162,000.

Connells estate agents also offer British buyers access to Spanish bank-owned properties, through their partnership with CAM, a Spanish bank which has about 5,500 repossessed properties.

"We are dealing with about 2,000 of them, mainly on or near the coast north or south of Alicante, where demand for holiday homes is highest. In Torrevieja and Orihuela Costa, we tend to sell small holiday apartments, but we also sell some larger villas in towns north of Alicante such as Calpe and properties on distressed golf developments," says Stuart Flavell, Connells' chief executive.

The estate agency launched its Spanish offering at a difficult time, October 2010, and the CAM bank has itself been on the brink, and was recently rescued by a bigger bank. But Connells saw 7,000 inquiries for Spanish properties last year -
mainly from British, Indian and American buyers - with properties discounted by 50 per cent on average and sales typically taking three months to complete.

Buyers deal initially with Connells, and then their details are passed directly to CAM, whose in-house estate agency team will arrange viewings.

"If an offer is made at web price, the buyer signs an offer form with no deposit required. Once the offer is accepted, a private purchase contract is signed within seven days and a 10 per cent deposit is paid," Flavell explains.

If an offer below web price is accepted, the property is advertised at that price on an online auction website for fi ve days. "Anyone can bid within that period with a minimum increment of €3,000 (£2,500) on each offer. Once the auction has ended and the buyer identifi ed, the purchase process continues as normal," he adds.

CAM can also offer up to 90 per cent mortgages for UK residents, with interest rates of 2 per cent above Euribor.
Do's and Don'ts of Buying Bank-Owned Stock
Do:
Visit properties you are interested in and get a thorough idea of the resort/development/area. Who is buying there? Who rents properties there? Are there hundreds of unsold properties sitting empty? Do you really want to own there if so, no matter how cheap?
Speak to several agents dealing with repossessions. You will soon get an idea of how much they know their field and whether their advice is reliable.
Get a lawyer to investigate thoroughly if the property has any debts. You shouldn't inherit any utility debts through a bank-owned property, but, if the bank has too many properties to keep tabs on, some debts may get overlooked and the buyer becomes burdened with them.
Check all community fees and property taxes have been paid before you buy.
Don't:
Approach banks yourself. They have thousands of properties on offer, but no effective means of dealing directly with foreign buyers - especially if you don't speak Spanish.
Be led by what others tell you is a good bargain. See for yourself. Agents may have another agenda, pushing properties that the bank is telling them to. They may be wholly unsuitable as holiday homes, though, in dreary city suburbs and nowhere near the coast.
Assume bank-owned properties offer the best value. There are so many discounted properties in Spain, you are likely to find better value through estate agents or auctions.
Rush. The economic situation in Spain isn't changing any time soon.