Thailand is often called the land of smiles. The slogan traditionally refers to the friendliness of the locals, but foreigners too have found themselves with plenty to grin about after setting up a base in the country.

Thailand was voted the number one expat destination in HSBC Bank's 2011 Expat Explorer survey, with its work environment, healthcare system and accommodation options all cited as major factors driving its popularity. For those looking for an affordable home in the sun, it's a steal compared with UK property prices. Although the pound has lost much of its value against the Thai baht in the past five years or so, the South- East Asian nation remains remarkably affordable, with studio apartments on offer for less than £20,000 in some areas.

Living expenses are also generally cheap, with many Thai dishes on offer for under £2 in restaurants and utilities costing far less than in European countries. Importantly, the low cost of living doesn't come with the trade-off in standards that is sometimes the case in developing countries – it has an excellent infrastructure and such high medical standards that it has spawned a medical tourism industry that sees an estimated 500,000 people travelling to the country for treatment each year.

There's also the luxury end of the market which attracts high-end buyers seeking plenty of privacy to the regional hub. "Thailand offers an unparalleled level of service that is no longer affordable except for the über-rich in the West, coupled with the vibrant lifestyle and a unique combination of fun and culture," says Alex Upson, director of Cluttons Resorts (cluttonsresorts.com). "Yachting is also affordable, and it is possible to run, maintain and berth a yacht for a fraction of the cost in the Med."

A favourable retirement visa scheme has led many to choose the country as a place to live, but it is also popular with buy-to-let investors due to its status as South-East Asia's most popular tourist destination. Even the floods and political instability experienced by the country over the past few years have done little to dent its appeal – a record 19 million foreign tourists visited Thailand in 2011.

This resilience also extended to the economic downturn, says Stefan Picot, sales manager for Thailand at the real estate agent Pattaya Dom. "Thailand generally withstood the credit crunch very well – that is the beauty of the market," he says. "The red-shirt [opposition] protests a couple of years ago did slow the market down, but they ended with this very popular prime minister being elected, so a lot of confidence has gone back into the economy."

While this means that surplus stock and distressed sales are relatively uncommon, there is still one way to bag a bargain in Thailand, and that is to buy off-plan, says Lee Chettoe at property group Knight Knox International. "The pre-launch stage is when a developer will put the best deals out there to build momentum and gather in sales. In Thailand, people will pay a premium for completed units. A studio I'm selling off-plan at £18,000 would get in the region of £25,000 if it was completed."

New-builds are the most popular purchases among foreign buyers, and, unsurprisingly, the major travel destinations also draw in the largest number of overseas property buyers, with Bangkok, Pattaya, Hua Hin, Phuket and Koh Samui the major hotspots. So what are the ideal areas if you are seeking to buy for lifestyle and/ or investment?


Making a permanent move

Many of the foreigners buying property in Thailand are working in the capital, either for large multinationals or in the English teaching industry. Others have internet businesses or travel in and out of the country for work, so they want to buy either in the capital or in resort areas within easy reach of it, such as Pattaya or Hua Hin. The Bangkok and Pattaya property scene is dominated by condominiums, or what we would generally call apartments. In Bangkok, where the central business district remains popular but is now quite crowded, many new developments are springing up around the airport, says Frank Khan, head of residential sales at Knight Frank Thailand.

"In these areas around the airport, there are some big new supermarkets being built and there is good access to the MRT [Mass Rapid Transport underground system] and Skytrain." He says the price of a one-bed apartment in Bangkok is likely to be in the region of £70,000 to £100,000, with those in the CBD or with river views having higher price tags.
Pattaya, about two hours from the capital on the coast, represents a cheaper proposition. Many foreigners choose to live in Jomtien Beach, where studios can be bought for around £15,000 to £20,000 and one bed apartments for around £25,000. In the more exclusive Pratumnak Hill area, one-beds can fetch up to £50,000 when completed.

In Hua Hin, Thailand's longest established beach resort area, a little further from the capital, most overseas buyers plump for villas, says Simon Pinnock of Hua Hin Property. "For foreigners here, the most popular property is a three-bed private pool villa on a development that has security, "he says. "This will usually cost anywhere from £60,000 to £200,000, with the south of Hua Hin being the most desirable as the landscape is more beautiful. It is more mountainous and the developments are closer to the beach."


The beach lifestyle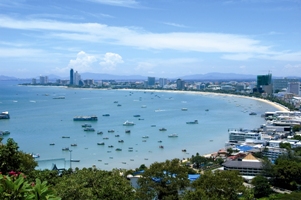 Thailand has many world-renowned dive sites, but Thais traditionally do not go in for watersports (many don't even swim), so the country is also home to many expats working in the tourism industry, particularly in scuba diving businesses. These people are more likely to be found in the country's numerous island destinations, which are also favoured by the many early retirees who do not need to be close to Bangkok.
The islands have better beaches, but the infrastructure can be less advanced than on the mainland – waste collection, internet and phone connections and electricity supply can all be problematic at times. They can also be a pricier proposition, with many beachfront villas in Phuket costing upwards of $3 million (£1.88 million).
The country's most exclusive developments such as the Soneva Kiri resort, in a less developed area near Trat, come with even bigger price tags – the Koh Kood location charges $8.5 million (£5.3 million) for a six bedroom beach villa, but you are paying for privacy, frontline location and the kudos of the brand (which includes the Six Senses spas).
However, there are also affordable island options. In Koh Samui, Chettoe says the average studio is a much more reasonable £40,000, while a villa costs upwards of £120,000.



Investing for the future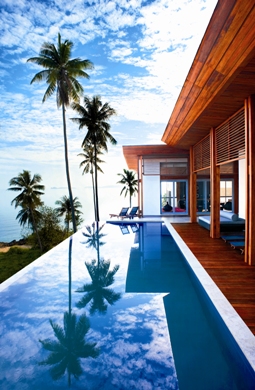 For those looking to rent out a property for all or part of the year, Pattaya is a good bet as it is the second-most visited city in Thailand after the capital.

On the islands, occupancy rates are likely to be lower, says Chettoe. "Pattaya is an all-year round destination, whereas there are two main seasons in Samui, from December through to the end of March, then the European holiday season. We estimate about a 40 per cent occupancy rate."

Pinnock says there is a huge demand for rental properties in Hua Hin, due to the deterioration of the pound. "For the past few years, the English pound has been very weak compared to the Thai baht, so we have many people coming over who initially would have bought but they are now renting with a view to buying at a later stage, hoping that the exchange rates will balance out at a later date."

Buy-to-let investors can expect yields of around 7-8 per cent, although this may be lower for those using the property themselves for a substantial period of time.



How to buy Thai

• Foreigners are not allowed to own land under Thai law. They are, however, allowed to own condominiums so long as no more than 49 per cent of a development is owned by foreign buyers.

• Villa ownership is slightly more complicated, as foreign buyers can own their house but can only lease the land it stands on from the government for a period of 30 years, though this can be renewed at the end of the term.

• Some foreigners have also exploited a loophole in the Thai law by purchasing property though acompany set up with Thai shareholders. Though not illegal, many property professionals recommend against this route. It's a very good idea to consult an English-speaking lawyer to guide you through whichever buying process you choose.

• Many developers offer interest-free finance, with typically a 20-25 per cent deposit required and up to five years to pay the remainder. Mortgage finance is difficult to arrange in Thailand: those needing it would be best advised to arrange it in their own country.

• Purchasers have to pay a one-off sinking-fund fee when buying, utility connection fees, title deed fees, furniture costs and ongoing maintenance fees. To be on the safe side, buyers should budget for up to 10 per cent of the purchase price for fees.