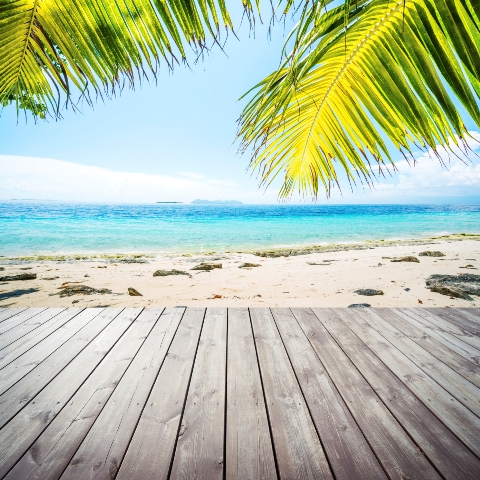 The perfect Italian idyll of rustic homes scattered across green hills, historic hilltop towns and wondrous local trattorias dishing up farm-fresh produce has led second home buyers to central Italy for decades. For most of that time, it's been Tuscany and Umbria that have stolen the headlines, but canny buyers are discovering other areas with bags of charm.

The ambience might be grittier than in well-manicured Chiantishire, but the prices – both for property and everything from a bowl of pasta to a glass of chilled prosecco – are a relative snip. Welcome to the authentic Italian delights of Lazio, Le Marche, Abruzzo and Molise.


Lazio

South of Tuscany and north of Campania, Lazio property prices are buoyant, thanks to affluent Romans looking for a home close to the capital. "If Tuscany conjures up wooded hills and large, manicured vineyards, Lazio is the region of wide open horizons and sweeps of grazing land," says Roger Coombes of Cluttons Italy. "The two big lakes in Lazio, Lago di Bolsena and Lago di Bracciano, are very popular second home areas."

A three-bedroom restored farmhouse with 11 acres of land close to the Umbrian border is €600,000 (£494,100), and a seven-bedroom house in the Sabine Hills within one hour of Rome is €650,000 (£535,600). An 18th-century tower with seven acres near Lago di Bolsena, 40 minutes from Orvieto, with the potential to build a four-bedroom home, is €350,000 (£288,400) – all through Cluttons Italy.

Lazio has plenty of older farmhouses and villas built from tufo, a dark, soft volcanic stone. Prices in the north are 5 to 10 per cent below those in Tuscany, says Coombes, although, unlike Tuscany, the Lazio coastline is not highly prized.
Linda Travella of Casa Travella advises buyers to consider the wine region of Frascati, where houses start from €200,000 (£164,800), or further east the small hill town of Genazzano, where a five-bedroom villa in two acres is €400,000 (£329,600).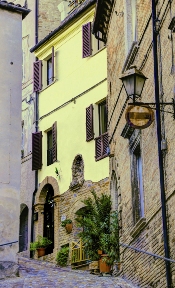 Le Marche

Le Marche is separated from Umbria by the Apennines, and while it might lack the polish of its illustrious neighbours to the west it can claim plenty of Renaissance masters of its own. The fabulous hilltop town of Urbino, birthplace of the painter Raphael, once rivalled Florence for artistic importance, and the piazza in Ascoli Piceno is considered one of Italy's most beautiful. Its medieval towns hold fantastic music and food festivals throughout the year, but, with only ten per cent of the visitors to Tuscany, tourists are pleasingly thin on the ground.

Access is straightforward, with three airports within 90 minutes of the coastline: Ancona, Pescara and Bologna. Rome is two and a half hours away, Florence two hours, and Perugia 90 minutes. The scenery is wilder than in Tuscany: hillsides are steeper, but just as green, covered in olive groves and vineyards, and the local diet reflects the varied landscape, with wild boar, white truffles and seafood all on offer.

"Property prices in Le Marche have always been more reasonable than in Tuscany and Umbria," says Anna Rita Cella of Cella- Shirley. "They fell by 20 per cent in the past year and remain higher than in Abruzzo, but the infrastructure is more advanced in Le Marche and hill-top villages are in better repair." Rita says that, traditionally, international buyers chose the golden triangle of Gualdo, Sarnano and San Ginesio in Macerata province, but recently this trend has changed.

"Now, Scandinavian buyers choose the coastline, US buyers opt for towns' historic centres, paying from €150,000 (£123,500) for a small apartment to €700,000 (£576,300) for a palazzo," adds Rita. "UK, German and Dutch buyers prefer rural homes with land and privacy, costing from €250,000 to €600,000 (£205,900 to £494,100) for a quality, restored farmhouse."
Abruzzo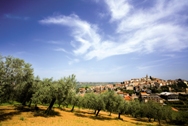 There's much to love in Abruzzo, a rugged region of mountains and sea lying southeast of Umbria and east of Rome. Most British visitors arrive at Pescara, home to the region's only airport, and stay close to the coast, but Abruzzo's real treasures are inland, with four national parks where wild bears and wolves roam.

The Apennines, Italy's spine, are steepest in Abruzzo, providing 21 ski resorts, including Campo Felice. The impenetrable Apennines preserved Abruzzo as a quiet region of medieval villages with more than 500 castles, but as roads and access improve visitor numbers are rising. The attractions include traditional festivals, fine Italian regional food (pecorino cheese, truffles and saffron are specialities) and art and architecture spanning more than 2,000 years.

Popular areas for international house buyers include Città Sant' Angelo close to Pescara, where Linda Travella says one-bedroom homes start from €45,000 (£37,100), and Colonnella on the Le Marche border, where a three-bedroom apartment with sea views is €170,000 (£140,000). "For good-value rural properties, look outside L'Aquila, where an unrestored four-bedroom house would be €100,000 (£82,350)," adds Travella. "Remember, though, if you buy a low cost rural property you may not find a good local infrastructure and could have problems reselling in a hurry."

There are few companies that actively promote the Abruzzo market in the UK but one that specialises in the region is Vigna Verde. Their impressive portfolio of Abruzzo properties include detached stone "ruins" ripe for renovation from €49,000 (£40,000) to properties with lake views from £75,000 (£62,000) to town houses in tourist areas (great as potential city lets) from €39,000 (£32,000). They also offer a full restoration service on top of mortgage advice and specialist local knowledge.


Abruzzo – did you know

• Abruzzo is considered Italy's greenest region, with one third designated as national parkland. It contains the highest peak of the Apennines – Corno Grande in Gran Sasso park.

• Its 80-mile Adriatic coast has long, sandy beaches in the north, and pebbly beaches further south.

• Abruzzo's villages celebrate fabulous festivals and fêtes each year. Best known include the Perdonanza Festival in L'Aquila, the Serpari di San Domenico in Cocullo and the Living Nativity in Rivisondoli.

• Regional cuisine – a particular delight across Italy – focuses on seafood, pork and cheeses. Celebrated Abruzzo wines include Montepulciano d'Abruzzo, not to be confused with the Tuscan hill town of the same name near Siena.

• The southern city of Sulmona is famous for the production of sugared almonds, named confetti, which is traditionally given at weddings to represent the bittersweet mix of married life.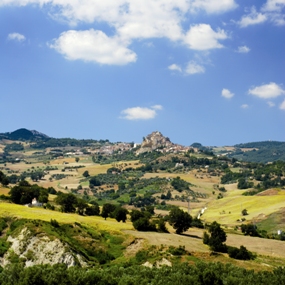 Molise

On the Adriatic coast, south of Abruzzo and north of Puglia, the little-known region of Molise is unspoilt and sparsely populated, dotted with small farms, nature reserves and vineyards. This is Italy's second smallest region and also its newest, formed in 1963 when it separated from Abruzzo.

Tourism is slowly increasing in mountain resorts such as Campitello Matese and coastal towns like Petacciato Marina, Campomarino and Termoli. The village of Larino close to Termoli is becoming a favoured destination, with pastel-painted houses in the historic centre partly restored with the aid of government grants. Visitors to Molise can choose between airports at Pescara, Naples, Bari or Rome.