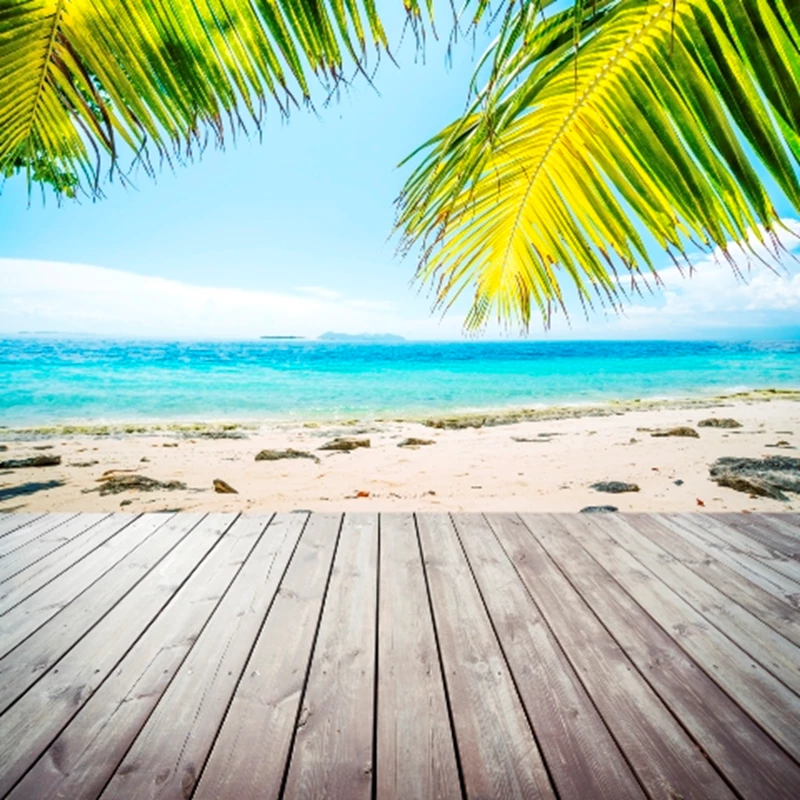 Laura Hamilton - who, you might ask? Well if any of you watched Dancing on Ice 2011, you might know me as the TV presenter/adrenaline junkie, who performed the infamous head banger (being spun by my ankles with my head dangerously close to the ice), took a chunk out of her leg and was finally crowned runner-up. For those of you who didn't watch the series, you might have seen me presenting the new winter-sun series of A Place in the Sun that recently transmitted on Channel 4. I joined the team in November and within two weeks of landing my dream job at 29, I was on my way to the Canary Islands. "It doesn't get much better than this", I thought, and it was certainly going to be a lot warmer than being on the ice.

You might be wondering how Dancing on Ice qualified me for this role, yet I have been working in television for 12 years, and, most importantly, I've been developing property in the UK since I was 19. I have bought, renovated and sold seven houses in the past 10 years, so it goes without saying I'm really passionate about property. I've learnt the tricks of the trade and now I am really excited to be helping people find their dream homes.

Filming in Spain and the Canary Islands last winter was a fantastic experience, so I thought I'd share my behind-the-scenes photo album here, and give you a little insight into how an episode is recorded. It's not all as glamorous as is seems on screen. I presented eight of the 20 episodes in the series - along with Jasmine and Jonnie; and one of my favourite shows has to be the one filmed in beautiful Lanzarote with hardcore house-hunters husband and wife Les and Helen Hodgkins, from Stoke-on-Trent. They were seeking a two- to three-bedroom home with a pool for a budget of £180,000, anywhere on an island where prices have dropped by 10 to 30 per cent - less than on the mainland.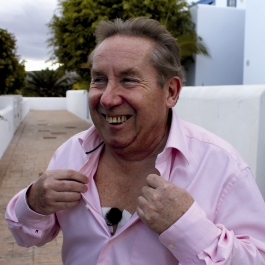 One hour-long episode of the show takes four days to film, and when I arrive at each destination the director gives me details of the shortlisted properties and I have a think about the script before meeting the househunters for dinner. This helps me get to know a bit about them, and makes them feel more relaxed about the filming process. I soon learnt that Les and Helen had moved 32 times in their lifetime - and I thought that seven times was an achievement - so we had much in common.

Les and Helen were great fun from the start. I was impressed by their property stories and I enjoyed hearing Les's tales about being constantly mistaken for football manager Harry Redknapp. We always start early. I am always up at 6:30am to get ready for the 12-hour day ahead, and after a quick breakfast we leave at 8am in the crew van (there are seven of us). We arrive at our first location for the opening chat, and Joel, our soundman, mikes us all up. The Canary Islands are renowned for being windy, so Joel needed to put a "fluffy" on the microphone. This furry case helps shield the mike from the wind, and Les was amused to note it made his chest feel a little hairy. In the opening chat (two hours of filming for two minutes' worth of TV), we quickly established that Les and Helen were downsizing their UK home to release equity and were planning to buy a bolthole in Lanzarote. They were hoping to spend six months of the year in the sun and then let their Canarian property out when they were back in the UK.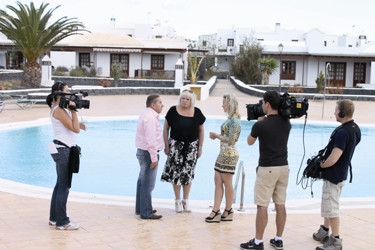 After the opening chat, we spend the afternoon looking around the first property, and over the next two days we look at two properties a day (either side of lunch). The final day is the round-up chat and my PTCs (pieces to camera) that consist of me telling the story throughout the programme. The filming process takes time, because we only have one cameraman on location. Each interview or house tour takes two or three hours, and this can be quite repetitive as the cameraman has to film GVs (general views), POVs (point of views - where the viewer sees the same "lens" as the property-hunters), my questions, the house-hunters' responses, wide shots, and noddies (shots of everyone individually nodding to give the editor an alternative "cutaway shot" when editing the programme). When we use two cameras, I have to do a sync clap, which means I clap in sight of both cameras to ensure they are in sync, visually and soundwise.

Les and Helen loved the final property - a two-bed semi-detached villa with a pool in Puerto Blanca, and decided to go for it. Like myself, they like to be cheeky with the offers they make, but on this occasion I knew it would be too low - £150,000 was £30,0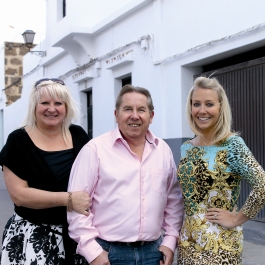 00 below the asking price. British vendors are more likely to take offers based on the volatile state of the euro, but the Spanish expect the price that is printed on the house particulars. Despite the result, Les and Helen had a great experience and now know the area in which they want to buy. In fact, I loved Lanzarote so much that I nearly bought myself - I checked out a three-bed villa next door to the one Les and Helen were looking at in Puerto Calero, the upmarket part of the island. At £150,000, it was going for a good price, but needed too much work for me to take on.

So it's absolutely fantastic seeing different properties all over the world, filming in the sunshine and, of course, meeting the different couples, but you can see there's a lot of hard work too. Don't think that being part of the show equates to a free holiday! We are currently filming a new series of A Place in the Sun: Home or Away, so if you are struggling to make a decision between buying in the UK or abroad, why not email [email protected] - and, who knows, I might see you soon!
Read more about new presenter Laura Hamilton