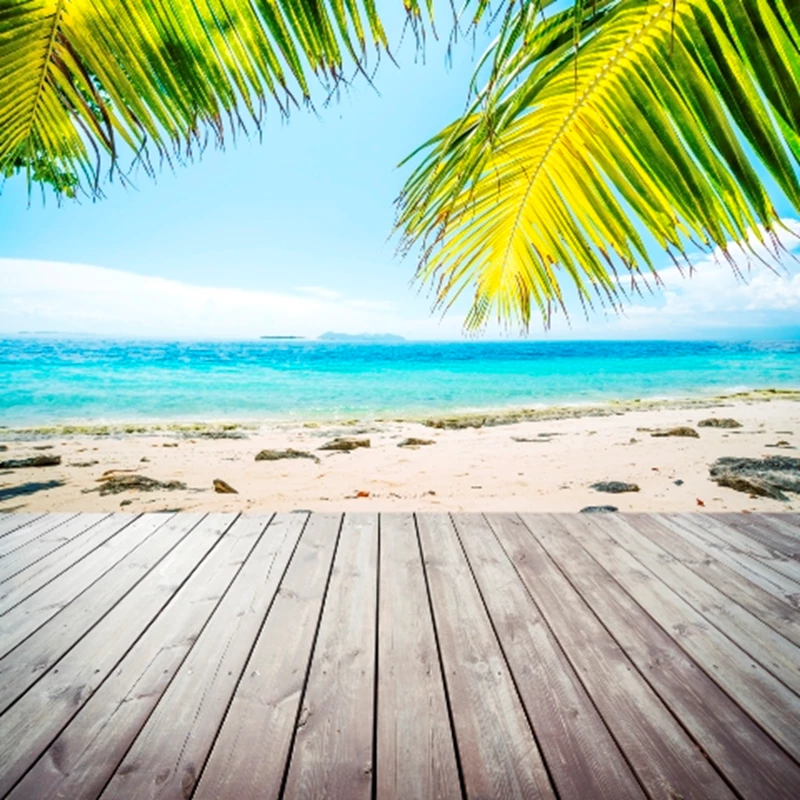 Tuscany and Umbria remain top-drawer favourites for British buyers in Italy. The winning combination of easy access through regional airports, lip-smacking, locally sourced food and enthralling history at every turn ensure that several generations can enjoy la dolce vita of these neighbouring central Italian regions.
Both areas are beautifully unspoilt, a patchwork of hill-top villages and remote villas perched above green hills and undulating vineyards interspersed with exquisite Renaissance towns bursting with artistic heritage. Life remains resolutely traditional, focusing on family, food and friendship, so that, even when the summertime crowds in Florence or Todi become overwhelming, it is possible to escape to a quiet table in a rural restaurant.
The strict local planning rules which preserve the beauty also mean Tuscany and Umbria have few new developments. The result for property hunters is less varied choices - and prices - than in other Mediterranean countries. As well as the advantage of a long coastline stretching from the scenic Bay of Poets in the northern Lunigiana region to the upmarket resort of Forte dei Marmi, Tuscany has a certain cachet with smart British buyers.
Landlocked Umbria is wilder: mountains are higher, national parks are more remote and it is harder to find the Tuscan idyll of rolling green fields lined with cypress trees. Both are easily accessible, Tuscany through Pisa and Florence airports, and Umbria through Perugia, while airports at Ancona and Rome add more choices.
When you look at value for money, Umbria becomes increasingly attractive says Roger Coombes of Cluttons Italy. "On a sample of fifteen comparable properties currently for sale in a range of €300,000 to €1 million (£250,000 to £833,600) the asking price per square metre works out at €3,500 in Tuscany and €2,500 in Umbria," says Coombes. "That's a difference of nearly 30 per cent, and while I am wary of applying this across the market it is clear that generally your capital goes further in Umbria."
Coombes has further good news for potential buyers. "Even in mythical Tuscany, prices have been on a downward trend since their 2008 peaks," he says. "Owners are very much open to offers, making this a good time to buy at a fair price."


Tuscany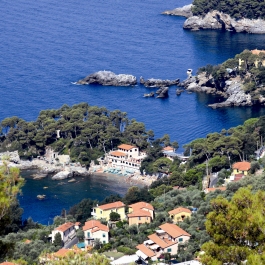 Good value
For good value in Tuscany, look to the area around Barga, with easy access to Pisa airport and the beautiful walled city of Lucca. A two-bedroom restored village house and garden in Benabbio, seven kilometres from Bagni di Lucca, is €70,000 (£58,350) through Casa Travella. In Bagni di Lucca, a four-bedroom house with garden is €250,000 (£208,400), with the benefit of a direct train service to Lucca, while ten minutes away a four-bedroom house on a large plot is €180,000 (£150,000).
Castelfalfi is an 800-year old Tuscan village and agricultural estate overlooking Volterra, forty minutes from Pisa, where German developers TUI plan to build a golf and leisure resort with 190 homes. Two golf courses, a clubhouse and a restaurant are already open, and two larger hotels and further restaurants are planned for a second phase along with a spa and cookery school. Apartments in the restored borgo start from €230,000 (£191,700), with a rental management programme giving 85 per cent of income to owners.

Mid-range
Coastal homes always command a premium, but in Lerici close to Liguria a two-bedroom home overlooking the Med costs €650,000 (£541,800). This is pricey, and well over half of a comparable home in the ultrafashionable resort of Forte dei Marmi.
Head inland and prices tumble. Expect to pay €350,000 (£291,750) for a restored stone farmhouse with three bedrooms in one of the many small hilltop villages in this Lunigiana region. "Lunigiana appeals because of the combination of mountains and sea, and because it is not overrun with tourists," says Lois Allan of Savills Associates L'Architrave (www.savills.co.uk/international). "It's easier to reach than many parts of southern Tuscany. There is skiing within 40 minutes, and Milan, Siena and Florence are easy day trips."

Top-end
Chianti is picture-perfect Tuscany, with gentle vineyards, soft hills and easy access to Florence... and steep prices. Three-bedroom villas start from more than €500,000 (£416,700), with strong rental yields possible. Cluttons Italy has a three-bedroom family house with private garden and shared pool for €520,000 (£433,400), and two-bedroom apartments in a typical Tuscan farmhouse east of Siena at €719,000 (£599,300).
Cortona, with fast rail and road connections to Rome and Florence, is also popular with overseas buyers. Two-bedroom duplex apartments range from €585,000 (£487,600), while €640,000 (£533,450) would secure a two-bedroom townhouse overlooking the town.
Move outside the town and a rustic farmhouse with pool and olive grove is €750,000 (£625,150), while further north towards Arezzo a five-bedroom family house is €920,000 (£766,800), all through Cluttons Italy.
Umbria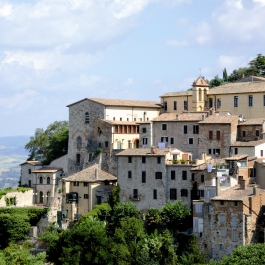 Good value
In Umbria, too, it is proximity to the hillside towns and villages that are particularly attractive to British buyers, says Paul Belcher of Ultissimo. "Buyers focus on proximity to towns like Perugia, with its jazz and chocolate festivals, and Montone, home to an annual film festival," says Belcher.
Castello di Postignano, a 13th-century hill-top village in eastern Umbria overlooking the Nerina Valley two hours from Rome, has been painstakingly restored into 59 apartments by two Italian architects. Original materials used include chestnut beams, pale cotta tiles and local stone, with nods to modern life including wi-fi and under-floor heating. There is a reception, restaurant, bar and lounge area in the centre of the borgo, while below the borgo walls there are plans for a pool, tennis court and gym. Prices for this slice of Italian history start from €212,000 (£176,700) for a one-bedroom apartment.

Mid-range
For £300,000 to £400,000, you can choose to buy close to Tuscany in the beautiful and industry-free Niccone Valley in Umbria. Ultissimo has a two-bedroom restored farmhouse with pool in a hamlet of five homes at Casa Danese close to Umbertide for €395,000 (£329,200), while Cluttons Italy has a three-bedroom restored farmhouse in the same area for €365,000 (£304,200).
Nearby, between the medieval towns of Città di Castello and Umbertide, Ciangottini Residence in Promano is a group of farm buildings on a bend in the River Tevere which have been transformed into 14 two- and three-bedroom apartments and houses. Pale local stone, terracotta roof tiles and dovecote-style chimneys ensure an Umbrian flavour. Prices start from €320,000 (£266,800) for a two-bedroom apartment in the large Villa Padronale, and from €420,000 (£350,100) for three-bed terraced houses.
"This is a little-known sweet spot," says Marcus Stoner, the project manager and a local resident. "Tourists don't pile into Città di Castello. It's a real Italian town with friendly restaurants serving fabulous, affordable food and wine. From here, it's thirty minutes to Perugia, one hour to Florence and ninety minutes to Siena."

Top-end
In central Umbria, Todi is a hilltop town overlooking the River Tevere, with a central piazza and an 11th century cathedral. Its many summer festivals, easy lifestyle and proximity to Orvieto make it a popular choice for second home owners. Expect to pay from €800,000 (£667,000) for a good-quality family house with land and pool.