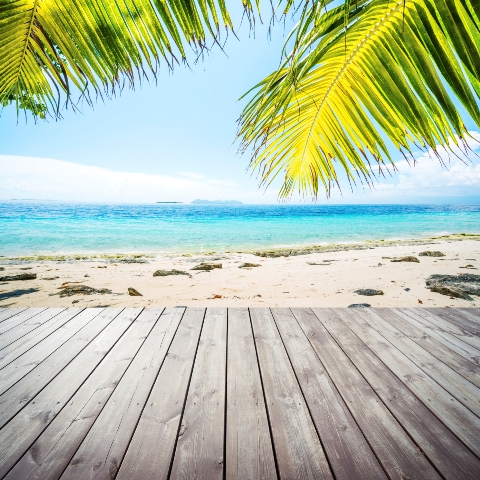 "We swapped Glasgow for Paphos. The lifestyle's far healthier, the weather better and the school fees cheaper"
Whether it's January or June, at weekends the Burgesses can generally be found outdoors, typically strolling along the harbour five minutes from their home, maybe grabbing a coffee to watch the world go by.
It's a far cry from life back in Renfew, where they frequently spent a lot of time indoor watching TV to escape the harsh winters and sodden Scottish summers. But climate and low cost of living were major factors in their decision to move permanently to Cyprus - along with its central location on the map, as Samira, 43, explains.
"My husband Paul was working in the Middle East [in construction finance] and often away for three months at a time so we wanted somewhere with a low crime rate where I wouldn't feel threatened," says Samira, "Paphos has always seemed a lovely, friendly town and I feel comfortable walking the dog by myself or going out at night with Marcella, our six year- old daughter."
"Security is also one of the reasons we bought a townhouse on a residential development - Leptos Paradise Gardens II in Kato Paphos. "Even though we looked at some lovely detached villas, I like the idea of being surrounded by neighbours and the communal pool and landscaped gardens provide Marcella with plenty of space to run and play."
"It's proved much better socially too: you chat with other residents by the pool and every month we rotate around each other's houses for BBQs - and the mix is refreshing: Germans, Russians and Scandinavians as well as other British."
The Burgesses bought a three-bed resale villa for €185,000 (£154k) - although prices have held relatively well in popular Paphos, the cost of living is still cheaper than in UK, despite having increased of late. "There are tax advantages, plus the general running costs are lower," says Samira. "Our council tax here, with twice weekly refuse collection is just €130 (£108) a year, back in Scotland we were paying £2,000 for a smaller home and fortnightly collections.
"Other financial benefits include Marcella's school private school fees, at €5,000 (£4,169) a year, when the average in the UK is now £13,200." "There have also been health benefits too. Hardly a day goes by when you can't sit outside and enjoy some sun. Back in Scotland Marcella had to use an inhaler for her asthma but here she hasn't needed medication for months."