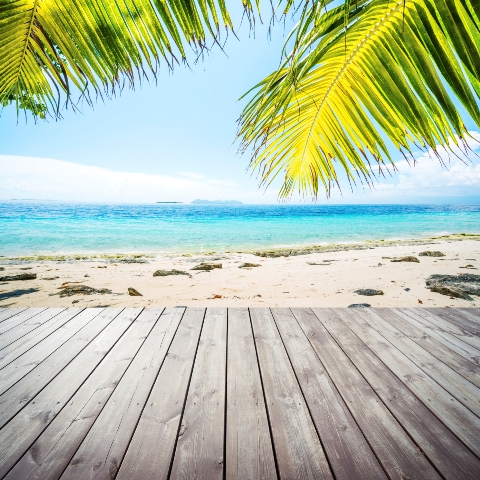 Jasmine
As this 100th issue goes to press I'm sitting on my hotel balcony in Barbados during a break from filming the new TV series, reminiscing about the 200-odd couples we've had on the show. Since 2004 it's been a journey that has been eye-opening, life changing, and also jolly good fun!
There's been laughter, tears, weddings and blazing arguments. We've tasted innumerable bottles of wine, travelled on boats, horses and hot air-balloons. We've been dolphin spotting, skiing, mud-bathing, and it was also the start of something for me personally, as I met my (now) husband Jon, who was our cameraman. But of course what makes each episode unique is our house-hunters with each a different story to tell.
Victor and Iris - the only octogenarians we've ever had on the show – were hard to forget for their amazing energy. We were looking at properties in the Dordogne, close to Bergerac, when Victor whisked Iris off her feet in the "ballroom" of the house that I was showing them. Former surveyor Victor fell madly in love with the place, and when I told them it was within their budget, he was so surprised that he was moved to tears! That started me off blubbing too, and the only sensible one was Iris, who held it all together. Sadly Victor died last year and is very much missed.
Then, in 2006, I headed to Slovenia to the stunning Lake Bled with newlyweds Julian and Lisa. The church on the island had been the venue for their wedding and they wanted to have their own place close by so that they could keep coming back.
I felt a bit of a gooseberry at times, but they absolutely loved a little lakeside chalet that I showed them and when their offer was accepted we were all over the moon. It is now a successful rental property – and they've had a baby, Joel.
Who could forget Graham, the Karaoke King of Fuengirola, on the Costa del Sol, and his rendition of "Achy, Breaky Heart" or his plans for an all-over tan!
But back when I was five, my favourite band was Bucks Fizz so can you imagine my excitement when I learned that my childhood heroine Cheryl Baker was coming on the show. She and her husband Steve wanted a place on the Cape Verde Island of Sal. They ended up buying two properties but the highlight of that shoot was when my phone rang during a take, and I had "Making Your Mind Up" as my ringtone!
Back in Barbados, I'm with Kim and David who are struggling to make their minds up between three gorgeous houses… but you'll just have to tune in next year to see what happens.
Follow Jasmine on



Jonnie

Here in the UK, I've also been reflecting on the transformation for me both personally and professionally in the past decade.
Personally, I went from buying and selling businesses and property for one of the world's largest property consultancies to presenting half of what has turned out to be a hugely popular TV programme.
Professionally, I've seen so many changes and trends in the residential market it's hard to know where to start. Whilst buying and selling property is clearly part of the British DNA, historically it's been deemed only for the wealthy or adventurous.
However the advent of budget airlines, relaxed border controls and easier access to borrowing fuelled the growth of the overseas property market and foreign ownership become a viable aspiration for so many of us.
Most of our first property-hunters were seeking second homes, although buyers had also begun to invest in the fast-emerging markets like Bulgaria and Dubai. Back then I would so often hear of the "friend of a friend" buying two or sometimes three properties off-plan. With the market rising so fast the "friend" was able to sell one or two of the properties before it was even built at such a profit that it paid for the other – the process known as flipping.
Of course I have never actually met one of these people and these tales encouraged irresponsible investors looking for a quick buck without obtaining independent advice – something we've always advised against.
We've also always gone where our house-hunters wanted to go and very soon we had people who might previously only have gone as far as established towns in Spain, yet were now requesting to look in Cape Verde, just like Cheryl Baker!
Property hunters became a lot better informed on issues such as legal differences and the importance of currency fluctuations through reading the special reports and guides in this magazine.
The buying profile of the purchasers has also changed a great deal. The pension crisis a few years ago got a lot of people thinking of alternative investments and removing the control from faceless fund managers to take responsibility themselves. More recently, a bigger proportion of buyers are looking to relocate completely. Many people cite the UK political or fiscal regime as the reason; whilst others see it as a huge opportunity for a great adventure. One thing is for sure, the property landscape has changed massively across the world.
But going forward I'm hugely excited about the next few years ahead and I'm off to film five episodes in Florida where I'm looking forward to finding out the full story on what and where to buy. Watch this space…
Follow Jonnie on