Portuguese Webinars
Listen in to our sessions below focusing on everything you need to know about purchasing your next Portuguese home, we explore key Portuguese regions and speak to a range of experts on topics such as the buying process, securing a mortgage, currency exchange, estate agents, and many more!
This list also includes a programme of webinars hosted as part as A Place in the Sun Digital Event 2020's Portugal Masterclass, which explores the key issues surrounding buying and owning property in Portugal and also covers what you need to consider if planning a permanent move.  
If you would like to watch our webinars live and have the chance to ask your questions to our panels, register for an upcoming webinar at aplaceinthesun.com/webinars
Sponsored Webinar
Property hunting on the Algarve with Ideal Homes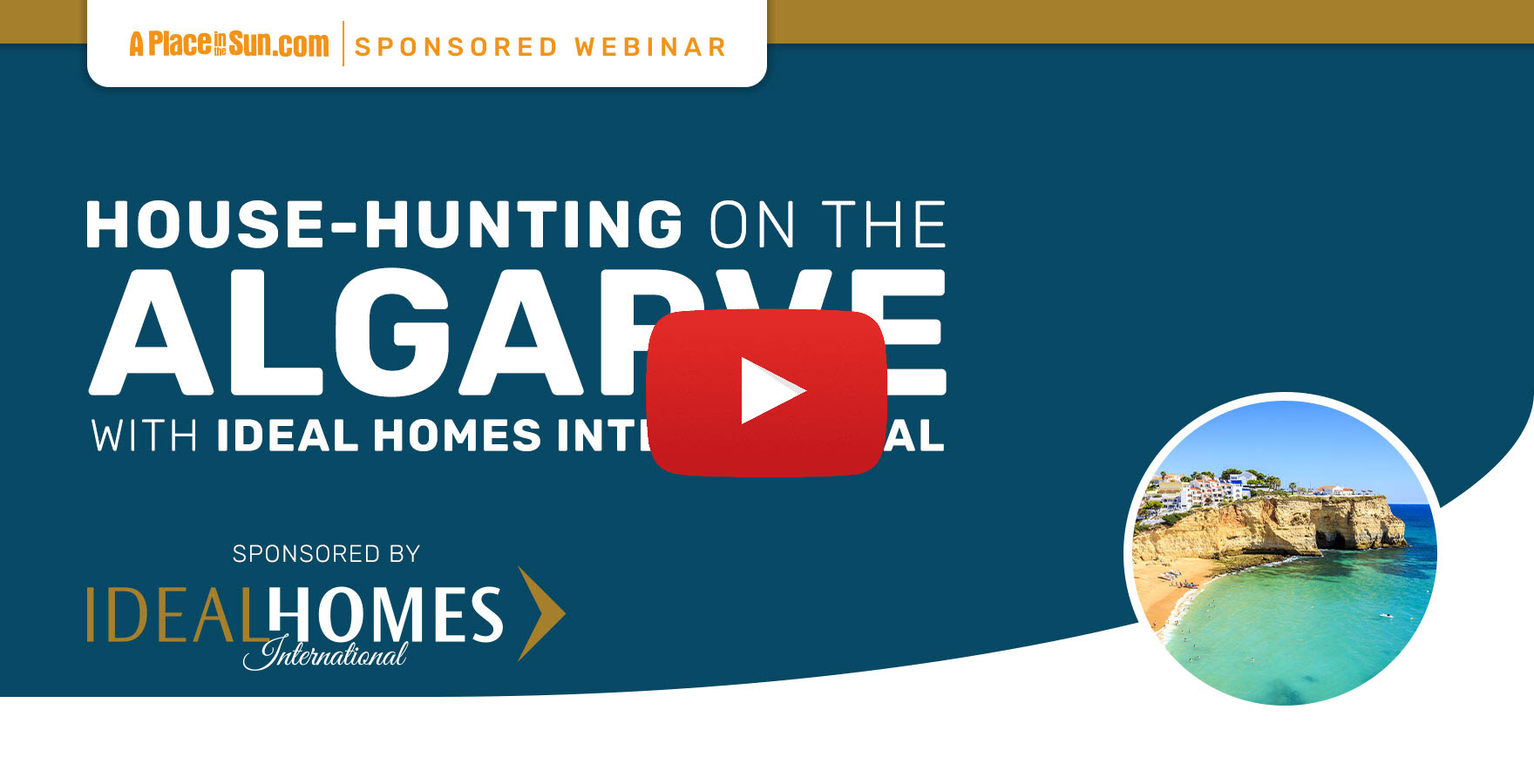 Broadcast: February 05, 2021
Join us as we chat to Angela Worrall, Director at estate agency Ideal Homes International as she takes us on a property tour of the Algarve in Portugal. We take a look at three amazing properties and discuss how to work with the changes happening now that the UK is out of the EU.
Property hunting on the Algarve, Portugal
Broadcast: September 29, 2020
We're taking you on a virtual tour of property for sale in Portugal, on the Algarve. Find out tips for buying a bargain property in Portugal and the best places to look when buying a home on the Algarve, direct from expert Portuguese estate agents.
Meet the Portuguese Lawyer
Broadcast: September 17, 2020
Paula Meireles explains how her firm helps British and overseas clients buy and manage property in Portugal
Mortgage availability
Broadcast: September 13, 2020
We explore the latest loan-to-value offers from Portuguese banks.
Offer conveyancing completion; the buying process explained
Broadcast: September 13, 2020
What to look for in a lawyer and their role in your property purchase.
What to expect from your estate agent
Broadcast: September 13, 2020
You need more help when buying in the UK and the agent is a key resource; we explore how to make the relationship work for you.
Transferring Pounds to Euros to pay for your property
Broadcast: September 13, 2020
Understand enough of currency transfer to save yourself money, time and effort. In fact quite a bit of money.
Managing your holiday home: lettings, costs and responsibilities
Broadcast: September 13, 2020
Understand what's involved as a home owner in Portugal and how to maximise rental potential.
Moving to Portugal; residency, tax, healthcare, pensions and retirement
Broadcast: September 13, 2020
A permanent move to Portugal needs planning, join us for specialist insight and experience.
And relax… with a glass of something cold
Broadcast: September 13, 2020
Meet our exhibitors from Portugal on-screen for an informal about the Portuguese property market and to answer any questions you still have.
Ask the Experts Moving to Portugal
Broadcast: July 20, 2020
Beloved for its laidback and 'safe haven' credentials (and also tax incentives), Portugal is in demand for relocation more than ever before. Here we take a look at how to make the move, where to move, from schools, to residency and lifestyle.
Focus on... Portugal's silver coast and inland
Broadcast: July 02, 2020
The Silver Coast is no longer a hidden gem and for very good reason; we explore the property market when you head north from Lisbon to the beaches and seaside towns of the costa de prata. And we stray inland too and find out just how far your money will go and the lifestyle you're buying into.
How and where to buy in Portugal
Broadcast: May 15, 2020
We discuss the buying process with a specialist lawyer, key locations with a leading agent and financial planning with a tax expert.