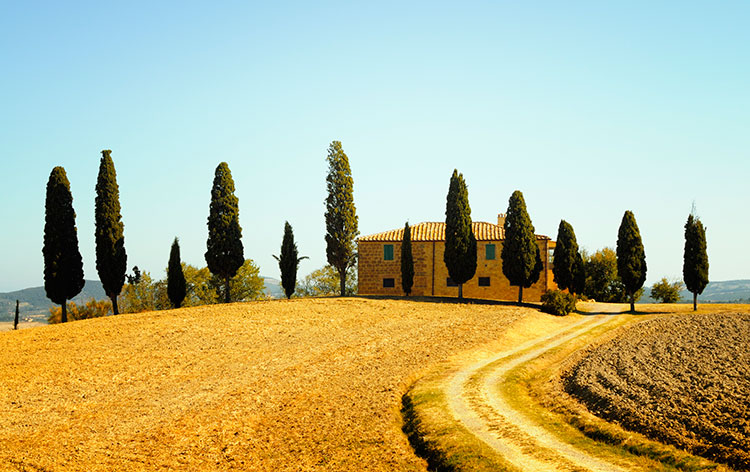 Updated in February 2016
A landscape of flowing hillsides dotted with cypress trees, vineyards and honey hued farmhouses nestled between medieval villages and Renaissance towns – this is the Tuscany of many property-hunters' dreams.
It is the Italian region made famous by the bestselling book, and later film, Under a Tuscan Sun - and a dozen other memoirs and travelogues penned both before and after it offer proof of its enduring popularity.
British interest in Tuscany began in the 1960s when the term "Chiantishire" was first used to refer to the popular area south of Florence. This is the so-called "Golden Triangle" between the cities of Florence, Arezzo and Siena that can be accessed via Florence or Pisa airports.
During the 1990s, interest from overseas property hunters – dominated by the British and then the Americans – pushed up prices dramatically in this patch of Tuscany. Buyers began to branch out to seek greater choice and/or value in the northern areas of Lunigiana and Garfagnana, and also started discovering the often forgotten Tuscan coast, including the island of Elba.
These days, house-hunters can find a home there for less than they might have paid during the first five years of the millennium – but where to look?
Where to Buy in Tuscany 
Property prices in Tuscany were hit hard by the global downturn and in many areas are still 30 per cent down from the peak, often even more.
While there are plenty of beautiful borgos and estates for sale for several millions, you can now choose between hundreds of rural properties for between €100,000 and €250,000 which is the most popular price range for UK buyers, according to online searches.
How far this will go, depends on the province.
Northern Tuscany 
The area north of Pisa and Florence has grown in popularity, thanks to its diversity and affordability. In fact, according to the largest Italian property portal the province of Massa Carrara in the north-western corner is actually now the most popular province in Tuscany, along with Lucca just below it. Our own data supports this, with Lunigiana especially popular amongst the most searched-for Tuscan destinations. Why? 
Lunigiana has it all – mountains, coastal villages, rural homes in olive groves and all easily accessed from Pisa and Florence airports. Property prices are also half that of Chiantishire so you can buy a three-bed farmhouse for around €200,000.
Seeking a bolt hole close to both fishing villages and ski resorts? You can buy a three-bed apartment in the pretty village of Licciana Nardi, for example, for €90,000. Seaside properties, as ever in Italy, will cost more - €5,000 to €6,000 per square metre for one with a sea view.
The province of Lucca, centred around the beautiful little walled city of the same name, is also in vogue. In the city itself you can get a two-bed apartment for €250,000, or outside it a rural restored property for €350,000. Popular areas also include the spa town of Bagni di Lucca – where you can buy a three-bedroom stone farmhouse for €120,000.
Castelnuovo di Garfagnana (the ancient hub of the green Garfagnana valley) and Borgo a Mozzano (a town with a very famous bridge that attracts tourists). A renovated two-bed apartment can be bought for around €90,000-€100,000.
At the higher end of the market around Lucca you might get a restored hamlet of four buildings for just under €1 million.
Central-Southern Heartland
For those that can afford it, being close to the beautiful city of Florence is hard to beat for Renaissance art and history, fashion and restaurants. In the city itself, you can buy a one-bed apartment for €200,000, even in historic districts such as Santa Croce; but whilst great for rentals, most buyers seek to be outside the city to escape the busloads of tourists in peak summer. Montaione, Greve in Chianti and Fiesole are all popular villages nearby and in the former you can buy a two-bed apartment for €130,000.
Heading south, San Gimignano, Volterra and Siena is a dazzling trio at the heart of the region and you'll still pay a premium to buy close by because many of the homes will have already been restored to a high level. You can buy a high-quality five-bedroom restored farmhouse with a pool near Siena for around €1.25m, or a renovated three-bed property for around €600,000 in the Selva National Park just north of Siena.
In this popular area there are also various borgo projects – self-contained villages that have been developed into complexes of tourist properties – where you can buy apartments for around €250,000 – for example Castelfalfi near Volterra. Several of these projects offer fractional ownership where you can buy a share in a larger property for a similar sum (or more).
The area around the elegant city of Arezzo, where pop star Sting owns a home and there is a famous monthly antiques market, is also relatively expensive. You'll pay €1.5m for a five or six-bedroom "padronale" farmhouse renovated to a high standard between Arezzo and Cortona, although you can get a four-bed detached home for €400,000.
Or for something cosy yet charming you can find a small house in a hamlet close to a popular village such as Caprese Michelangelo, for less than €150,000.
The Tuscan Coast and Islands
Although relatively undiscovered by the international market, the Tuscan coast is much loved by Italians every summer. Romans especially head to the fashionable beach resort of Forte dei Marmi in Lucca where property prices are steep but the coastline is far more beautiful further south around Grosseto.
The rugged Monte Argentario peninsula – home to the chic spot of Porto Santo Stefano, is Tuscany's answer to St Tropez, and a handful of islands of which Elba, Giglio and Montecristo are the most famous. Prices are still relatively high in these summer home hotspots and you'll pay around €400,000 for a two-bed apartment in central Porto Santo Stefano, for example.