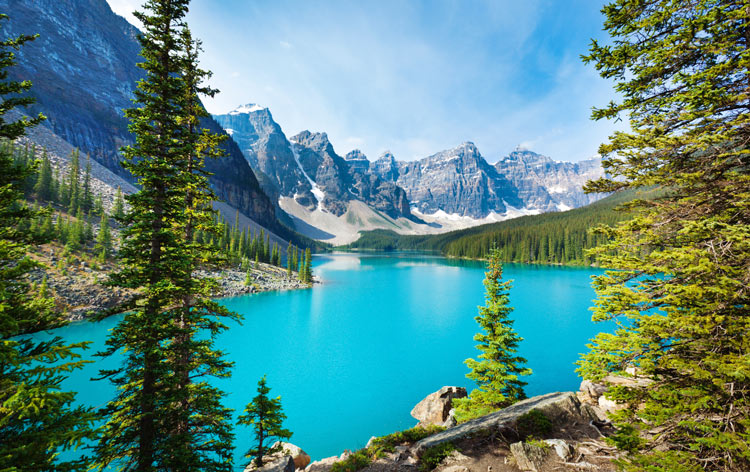 Canada's high quality of life, beautiful outdoors, easy accessibility and welcoming attitude has convinced many Brits to emigrate there. It's also a pretty good holiday home option too.
Around 600,000 British people already live in Canada, but when you start to analyse the country's appeal, it's a wonder that more of us don't join them.
It seems to have everything – amazing countryside, great cities that win most of the awards for "liveability", a sound economy, political stability, low crime rate, and all within seven hours' flying time from the UK. That's much handier than Australia or New Zealand, and more peaceful than South Africa - yet still speaking English and within the Commonwealth.
Having the USA on the border, with easy weekend jaunts down to New York or San Francisco, is also part of the appeal for many buyers. Some 90 per cent of Canadians live within 100 miles of the USA. Is it just those snowy winter months that are putting more of us off?
Canada welcomed immigrants during the 2000s to fill plentiful jobs in a booming economy. That's taken a bit of a battering in the past four years – more due to the knock-on effects of other ailing economies than problems in Canada – but the economy is still growing, albeit slowly.
There are restrictions on who can move to Canada, but they are much less draconian than to New Zealand, Australia and the USA. Property is generally cheaper than in the UK, though this varies wildly between the provinces of this vast country, and prices are rising steadily.
Although it's famous for mountains, lakes and snow, parts of British Columbia are classified as desert, while the rolling prairies are an appealing prospect for anyone regularly jammed on Britain's crowded roads.
Canada's Rocky Mountains have stood in for the Wild West in many a Hollywood western, and this is one of the few country homes destinations where you need to watch out for bears and wolves.
Where to Buy Property in Canada 
It's not easy to pick out hotspots from such a vast country, but most British buyers look at Canada for either a holiday home in the mountains with four-season appeal, or at those liveable cities.
Vancouver, Toronto and Calgary took three of the top five places in the Economist's Most Liveable City survey in 2011, while Ottawa and Montreal scored highly in another survey. So city living seems to be pretty good wherever you are.
The revitalized and now fashionable city of Toronto is certainly a safe bet for a city centre apartment with good rental appeal, but property there is higher than average price for the country, with the average property prices in Toronto at C$360,000.
Vancouver is highest at C$531,000, Montreal about average at C$255,000, while St John's in Newfoundland has the lowest average property price at C$155,000.
For ski apartments, there are great ski resorts stretching from one coast to the other. On the eastern side, Newfoundland's Humber Valley has three-bedroom houses from around C$300,000.
Mont Tremblant is more accessible, two hours drive from Montreal and Ottawa, while way over in Vancouver, there are one-bedroom condominiums in Whistler from C$100,000.
For ranches, the average price of a property in Manitoba is C$205,000, rather more for Alberta, with better transport links from the UK, at C$328,000.
How to Buy Property in Canada
Rules (and costs) for buying can vary from province to province in Canada, for example in Quebec there is a notary involved in the sale. In general, agents (realtors) are more proactive in North America than in Britain, so when you find the right property, you work with your realtor to make an offer.
If accepted, both parties sign the Offer to Purchase, which can be firm or conditional, and the buyer pays a deposit.
Conditional terms may include whether the buyer can (a) sell their own home and (b) get a new mortgage; the results of a survey and any title issues.
If the offer is firm, either side will suffer a financial penalty should they cause a default. All being well, to complete, both parties sign a final contract and funds are transferred. 
Property Buying Costs in Canada 
Buying costs tend to be low in Canada, between one and three per cent, a little more (maybe C$500) if you have a survey done, and a little more again in Quebec, due to the notary fees.
Buyers Beware
Buying in Canada is safe compared to most countries in the world, but the processes of being granted permanent residence can be long and difficult. It makes sense, therefore, to rent at first, until your application for permanent residence has been granted.