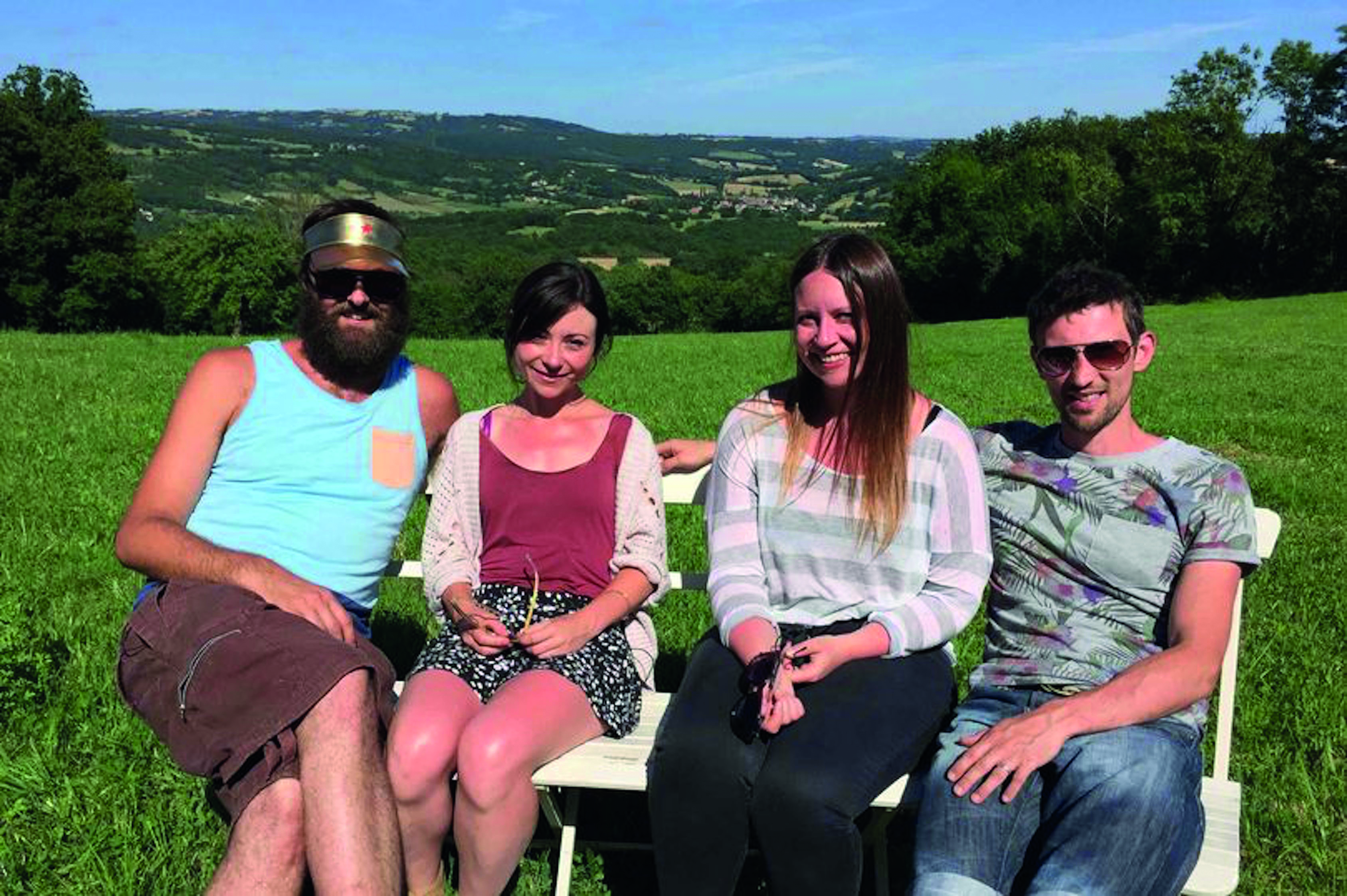 It's a familiar tale; couple nearing retirement, kids finally left home, leave empty nest in the UK for new dream home in a rural French idyll. This, however, is not that story (even without a global pandemic).
Back in 2016 the Office For National Statistics published data revealing that, of the 148,000 British citizens living in France, nearly half were over the age of 55, and most of them retired. In June of that same year, four budding entrepreneurs, all in their thirties, finally moved into their newly refurbished farmhouse near the village of Espinas on the edge the Tarn et Garonne – a department still in the Midi-Pyrenees at the time, until its incorporation within the new Occitanie mega-region later that same September. 
Changing these boundaries may have redrawn the maps, but it's happily done nothing to alter the diverse geographic beauty of the Tarn et Garonne, a beauty which cast its spell over Marcus Gough, now 40, his partner Charlotte Corner, 41, her sister Melanie, 38 and Melanie's husband James Sewell, 38, as soon as they first ventured to this pocket of south-west France on holiday in 2014. It's an area that's often referred to casually as the 'Tuscany of France', yet in many ways this undersells the Tarn et Garonne's diverse natural attractions.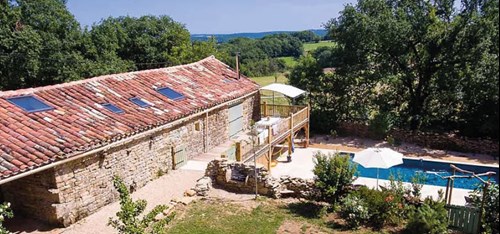 search for properties in france here
Although it shares the same pillowy hills planted with vines, fruit orchards and ranks of smiling sunflowers, the region also contains the confluences of three major rivers; the Aveyron and, unsurprisingly, the rivers Tarn and Garonne. This creates another, more monumental landscape, one of canyons, gorges and high limestone plateaus.
After several weeks spent drinking in sweeping vistas, not to mention the hospitality of the perching villages and medieval riverside towns, Charlotte and Mel (who are sisters) and their respective partners Marcus and Jim, all hailing from Coventry, were so collectively beguiled by the departments plentiful charms, they made a bold decision to band together and find a way to return here full-time."We were totally won over," Marcus recalls, "we'd all spent lots of time holidaying across France, as kids and adults, but this was the first place we'd all visited that felt like it had enough going on to really live in rather than just visit.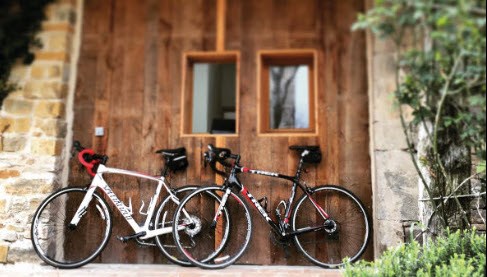 "Just as importantly, we're all passionate about cycling and our dream was to run a business connected with that. We soon realised that Tarn-et-Garonne is a cyclist's paradise. There are gentle slopes and picturesque plains for those who prefer taking it easy on two wheels, and plenty of tough but rewarding gorge climbs for those at who want to challenge themselves. Best of all there's always a lovely town or village to relax in at the end of the trail.
"However, no matter how much inspiration and resolve discovering this region had provided, it was by no means the only crucial factor in the four's relocation plans. "There was the small matter of finding a suitable place for four us to live, which also provided enough space to accommodate the requirements of guest coming for cycling holidays," explains Marcus, himself a dedicated club-level cyclist.
"We had to be as certain as we humanly could that this would work," he continues, "as we were all about to quit decent, established careers to do this. I was in research at Warwick University, Charlotte was a PR manager, Jim was in finance and Mel was working as a museum curator. "We'd all agreed we wanted to live this new life while we were still active and energetic, but we were all about to give up a lot for this dream - we had to get it right.
"The first step on this path involved arranging several months' leave from work in order to fully explore and understand the region, while also viewing as many properties as possible. "In terms of what we were looking for; location needed to be somewhere rural but preferably near good village amenities etc., with great cycle routes, for those of every level, on the doorstep or a short drive away," says Marcus.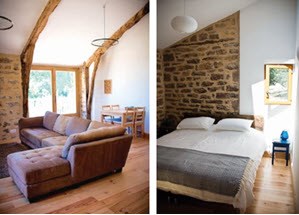 "We needed a property large enough for two couples to share, without getting under each other's feet, with at least one convertible outbuilding large enough to cater for up to eight guests. Another important requirement was a pool or space to make one – a cool dip after a hot day in the saddle is a big selling point." And with so much at stake it was little wonder that, after hours spent searching online, their 'shortlist' of places to view still totalled 50 properties.
"We went to view about a dozen properties before we found this place, and we had another cued up to view but cancelled, as we knew straight away we'd found the one," recalls Marcus. "We viewed properties here with Disc Immobilier and Agence l'Union, both in nearby St. Antonin Noble Val. "Thankfully their diligence paid dividends, when they eventually discovered the beautiful property they now call home through Jane Smallwood from Agence l'Union.
"It's what the French call a corps de ferme," explains Marcus, "which essentially means the body of a farm, the farmhouse and outbuildings, which are sold together but without the adjoining farmland. "Exactly what the four have now is a farmhouse large enough to comfortably share as couples, a series of outbuildings perfect for storing bicycles and the other equipment necessary for running their business, and a stunning stone barn that's become glorious guest accommodation able to sleep up to eight people, and overlooking a swimming pool that begs to be jumped in.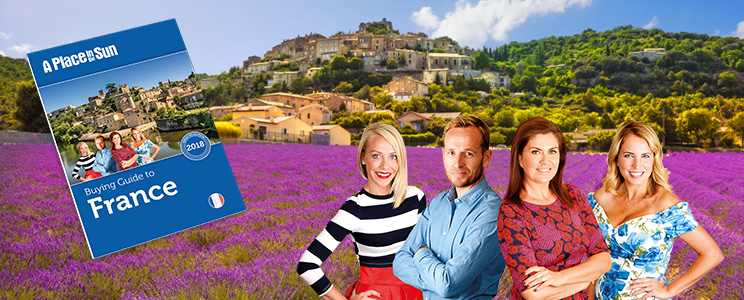 download buying guide to france here
Add a romantic hideaway cabin with hot-tub, set it all among rolling hills at the end of quiet country lane, and you have the perfect recipe for relaxation at the end of a hard day exploring in the saddle. "For the equivalent of £370,000 it was an awful lot of property and land," says Marcus, "and the location was perfect, but it certainly needed a pretty dramatic amount of refurbishment work. "Nevertheless, Mel, Jim, Charlotte and Marcus signed for the property in July 2015 undaunted, and very sensibly decided to contract the services of a local project manager to oversee the refurbishment.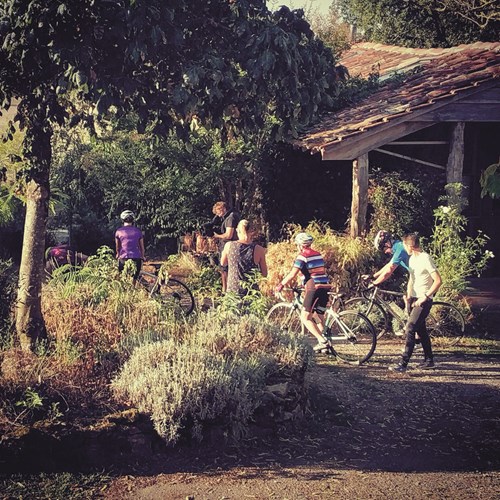 None of us had a lot of experience doing this sort of thing – plus we were still all in the UK working full-time to try and earn every extra scrap of money this adventure would require." Marcus explains. "Every few weeks Jim and I would leave work on Friday, get in the car and make the 800-mile journey down here to check on progress and help however we could, then drive back to Coventry for Monday morning." In terms of logistics, the couple also had to find a less usual way of purchasing their French farmhouse. As a group comprised of friends and family, rather than a more conventional couple or sole purchaser, the four decided to take ownership of the farmhouse "En Division', a common method of joint ownership that's the equivalent to a 'tenancy in common' in England.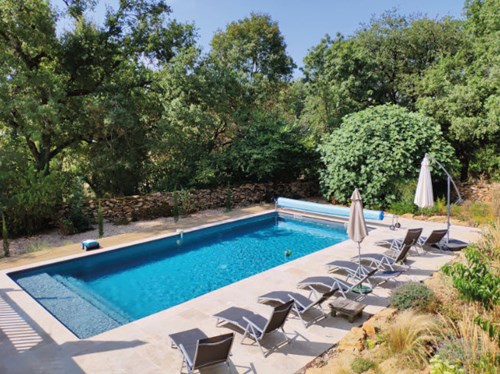 "We sold our two-bedroom terraced home in Coventry and James and Mel sold a similar property there, and we all contributed an equal amount for the purchase, renovation, and setting up the business," explains Marcus, "But rather than going 50-50 as couples we each have a 25% share in the property and the business. "Our agreement is known as a convention d'indivision, and the way it's written means that if one of us, or one couple even, ever wanted to leave they can't force the others to sell the property.
Also those who want to remain get the option to buy out the leavers, and also agreed in the terms is that any buy-out can also be paid off over time rather than all in one lump sum." "We had the help of a fantastic, dedicated local notaire," Marcus continues, "Discussing these important details certainly helped us all realise the seriousness of what we were undertaking, but fortunately rather than giving us cold feet, it helped us galvanise our commitment."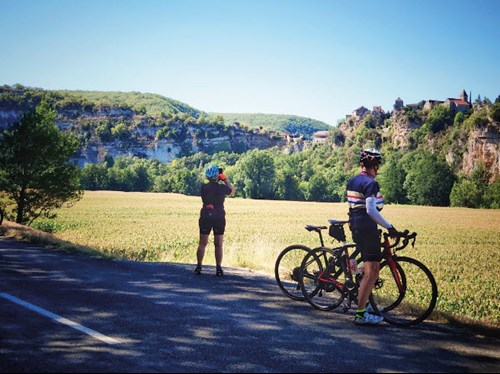 Meanwhile, the four were also in the throes of setting up Tours Du Tarn, the cycling holiday business that would help sustain their new lives, and when it came to this next major step, once again, they were smart enough to seek out more expert assistance. "We found another British couple, who'd already started up a cycling tours business in France, and their advice was invaluable," Marcus recalls.
"They helped us with everything from the paperwork necessary for starting this type of business over here, to the best kind of facilities to offer cycling guests." "They also strongly recommended us getting permanent French residency, which is something we'd already planned to do – especially as we finally moved here in June 2016 - the very same month the UK voted to leave the EU," explains Marcus wryly.
"It was also the year that Charlotte and I decided to get married, and we had our first child, Amadie, which all made 2016 memorable to say the least."We knew we'd missed the season by mid-summer, so our plan was always to begin properly in spring 2017," he continues, "it gave us time to really explore and map the most beautiful local routes for cyclists of every ability and inclination, and so far the feedback from our guests had been fantastic, Brexit has helped us focus and market ourselves more broadly [to non-Britons], in a way we otherwise probably wouldn't have."
And if the old adage 'location, location, location' is as important to starting a business as finding a home, there's no doubt these two intrepid couples have hit the jackpot.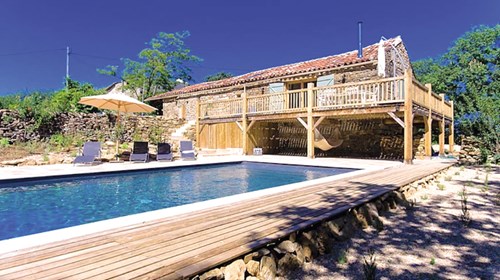 It's a rural pocket that we haven't been as badly affected as many other regions of France by the Covid-19 pandemic. At the time of writing, there has been 12 confirmed cases and two deaths in the Tarn-et-Garrone, and the area is in the same strict lockdown measures as the rest of country; only allowed to leave our property for shopping necessities or the doctors, so there's absolutely no cycling.
With such measures continuing until May [when this feature is published], some bookings have had to have been cancelled, and Marcus, Charlotte, Mel and James suddenly find their future is precarious as everyone who makes their livelihood in the tourism and hospitality sectors."We've refunded everyone that had already booked with us for later this year, but we've kept all their bookings pencilled-in, in case things take a turn for the better," says Marcus. "We'd built a small contingency fund, mainly to cover unforeseen emergency repairs and the like, so right now we're using that and living as modestly as possible while we work out what help we might be able to get from the authorities.
"Even if we'd seen this coming, I'm not really sure what we could have done about it," he reflects. "Whatever the future holds, these breath-taking gorges aren't going anywhere, and neither are we without a fight."
Find out more: https://www.tarncyclingholidays.com/